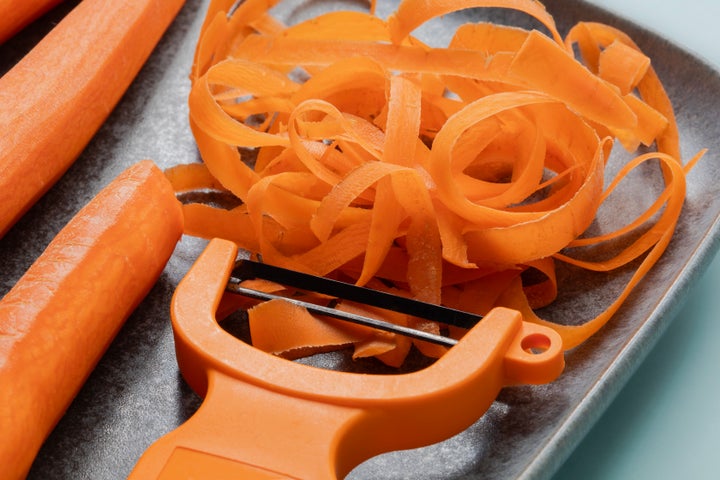 It's been very, very hard to motivate myself to make anything more complicated than my trusty low-effort recipes recently. The dark nights are closing in, and my energy levels are dropping ― so it feels pretty inconvenient that it's about the become the biggest roast season of the year.
Don't get me wrong; I love settling into an involved cooking process on the weekend. But if I can find a hack or trick to make the dull prep and tidying go by faster, I will; so you can imaging my surprise when I realised I've been peeling my carrots all wrong.
Before making my partner a carrot cake for their birthday, I thought I'd look up quick peeling hacks on TikTok. The account mealswithmax came up; "How old were you when you realised vegetable peelers actually work both ways?" he asked in his video.
Today, Maximus. I was today years old.
How does it work?
Unlike with a knife, the blade of a peeler pivots, and there's also a sharpened edge on either side. So, you can pull it backwards and forwards ― making use of half the effort you'd usually use for a single-stroke peel.
"I have wasted so much time," one commenter shared. "I've been living a liem" commented another (I'm with you there).
Having tried it myself for the first time, I've been amazed at how easy the process is.

Any other carrot hacks?
Yes! You can cut your carrots into batons and store them in an airtight jar filled with water to keep them fresh and convenient for ages, for example.
And if you're looking for something to do with all those carrot peels you so effortlessly shaved off, try air frying them into veggie crisps, add them to pesto, or candy them for a tasty cake topping ('tis the season, after all).
With that, I'm off to peel some carrots (this double-edged gliding peel is pretty satisfying, people...)