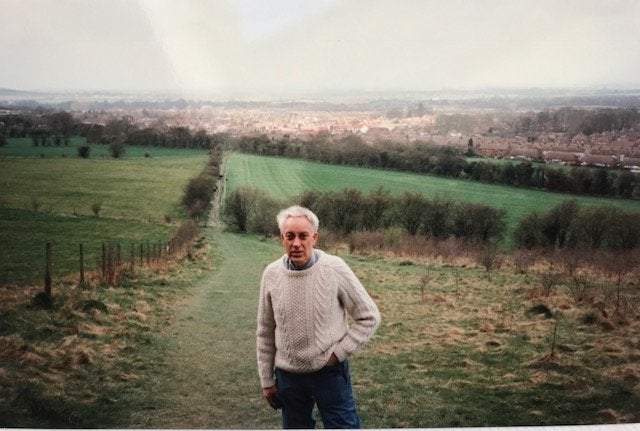 Rachael Prior was Christmas shopping with her family on 11 November when she was suddenly overcome with sadness.
The 43-year-old from west London had spotted a red jumper in the menswear department of Marks and Spencer. It was a gift that, not so long ago, she would've purchased for her father Lynton Shackleton Prior - but he had died from cancer aged 73 and his absence was all of a sudden unbearable.
Filled with emotion, Rachael took to Twitter to explain how much she missed her dad at Christmas time and it wasn't long before a beautiful stream of solidarity and support poured in from strangers across the globe.
"It was a small moment of catharsis that was helpful to me at the time," Rachael told HuffPost UK. "Now it has snowballed into this incredible outpouring of grief and community support."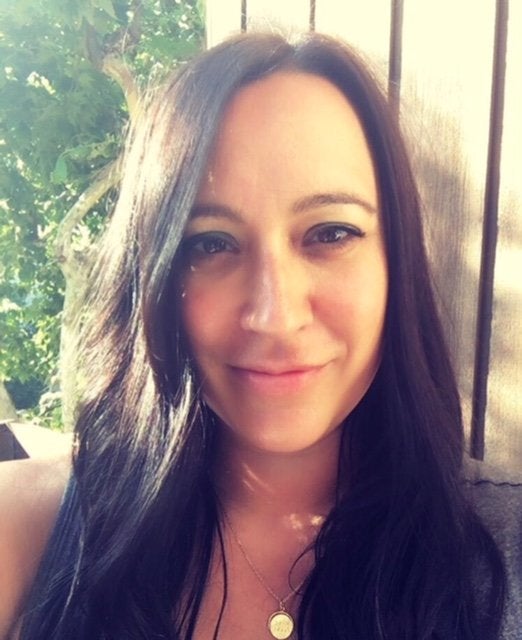 Rachael was taking her Christmas shopping back to the car on Saturday when she found herself passing through the menswear section in M&S.
"I was struck by how cosy and warm and festive everything was. Then I spotted a deep red wool jumper on a display table and something powerful lurched up inside me," she said.
"A wave of grief so strong it stopped me in my tracks. It was exactly the sort of jumper I'd have bought my dad and he'd have been delighted with it.
"I had this vivid imagined moment suddenly playing out in my mind: his face lighting up, him pulling it on immediately and posing around the living room for our amusement like a model. It reminded me how long it had been since I'd had that feeling, and that I'll never have it again."
By the time Rachael had reached her car she had a huge lump in her throat. While she was alone and waiting for the rest of her family to catch up with her (they'd gone to to get ice cream), she tweeted about what she was feeling.
In a matter of minutes, others had begun to share their own stories of grief at Christmas time, including the gifts and everyday objects that consistently reminded them of loved ones they'd lost.
"I didn't anticipate that so many other people would relate to that exact feeling in that exact store, or feel that a warm and safe space had been opened to share similar stories," Rachael, who is head of film for Big Talk Productions, said.
"I was particularly struck by how all our loved ones seem to be emotionally entangled in the most seemingly benign, prosaic, even comical things: a jar of string, old nails, a Topic bar, a butter knife or a bag of liquorice allsorts.
"It means these reminders are all around us, all the time. We're all silently grieving. I think it was nice for a moment, that people didn't feel they had to be silent about the little things that stir up such huge emotions."
What made the moment even more special was when a complete stranger got in touch with Rachael and shared the most heartwarming story about her father, who used to be headteacher at Richmond Primary School in Hinckley, Leicestershire.
"Samantha (my dad's old pupil) getting in touch has been the most amazing thing for me about this thread on a personal level," Rachael revealed. "It was a Christmas gift to me, my mum and my sister to hear her recollection of my dad and her positive experiences at his school."
Samantha also privately shared copies of her school reports with Rachael, so she could see her father's handwriting again.
"It was very evocative to see his handwriting again, and to hear his voice in words we never heard him speak," she explained.
"Dad was a man who loved life. He was a scholarly individual (he went to Oxford) but was a working class lad from Rochdale. He believed in giving back what he could to the community. He instilled in my sister and I a massive amount of confidence and belief that we could achieve whatever we wanted."
Not only has the tweet received worldwide attention - with celebrities including JK Rowling and Alison Moyet responding to it - but it's also helped reunite Rachael's family with old friends they'd lost touch with and, perhaps most importantly, has helped people who will spend Christmas grieving feel less alone.
"We're supposed to love Christmas, and I am the biggest fan of the season, but it is brutal when you are without those you love, and it is brutal when you find yourself alone," Rachael said.
Explaining how her family navigate the festive period without her father, she said: "Our family finds it cathartic to hold tight to traditions, and to keep dad's memory alive that way. Others on the thread have found it easier to create new traditions.
"My dad's birthday was on Christmas Eve, so it's a double whammy for us. Every Christmas Eve we have the birthday lunch he loved: The Cold Collation. Lots of stinky cheese, pork pie, cold cuts and lots of red wine.
"We make ourselves talk about him, we toast him and we spend our private moments grieving him as we want to."