The man replies: "How old are you? What are you, 18? 19? I've been here longer than you have."
He is instantly threatened: "Don't chat shit or get deported."
As the encounter becomes visibly more heated, frightened commuters are seen looking stricken as the teens advance on the man, flicking beer at him and ordering him to get off the tram.
Mentioning he has served in the military for seven years, the man admonishes them: "You are extremely ignorant and not very intelligent."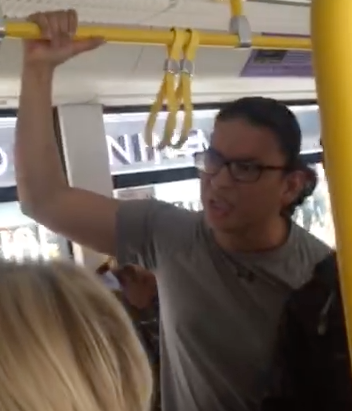 As he moves forward towards the teens he is pulled away by concerned commuters, who shout after the boys: "Disgusting, disgusting, you are an absolute disgrace to England!"
The group can be heard yelling: "Salford! Fucking immigrant!"
The encounter, which is being investigated by Greater Manchester Police, saw some commuters weep in fear and shock.
One passenger, who asked to remain anonymous, told the Manchester Evening News: "It was really horrible. When I was walking back to my work I was crying all the way. I couldn't control myself.
"I was feeling sad, I now feel scared coming to work. They were three boys, they weren't very old.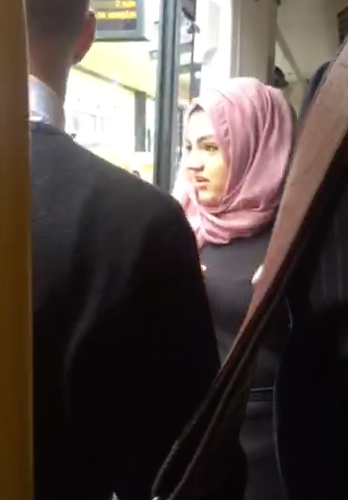 "I am scared of travelling on my own, I feel scared for my children that it is not safe, I will not take them on the tram."
Chief Inspector Gareth Parkin, of Greater Manchester Police, said: "We are aware of a video of a hate incident that has surfaced online this morning.
"This is a disgusting display of abuse which quite frankly has no place in society.
"All hate incidents are treated with the utmost severity and this behaviour will not be tolerated in Greater Manchester.
"I'm strongly urging anyone who recognises the men in the video to come forward and help us with our investigation.
"The incident happened at around 7.40am this morning, Tuesday 28 June, on a tram travelling towards the city centre."
Greater Manchester's Mayor and Police and Crime Commissioner Tony Lloyd said: "People across Greater Manchester will condemn racist attacks which have been reported in different parts of the country in the wake of the EU Referendum result.
"While Greater Manchester Police have said they have not seen an increase in reports of hate crime over the weekend, we are now starting to hear stories of people being abused because of their race, religion or nationality.
"There is no room in Greater Manchester for hatred and division. We have worked hard, together, to build strong, cohesive, and welcoming communities. I encourage anyone who has been a victim of hate crime to come forward and report it.
"Hate crime has no place in our society. The overwhelming majority of British people stand together against hatred and prejudice. These acts of racism are not in our name and will not be tolerated."
While such encounters are sadly not an anomaly in Britain, there is a poignancy to the incident occurring less than a week after the UK voted to leave the European Union and during a time when racist incidents have soared.
A detailed list compiled by Tell MAMA, a group that measures anti-Muslim attacks, details the abuse people have received since the Brexit result on Friday.
It comes as the National Police Chiefs' Council reveals that hate crimes reported to the police has risen 57% between Thursday and Sunday compared to the corresponding days four weeks ago.
Faith Matters, an interfaith group that works on countering extremism projects, released the hate crime figures that were reported through Tell MAMA.
Fiyaz Mughal, founder and director of Faith Matters, said that, since Friday's results, incidents of racist abuse have been reported predominantly from visible Muslim women who have had comments such as "we voted you out, why are you still here" directed at them.
Mughal said: "The Brexit vote seems to have legitimised the prejudice of some people to the point where they are verbalising and targeting people at a street level who are visibly different.
"This is England 2016 and this is totally unacceptable."
Anyone with information on the incident is asked to call to police immediately on 101 or the independent charity Crimestoppers anonymously on 0800 555 111.
Related