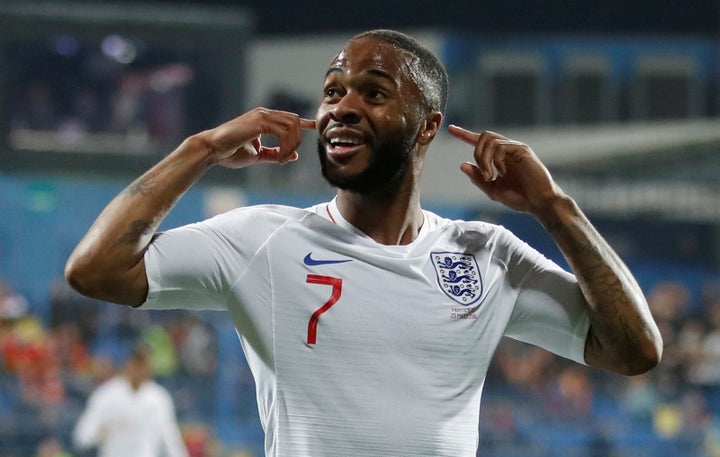 Instead it was about the racism he faced. Again. And not just him, but Danny Rose and others too. Monkey chants greeted them, a reminder that football's dark stain still hasn't left. That Europe's dark stain still hasn't left its societies. Sterling silenced them with a goal but there can be no silencing this topic.
So what happened? Six minutes into the match, the BBC Radio 5 Live commentator Ian Dennis said he heard racist chants directed towards Rose. This treatment of England's black footballers became apparent throughout the match. Sterling scored the fifth and celebrated by cupping his eyes, a gesture he later explained as a response. The response simply grew worse.
England closed out the game with comfort and authority. A continuation on the evolution of a young team throbbing and pulsing with energy and tactical modernisation. This is a team that can finally end England's wait for a competitive trophy since 1966. That should have been the talking point. But racism is never far away in football.
England and Chelsea winger Callum Hudson-Odoi, only 18, slammed it, saying: "I don't think discrimination should be anywhere – we are equal. When you are hearing stuff like that from the fans, it is not right and it is unacceptable. Hopefully Uefa deal with it properly. When me and Rosey went over there, they were saying, 'ooh aa aa' monkey stuff and we just have to keep our heads and keep a strong mentality."
Sterling was similarly scathing: "We can only bring awareness and light to the situation. It's time for the people in charge to put a real stamp on it. You can fine them but what's that going to do? You've got to do something that's going to make them think twice. In England we have a diverse country and lots of different faces. I can only do so much; the FA can only do so much. The people in charge need to make a proper stance."
Football often acts as a microscope into society, revealing the ugliness lurking underneath sometimes. England went to Montenegro prepared for a storm. An atmosphere of concussive energy flowing down from the stands was in order. Perhaps we forgot too soon about the racism that was also going to come.
This is different in that this is not the first time a black footballer has been racially abused in a football match in Europe. Quite simply, it happens a lot. Once is just too often, but it's gone far beyond that, and the relatively meek responses of footballing authorities illustrates the futile gestures taken against it. Fines and brief stadium bans are simply not doing the trick. As Sterling said, something that would make supporters think twice, was necessary.
It would however be misleading to think the racism in the stands was born there. Football is simply the ugly reflection of society's own prejudices and bigotries. Europe is not a safe haven for ethnic minorities and it never has been. In the same way that Scottish football's vicious religious sectarianism and anti-Irish racism, particularly in matches involving Celtic, is a reflection of Scotland's own turmoil with social cohesion, so it is with Europe. That racism is so clearly worse in European football than in England is a reflection of UK's greater commitment to fighting racism. But in countries like Montenegro, Italy and others, attitudes towards people of colour remains locked in deeply regressive and corrosive white nationalism.
Fixing this cannot be deemed merely football's task but must be seen as part of a wider education necessary. The sport simply spews out what it is made from. Until the game realises that, it can issue all the fines and stadium bans it wants, nothing will change.