A review of prosecutions for rape and sexual offences has given the wrongful impression that women are to blame for legal cases falling apart, campaigners have warned.
Figures released by the Crown Prosecution Service (CPS) and the police found 47 cases out of 3,637 were halted due to lack of disclosure by prosecutors and police. The review was ordered in January after a string of high profile rape trials collapsed.
The police have a legal duty to disclose evidence to the defendant's legal team. The review found disclosure had been an issue in all 47 cases that collapsed, and in five cases it was the primary reason the case was dropped.
In 42 cases, communications data – such as text messages, emails and social media – were being examined too late. The review showed that police were struggling to cope with the amount of digital evidence which is now available due to the prevalence of smartphones.
Sophie Walker, of the Women's Equality Party, said the findings were "a disaster" for survivors, who said they could fuel the assumption that women are lying about rape.
Walker told HuffPost UK: "We have to get away from this knee jerk reaction that when something goes wrong with a case being prepared, it is automatically assumed that there is a woman lying. The problem that we have with rape in this country, is that we still don't believe women."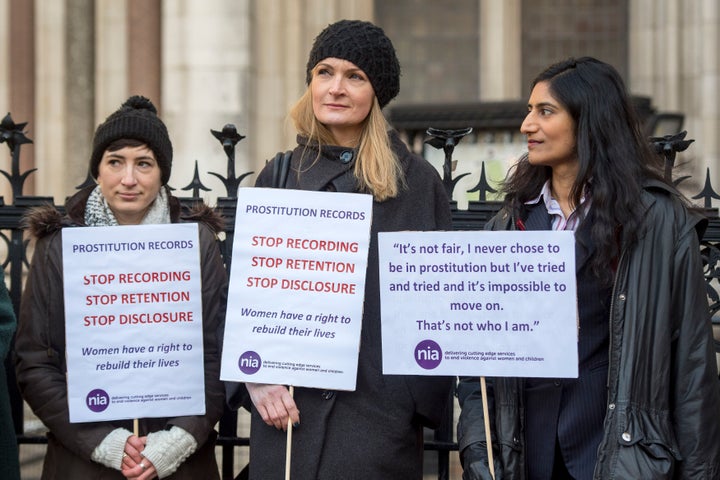 Echoing Walker's comments Rachel Krys, co-director of End Violence Against Women Coalition, said in a statement that she been alarmed when the CPS "caved into pressure" and decided to only review rape cases, when lots of crime types are affected by this issue.
On Twitter, the coalition said it was "disappointed" by the news coverage of the review, which focused on potentially innocent men being convicted, such as Liam Allan whose trial collapsed in December and the Met police was forced to apologise for a "series of failings".
The group said the news coverage, such as The Telegraph, which said hundreds of innocent men may be in jail as a result of the errors, was a "prime example of deep structural power and privilege protecting itself".
A 2012 study by the CPS revealed that during a 17-month test period there were 5,651 prosecutions for rape in England and Wales, and only 35 prosecutions for making false allegations of rape.
Previous research for the Home Office suggested that only 4% of cases of sexual violence reported to the UK police are found or suspected to be false.
Walker added: "The situation we have at the moment is dreadful. Women are brutalised twice over in this country. Once by their rapist and then again by the criminal justice system."
Krys said the "much bigger rape justice issue staring us in the face" was how the gathering of digital evidence including phone records and social media messages, raises the possibility of it being used to discredit the victim's character.
Appearing before MPs on Tuesday, Alison Saunders, the outgoing director of the CPS, apologised for the failings and said that disclosure was a "longstanding systemic issue" that the CPS and police needed to tackle.
Saunders said: "I feel every single failure. It is not something that we want. We have been very clear about where our failings are. We will apologise for those."
She said new disclosure safeguards in place "will make a difference".
A statement from Rape Crisis England and Wales said the context in which this review has happened should "make us all sit up and ask questions", highlighting that over the last five years, reports of rape to the police have jumped from around 16,000 to more than 41,000, while in the same period the number of cases reaching court has increased by only around a third (to just under 4,000).
The statement concluded: "The whole community suffers if rape is not prosecuted properly. We all have an interest in ensuring rapists cannot act with impunity, and the criminal justice system is fit for purpose."