Six months ago England beat home favourites Australia to claim gold in netball at the Commonwealth Games, and their nail-biting 52-51 victory has inspired more women to play the sport.
More than 130,000 women over the age of 18 have started playing netball or playing more netball as a result of the Roses' victory, according to a new YouGov survey conducted on behalf of England Netball.
A whopping 1.8m people watched the final live and via the re-run later that day, which was broadcast on the BBC, and 77% of adults who paid attention to netball at the Games agreed that the Roses are an inspiration to girls.
If the sport still reminds you of school PE, it might be time to look at it with fresh eyes.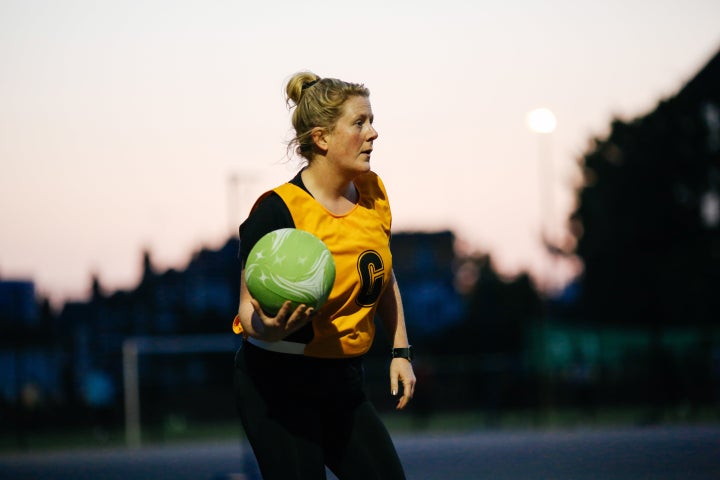 Sarah Coles, 30, from North London, started playing netball four years ago when her housemate was setting up a team. She thought joining would be a way to "force" herself into doing exercise, but she soon fell in love with the game thanks to the social aspect.
"It's a group of 10 girls who I would all genuinely call friends now, some of which I've gone on holidays with and with all enjoyed many a 'Ballers' bottomless brunch. It's a way to combine socialisation with sport and you really feel like you have to try your hardest so you don't let the team down," she tells HuffPost UK.
The team's skills have grown from strength to strength too; they started out in the C league and have moved their way up to the A league.
"We've just grown so much as a team. If I look back to the start we were getting called up for everything but now everyone is a lot more skilled and you often feel really proud of how you have all played," Sarah adds.
Chelsea Jones, a 28-year-old maths teacher from Telford, has also rediscovered her love for netball as an adult after joining a team two years ago. She hadn't played since her school days.
"I became a netball coach at school and because I wanted to be a better coach for the kids, I joined a team with a friend too," she explains. "I like the fact that it's a good cardio work out. It's a little bit social as well. Also I'm getting better at it, and the better I get, the more I enjoy playing."
Meanwhile Claire Reynolds, 28 from Nottingham, has played since she was seven and loves the inclusivity of the game. "It's a sport which anyone of any age, ability or fitness can play – there is true diversity on court and no judgement whatsoever," she says.
"It doesn't feel like exercise despite being a proper full body work out. It's competitive but there is a choice for what level you fancy. It's one of the best social things I do, it's supportive – you feel part of a network of strong, empowered women."