An Iranian refugee and artist has created a huge mural in London, to celebrate the kindess he received when he came to Britain and encourage others to "choose love".
Majid Adin, 32, was forced to flee his home after facing persecution for his writings and cartoons criticising religious conservatism. He had a dangerous journey to the UK, arriving in 2016 after being locked in a refrigerator in the back of a cargo truck.
Majid created the mural, on Hanbury Street near Brick Lane, London, to bring people together and has been helped by children from a local Tower Hamlets primary school as well as other refugees and asylum seekers.
"Arriving and living in a new country, with a different language and culture, can be incredibly isolating. But ever since I arrived, I have been shown great kindness and love. At first, I struggled with my English, but people were there to help me," he tells HuffPost UK.
"I know some people in Britain are against refugees, and we hear a lot about that in the news, but for me, the British public have been incredibly welcoming."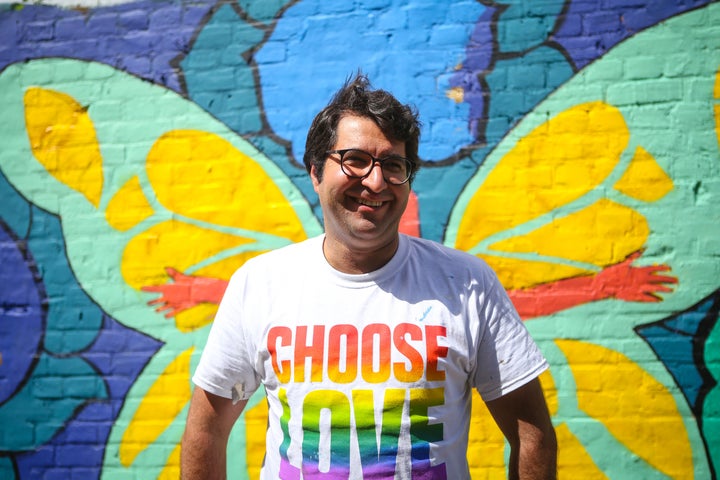 The mural was created to mark Refugee Week, with the support of the charity Help Refugees and the creative workspace Second Home. It features images of butterflies and embracing human hands forming heart shapes, as well as typography by acclaimed fashion designer Katharine Hamnett.
Majid hopes the end design will convey a simple message: there's nothing more powerful than love.
"When we look at the world, at the news, we see a lot of different problems. But for me, these problems are all related, and there's only one way we will solve them. By choosing love," he says. "There's no feeling as positive as love, no feeling more transformational or unifying. This is the message I wanted to share. To encourage more people, whether it is one person or a million, to feel empathy and love toward their fellow human beings."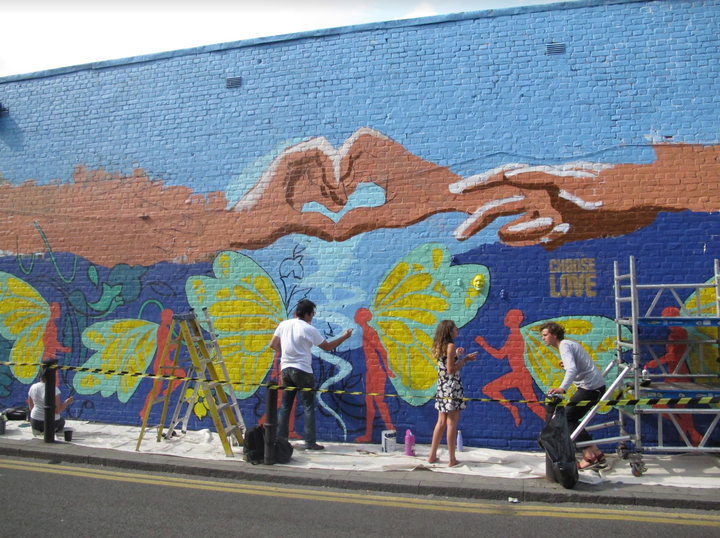 Majid left Iran after struggling for eight years without a job, a home or his beloved art. He credits the love he received from volunteers in helping him pave out a career as an artist in the UK.
"In Calais, volunteers gave me the materials to build a shelter so I could survive the winter. In the UK, they encouraged me to enter a competition to make the first ever video for Sir Elton John's Rocket Man. I won and it changed everything," he explains. "I wanted to work with Help Refugees to create a piece of art that represented the love that people have shown me throughout my journey."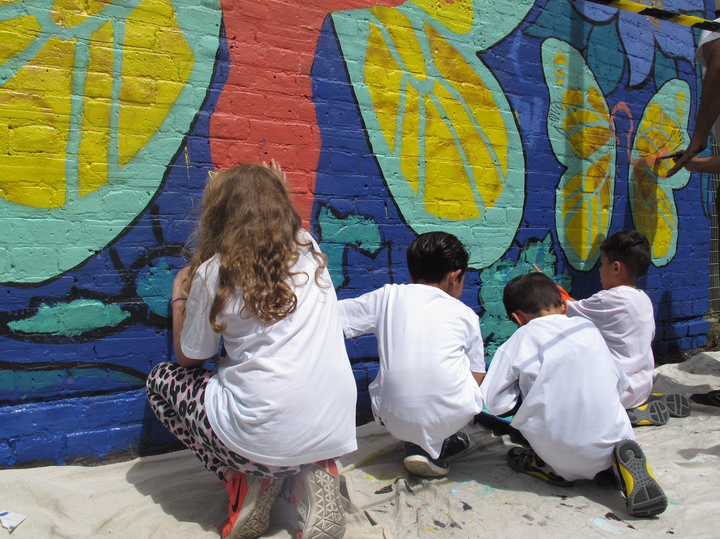 More than anything, Majid hopes the mural will help passersby to feel connected to their local community, saying the project is all about "bringing people together".
"I want to bring a community together to celebrate our common humanity. To show people that it doesn't matter what age, faith, sexuality or nationality you are, when we work together and show compassion and kindness toward each other we can do brilliant things," he says.
"I want people to look at this artwork and feel the love that I feel for my friends, my family, and the community that has accepted me since arriving in the UK."
You can visit Majid's 'Choose Love' Mural at 68 Hanbury Street. For further details, visit Help Refugees' website here.
HumanKind is HuffPost's celebration of kindness, featuring people who do incredible things for others or the planet – transforming lives through small but significant acts. Get involved by joining us on Facebook or telling us about the people who you think deserve recognition for their kind works. You can nominate them here or share your personal story by emailing natasha.hinde@huffpost.com.