The man, named by charity Help Refugees as 17-year-old Mohammed Hassan, was found dead by police in Banbury, Oxfordshire, early on Friday, the Press Association reports.
According to the charity, he was from Kurdistan and had been living in the refugee camp in Dunkirk, northern France, for about six months.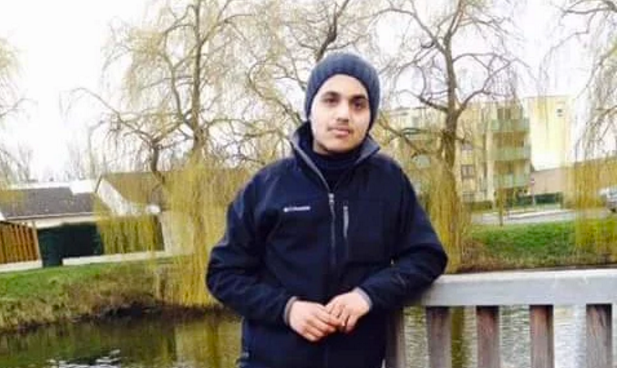 Volunteer Maddie Harris said he made the journey to be reunited with an uncle living in Manchester, meaning he could have made an asylum claim under the European Union's Dublin regulation.
She said that when surviving family members in Dunkirk - a cousin and an uncle - called his mobile phone on Friday evening, it was answered by police officers.
"The police answered and I was asked to speak to them," Ms Harris, who works in the Dunkirk camp, said. "He was underneath a truck, there was an accident and he was killed.
"He'd been in Dunkirk a long time - maybe he decided to go on his own. All Mohammed was trying to do was to find a better life and he felt this was his only option.
"The problem is we are aware of Mohammed because he was known in the camp, but how many more people has this happened to?"
She added the family in the UK had been informed and formal identification will take place on Monday.
A spokesman for Thames Valley Police said a man was killed in a collision involving a lorry on Beaumont Road, near its junction with the A423 Southam Road, in Banbury on Friday but refused to identify him.
"He was declared dead at the scene after being involved in a collision with a HGV on Beaumont Road at around 4.35am," the spokesman added. "We are preparing a file for the coroner. The next of kin has been informed."
A man arrested at the scene on suspicion of causing death by careless driving has been released without charge.
Campaigners said Mr Hussain's death is thought to be the first on UK soil in 2016.
Help Refugees co-founder Josie Naughton said refugees faced a lack of care and communication from authorities in both camps in Dunkirk and Calais.
She said: "Refugees have no access to their rights, there are completely confused messages.
"They feel their only option is to get on a lorry and risk their life to be reunited with their family or get to the UK."
CORRECTION: Mohammed Hassan was actually 17, not 18 as was initially widely reported
Related