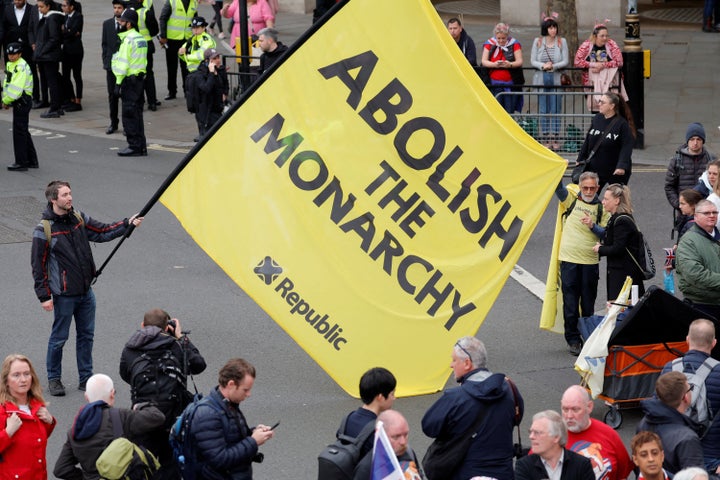 Campaign group Republic said their chief executive Graham Smith is among those who had been arrested near Trafalgar Square on Saturday morning.
Demonstrators wearing yellow "Not My King" T-shirts could be seen having their details taken by officers. Protesters also claimed "hundreds" of their placards were seized by police.
The Metropolitan Police Service warned ahead of the coronation that they would have an "extremely low threshold" for protests – and demonstrators could expect "swift action".
The policing operation is set to see 11,500 police officers on duty on Saturday.
He told Sky News: "We know that six of my colleagues, some of them staff members, some of them volunteers, including the CEO of Republic, Graham Smith, have been arrested by the police.
"I know that what they were doing was they were bringing placards to our demonstration.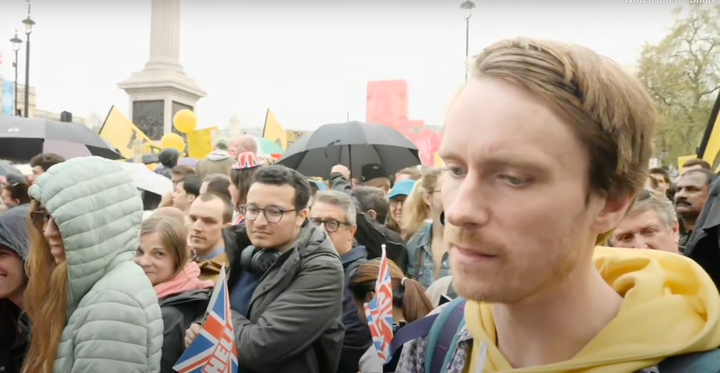 "We've been very open with the police about what we're planning to do – is to hold a demonstration here in Trafalgar Square.
"So they were bringing placards, unloading them from a van. And it seems that they've been arrested using these new powers.
"It's quite a worrying thing to happen. We're pretty shocked. Actually quite surprised.
"We've been quite open with the police about what we're trying to do. They've said it's perfectly legal for us to bring placards, bring flags down and protest the coronation.
"In a democratic society it is absolutely our right to do this and to be peaceful."
Whiting said they had not planned any disruption "at all" and they planned to chant, play music and wave placards.
He added: "It's quite shocking, actually, and quite worrying that the Metropolitan Police have decided to pre-arrest essentially some of the key people at the demonstration before it's even begun."
Before the event, official letters were sent to campaigners planning peaceful protests warning them that new criminal offences to prevent disruption had been rushed into law.
The Home Office's Police Powers Unit told Republic the new powers had been brought forward to prevent "disruption at major sporting and cultural events".
The new law, given royal assent by Charles on Tuesday, means that protesters who block roads, airports and railways could face 12 months behind bars.
Anyone locking on to others, objects or buildings could go to prison for six months and face an unlimited fine.
Police can head off disruption by stopping and searching protesters if they suspect they are setting out to cause chaos.
The Metropolitan Police Service said: "A significant police operation is under way in central London.
"We have made a number of arrests in the area of Carlton House Terrace. The individuals have been held on suspicion of breaching the peace.
"Earlier today we arrested four people in the area of St Martin's Lane. They were held on suspicion of conspiracy to cause public nuisance. We seized lock-on devices.
"A further three people were arrested in the area of Wellington Arch. They were held on suspicion of possessing articles to cause criminal damage. There will be further updates later today."