Britain had the NHS, the industrial revolution, JK Rowling and rings forged from steel.
Rio - obviously - did things a little differently.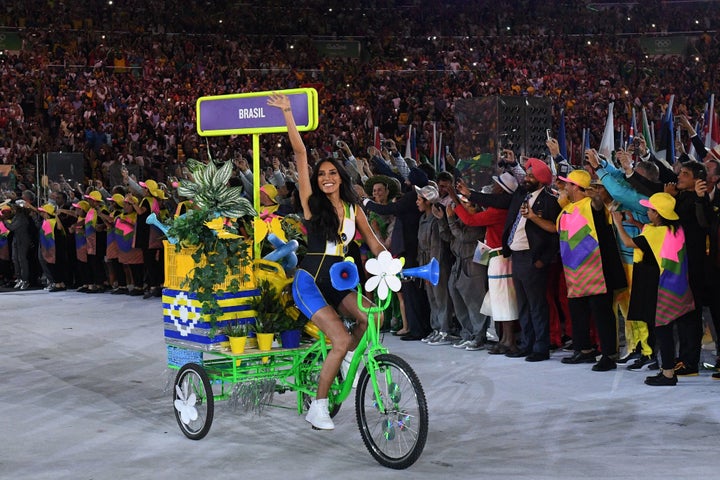 After one of the roughest-ever rides from vote to games by an Olympic host, the city of beaches, carnival, grinding poverty and sun-kissed wealth opened the two-week games of the 31st Olympiad with a high-energy gala celebration of Brazil's can-do spirit, biodiversity and melting pot history.
Before it had even began the crowd had made their own spectacle.
Backstage the tension was building.
The low-tech, cut-price opening ceremony, a moment of levity for a nation beset by economic and political woes, featured performers as slaves, laboring with backs bent, gravity-defying climbers hanging from the ledges of buildings in Brazil's teeming megacities and - of course - dancers, all hips and wobble, grooving to thumping funk and sultry samba.
Rio decided to take it back - way back to when microbial life started.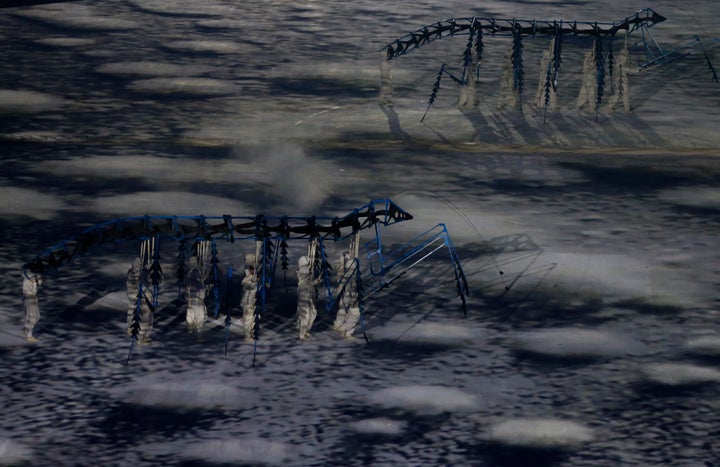 Although some people appeared to get a bit confused and terrified when it got to the small creature stage.
Brazil packaged its party with solemnity, lacing the fun and frivolous show with sobering messages about global warming. Images of carbon dioxide, a greenhouse gas, swirling in the Earth's atmosphere were followed by projections of world cities and regions - Amsterdam, Florida, Shanghai, Dubai - being swamped by rising seas.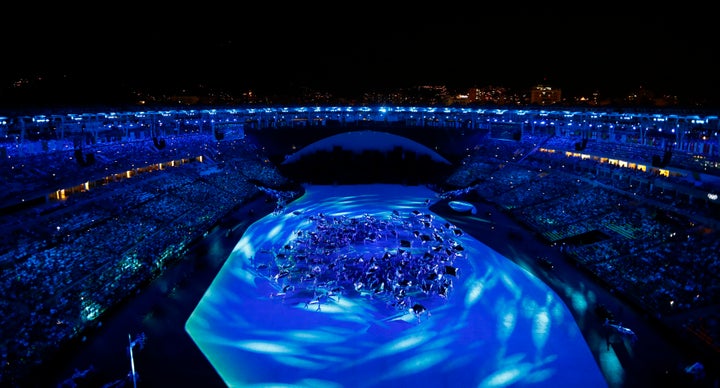 The peace symbol, tweaked into the shape of a tree, was projected onto the floor of the Maracana Stadium that filed with thousands of athletes from the 207 teams.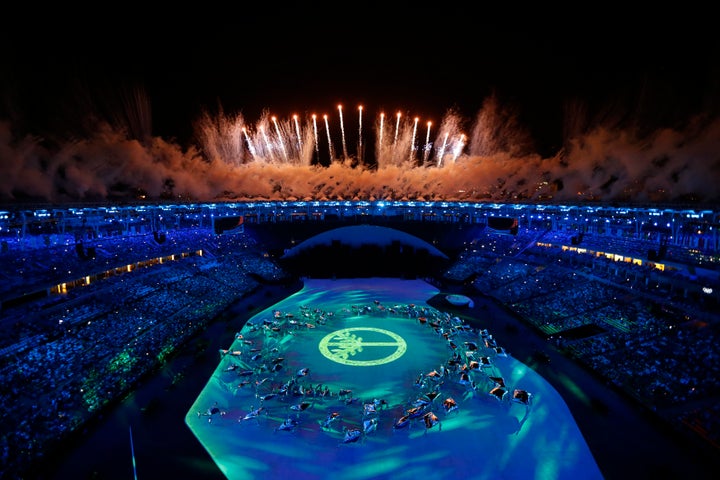 Clearly a Brazilian ceremony was going to celebrate the rainforest, represented by a stream of green light.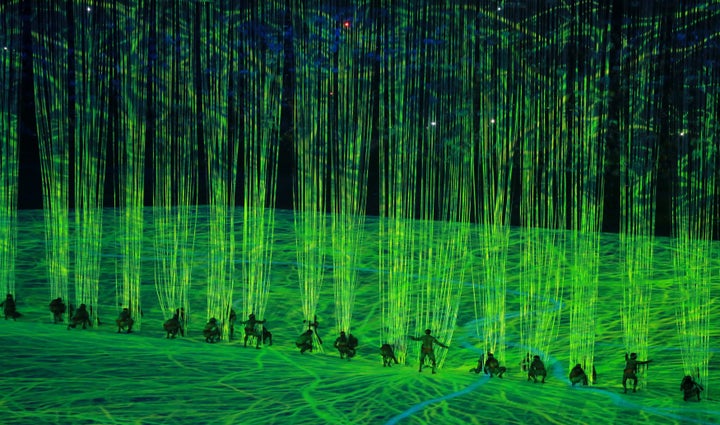 Into that came the Portuguese.
There was a poignant tribute to the role of slavery in the building of the modern nation.
The rise of urban Brazil saw an incredible 3D light which appeared to turn the flat surface of the stadium into a series of rising buildings.
Then Gisele brought some pure glamour to the proceedings.
The crowd roared when Bundchen sashayed from one side of the 78,000-seat arena to the other, as Tom Jobim's grandson, Daniel, played his grandfather's famous song about the Ipanema girl "tall and tan and young and lovely."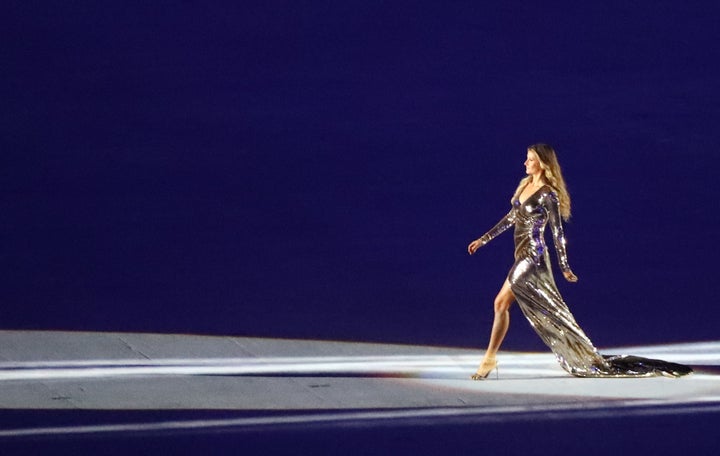 Then we got some 'actual' buildings and some pretty incredible parkour.
Despite being not very Brazilian at all, Dame Judi Dench narrated a section about deforestation and climate change.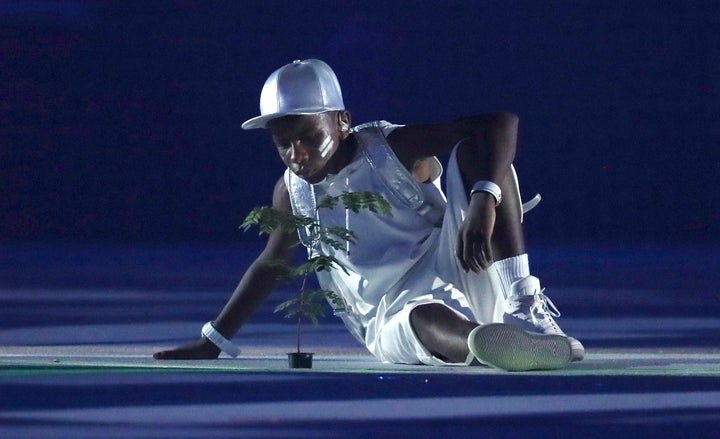 Then they did what they do best - just held a massive party.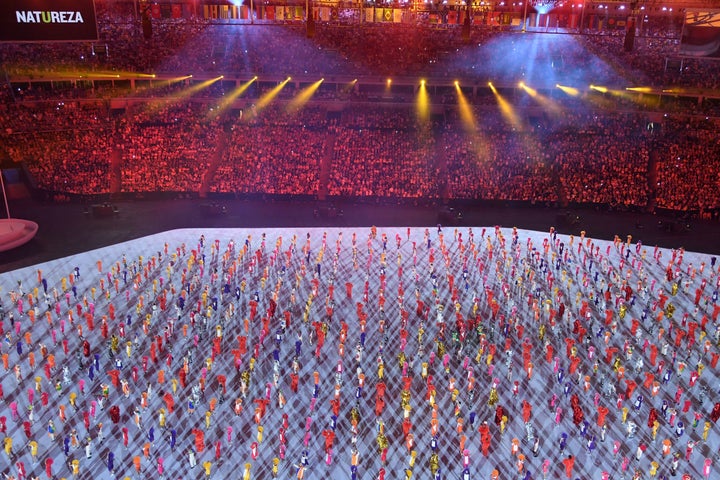 Then it was time for the athletes to arrive led by some of the most fantastic bicycles you've ever seen.
Greece, the historical and spiritual home of the games, led the march by athletes into the stadium. They were being joined by a first-ever Refugee Olympic Team of 10 athletes, displaced from Syria, South Sudan, Congo and Ethiopia. Their flag-bearer, Rose Nathike Lokonyen, fled war in South Sudan and ran her first race in a refugee camp in northern Kenya.
The Canadians had made us all believe they were going to levitate in but they just walked like everyone else.
But late's take another look at those bikes.
From above it was all starting to take shape.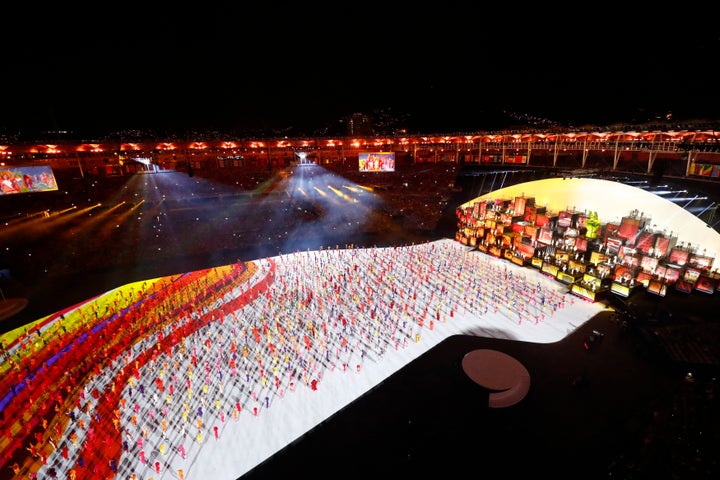 Then the Brits arrived!!!
Led by the legendary Andy Murray, bravely rocking a one-handed flag action.
People went pretty crazy for Tonga's flag bearer. Can't think why...
But the biggest cheer of the night went to the refugee team.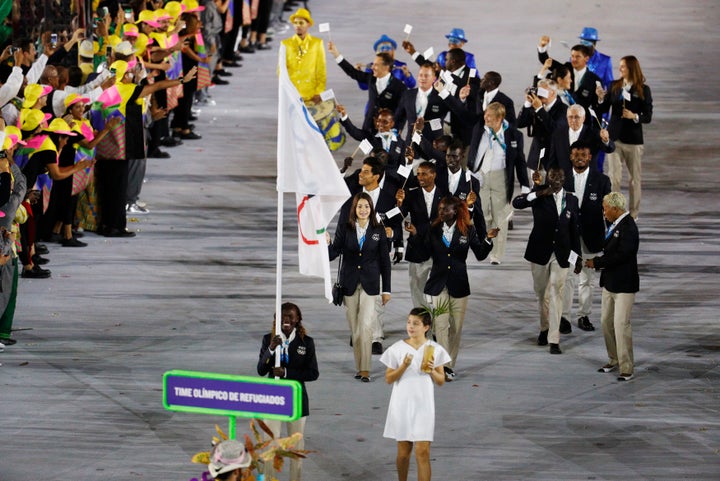 After the grandeur of Beijing's opening ceremony in 2008 and the high-tech, cheeky inventiveness of London's in 2012, Rio's was earthier and less swish but more sobering with its gloomy environmental look at the future and deliberate penny-pinching. Creative director Fernando Meirelles said their budget, slashed by half as Brazil's economic recession bit ever harder, "is 12 times less than London, 20 times less than Beijing."
"It is pretty tacky to be overspending," he said. "It is not a good message for the world. When 40 percent of the homes in Brazil have no sanitation, you can't really be spending a billion reals for a show."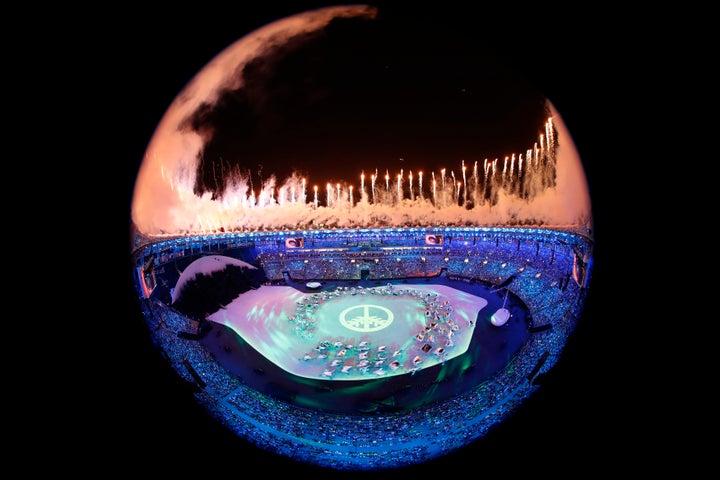 "In the end I feel good that I am not spending money that Brazil hasn't got."
After Brazil's most famous athlete - soccer star Pele - said he will not appear, the Olympic mystery of who might light the cauldron remained intact.
The cauldron was designed by American sculptor Anthony Howe, who told The Associated Press he was inspired by life in the tropics. There will be two cauldrons in Rio, one at the Maracana and another open to the public in downtown Rio.
Then it was time for the rings...
The honour of lighting the Olympic flame went to Brazilian marathoner Vanderlei Cordeiro de Lima.
De Lima was one of the suspected candidates after Pele revealed earlier Friday that health problems would keep him from attending the opening ceremony at Maracana Stadium.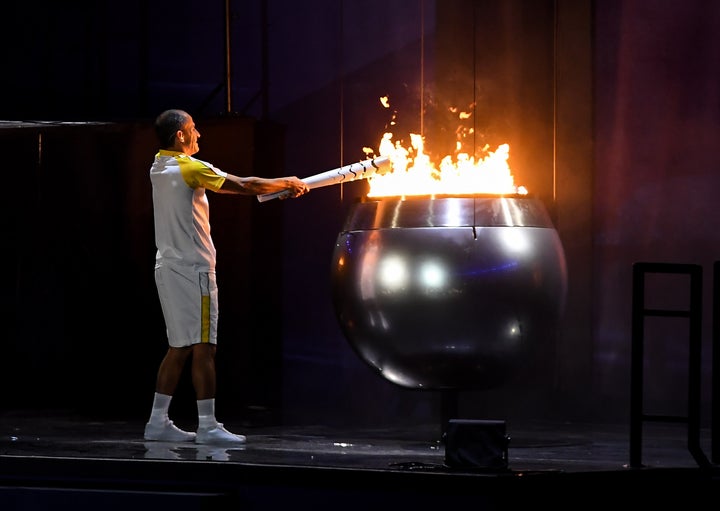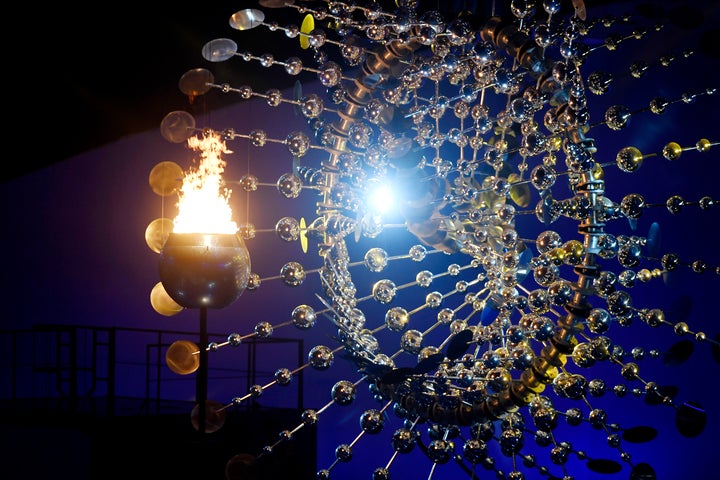 Finally, it was time for more fireworks...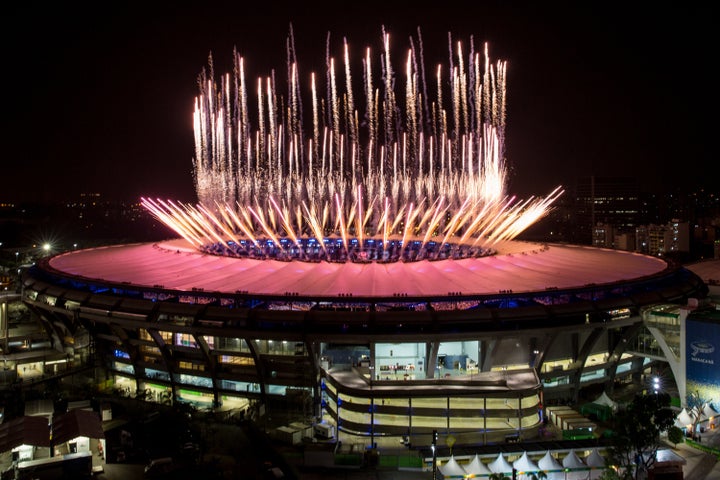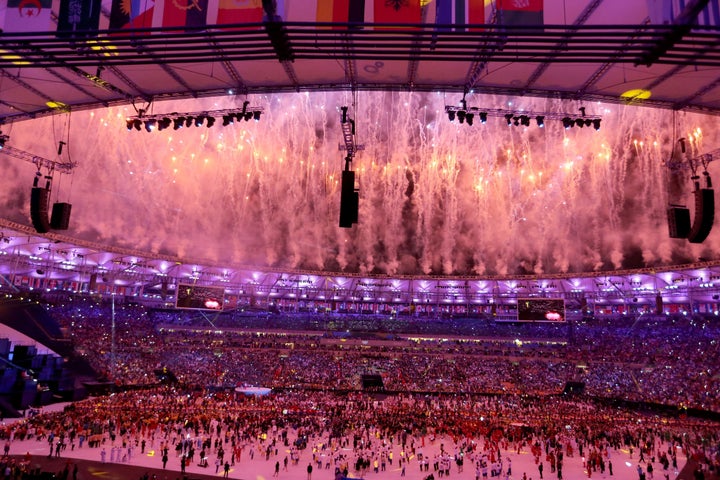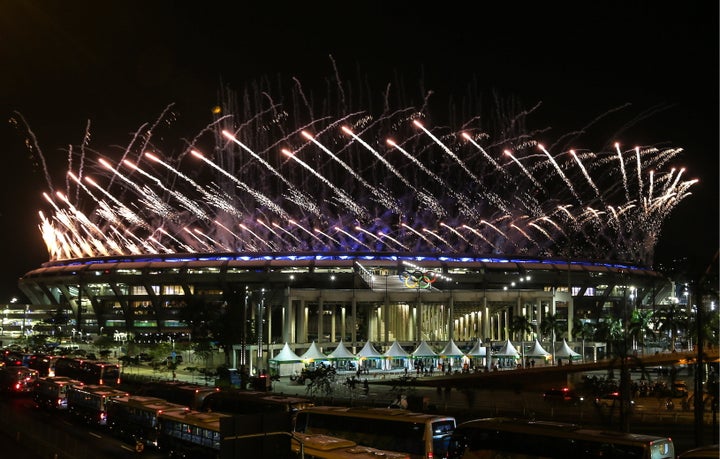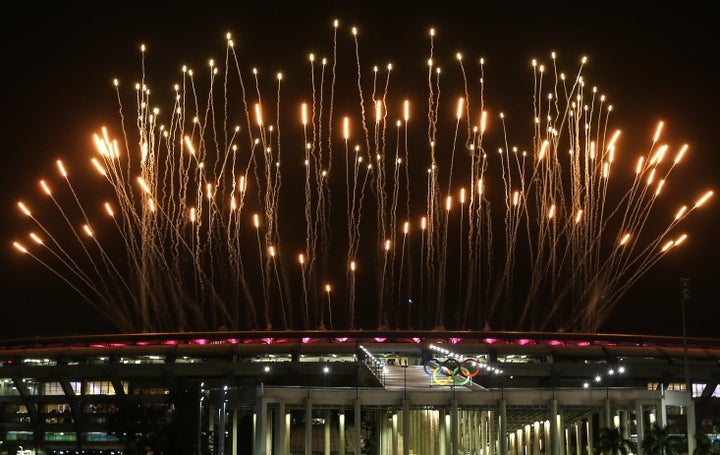 Related