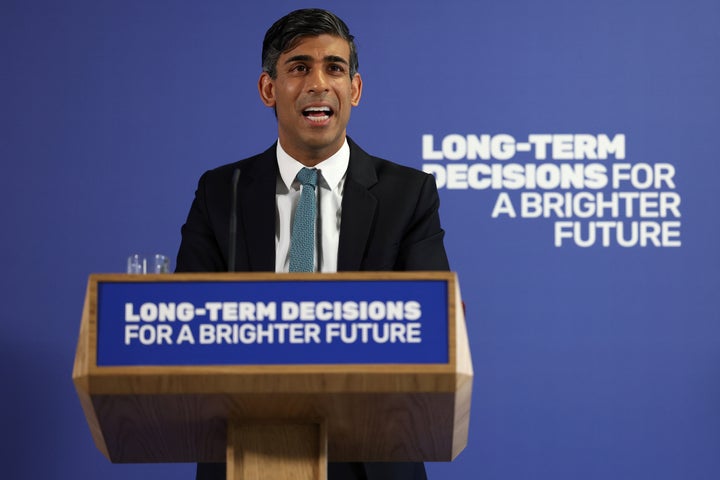 Rishi Sunak has all but confirmed personal taxes will be cut as part of the Autumn Statement on Wednesday.
This week Chancellor Jeremy Hunt will set out government tax and spending plans ahead of next year's general election.
In a speech on Monday morning in London, the prime minister said the government would now "turn our attention to cutting taxes".
It has been variously reported Hunt could cut inheritance tax, income taxes or national insurance.
The prime minister said tax cuts were possible now inflation had plummeted to 4.6% in October, down from 10.7% in January.
"My argument has never be that we shouldn't cut taxes. It's been that we can only cut taxes once we have controlled inflation and debt. First cut inflation, then cut taxes," he said.
"That's why I made the promise to halve inflation and the official statistics show that promise has now been met.
"Now that inflation is halved and our growth is stronger and revenue are higher we can begin the next phase and turn our attention to cutting taxes."
Sunak said this would be done in a "serious, responsible" way, adding: "We can't do everything all at once."
But in his Autumn Statement, Hunt could also decide to save money increase benefits by a smaller amount than usual by changing how the figure is calculated.
Benefits are usually "uprated" each April in line with the inflation rate of the previous September.
But according to Bloomberg News, the chancellor is considering pegging the increase to October's inflation rate instead, and increase of 4.6% rather than 6.7%
Speaking to the BBC's Sunday with Laura Kuenssberg, the chancellor did not commit to increasing benefits using the traditional method.
And inflation has fallen since the start of the year, it is still more than double the Bank of England actual target of 2%.