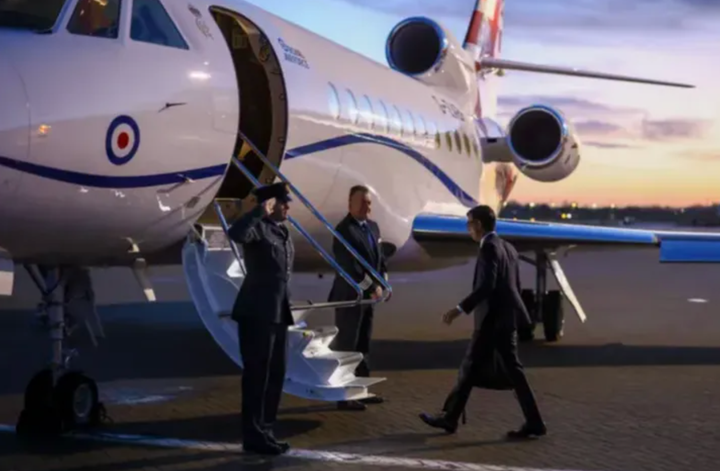 Rishi Sunak was involved in an extraordinary live radio clash after he revealed he is taking a private jet to make an announcement on green energy.
The prime minister will fly to Scotland this morning to unveil plans for a new North Sea carbon capture scheme.
But during a bad-tempered interview on BBC Radio Scotland, the PM insisted it was "the most efficient use" of his time.
And he bizarrely accused the interviewer, Martin Geissler, of trying to ban people from going on holiday.
Towards the end of the five-minute interview, Geissler asked him: "How are you getting up here to make this green announcement? Private jet?"
Sunak replied: "I'll be flying as I normally would and that is the most efficient use of my time.
"But that question brings to life a great debate here. If you or others think that the answer to climate change is getting people to ban everything they're doing, to stop people flying, to stop people going on holiday, I think that's absolutely the wrong approach.
"Every prime minister before me has also used planes to travel around the United Kingdom because it's an efficient use of time for the person running the country, so I can keep delivering for people.
"But if you're approach to climate change is to say no one should go on holiday, I think you are completely and utterly wrong."
Geissler hit back: "Am I? There's a difference between travelling by private jet and taking a flight."
As the interview degenerated into a shouting match, Sunak tried to cut it short by saying: "I look forward to having that conversation with you again. Bye bye."
The PM then added: "I think this is the second time I've been on your show in the short space of time I've been prime minister, but I'm sure I'll be there again in the future. Thanks very much."
Sunak was criticised in January for taking one of the jets from London to Blackpool rather than the train.
It came just a week after he took a similar jet from RAF Northolt to Leeds for a hospital visit.