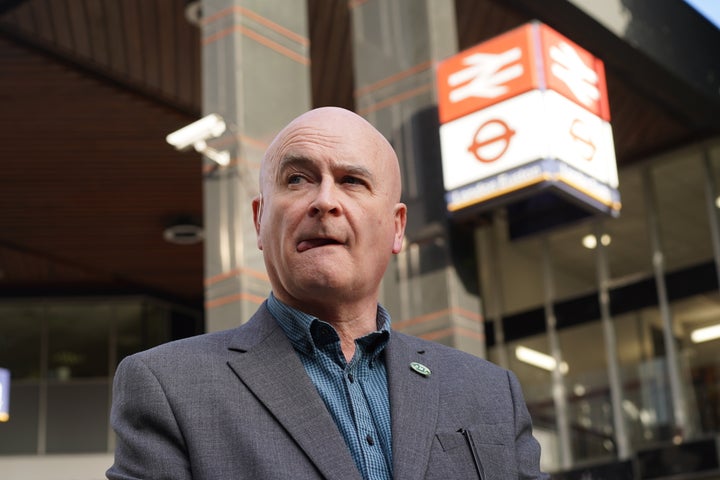 Mick Lynch has been praised by none other than celebrated actor Hugh Laurie for his straight-talking attitude in broadcast interviews this week.
And Lynch has not disappointed viewers. Laurie tweeted last night: "I don't know enough about the rail dispute. I only observe that RMT's Mick Lynch cleaned up every single media picador who tried their luck today."
The host asked Lynch if he was a "Marxist" – as his critics have accused him of being – to which the RMT boss laughed and said: "Richard, you do come up with the most remarkable twaddle sometimes."
Madeley replied by saying this was not his assessment of the situation, but he was "merely quoting" Lynch's critics.
He also clashed with Labour's shadow cabinet office minister Baroness Jenny Chapman on BBC Politics Live over her background.
She claimed Lynch was denying that she came from a working class background as they clashed on live TV.
"I don't even know who you are," Lynch replied. "I didn't tell you you weren't working class. I don't even know your name!"
Lynch used a similarly direct tactic in conversation with Sky News' Kay Burley, where he asked her: "Do you not know how a picket line works?"
As the presenter continued to ask what the strikers' picketing involves, he said: "You can see what picketing involves, I can't believe this line of questioning. Picketing is standing outside the work place to try to encourage people who want to go to work not to go to work."
When Burley attempted to draw comparisons with the miners' strike from the 1980s, Lynch claimed she seems "to have gone off into the world of surreal".
"Your questions are verging into nonsense," Lynch said.
Philp was explaining why the government appeared reluctant to get directly involved in the dispute between striking workers and their employers, as the RMT boss called him out again and again over the minister's version of events.
Another Tory MP, Jonathan Gullis, accused Lynch of "undermining the rail network" by pushing back against modern technology, impacting the UK's climate crisis and raising prices of travelling on trains. The backbencher also called on him to apologise to everyone affected by the strikes.
Lynch replied: "I think Jonathan should apologise for talking nonsense. None of that is true."
He also claimed Gullis had just "learnt it off a script" from the Conservative head office.
And Laurie was not the only person to notice – and appreciate – Lynch's performance.