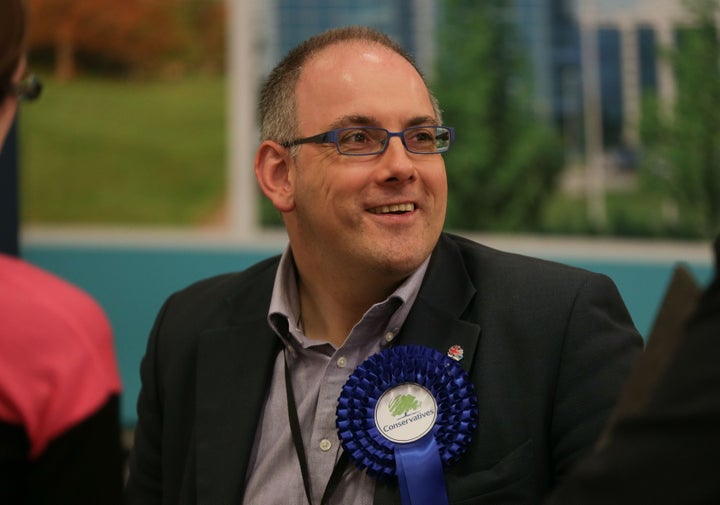 The Conservative Party is "in danger of dying" unless it convinces people it stands for NHS nurses not BHS bosses, the party's Deputy Chairman warned today.
Speaking to the HuffPost UK, Tory MP Robert Halfon spelt out his fears for the future of the Conservatives and warned that whoever takes over as leader will be inheriting a "collapsing" party.
Halfon, who served in the Treasury under George Osborne for 10 months before becoming Deputy Chairman last May, revealed some local associations were facing a "disaster" due to a lack of new members.
He called on the party to stand up against "so-called crony capitalism" and pledge to redistribute money gained from tax cuts to poorer communities.
Halfon also said the public don't trust the Tories on the NHS and any of David Cameron's achievements are seen through the prism of austerity. Speaking in his parliamentary office, where a framed photo of Scottish Conservative leader Ruth Davidson hangs on the wall next to a picture of Margaret Thatcher, Halfon explained the potentially dire situation his party is in.
He said: "The party is in danger of dying in my view - the infrastructure is collapsing around the country, the membership is ever aging.
"Of course we have an incredible party and the members are unbelievable, and I would not be here if it wasn't for volunteers, but everywhere you go, particularly in marginal seats, it's a disaster in many cases.
Halfon, who campaigned for the UK to remain in the EU, went on: "Labour are getting thousands of new members, Ukip are getting thousands of new members and if anything, if I can praise Vote Leave, what did they do in one year with very little money – they created a grassroots organisation, in every constituency in the country with badges, stickers and signs, brilliantly organised from nothing.
"That is the way politics is nowadays. The Conservative Party has to create a grassroots movement like Vote Leave and campaign on issues one by one which are appealing to people.
"You have to rally people around an issue but do it in modern ways - whether it's through social media and also doing the ground war.
"You can have the existing stuff going on but you need to create a new kind of grassroots movement."
Halfon has represented the Essex seat of Harlow since 2010, winning it from Labour in that year's General Election.
He admits that since working in the town, which has below average earnings compared to both the region and the country, his political views have changed from being a "free market Thatcherite" to someone who recognises the need for a "social ambulance" alongside a meritocratic ladder.
Halfon said: "We are in danger of being deserted by the millions of working people who have deserted Labour because they don't feel we are on their side. They feel they are the party of BHS and not the NHS – by BHS I mean the corporate, awful revolting people like that Phillip Green and the dodgy guy he sold it to."
Halfon claimed workers in his constituency's branch of BHS were "thrown on the scrap heap because of the greed, the mismanagement of corporate capitalism."
He went on: "The modern Conservative party needs to launch an assault on the so-called crony capitalism and protect workers and stand up for them."
Branching into policy ideas, Halfon called for the Conservatives to become the "party of redistribution", arguing that extra money generated for the Treasury by tax cuts for the wealthy should be used to cut taxes for the poor or help impoverished communities.
"That's a Conservative idea of redistribution, rather than a socialist one which says you increase taxes on people and redistribute the wealth," Halfon said.
He also called for a massive increase in house building, and argued that while schemes such as Help to Buy are a step in the right direction, it was not enough to solve the crisis.
"If I think of my own constituents and I think of millions working people across the country they can barely afford a few thousand quid.
"The idea of getting £5,000 is impossible. Even if the Government says 'We'll match it' they can't do it.
"We need to build millions of social housing. I prefer it to be done by housing associations but I'm not against council housing.
"But social housing should be as much of a priority of as building millions of affordable houses or by-to-let schemes."
There is one area where Halfon does not want to see fundamental reform, and that is the NHS.
The Tory MP is very open about how the voters view his party when it comes to the health service.
"The public don't trust us on the NHS. There is an umbilical chord between the public and NHS, they do not want us to privatise it. They do not want us to mess around with it. They just want a good service."
Halfon has yet to decide who he will back in the Conservative leadership election, but the support of the man who so successfully battled for a freeze on fuel duty will be a bonus for any candidate's "white van" credentials.
When asked by the HuffPost UK why he didn't put himself forward, Halfon shook his head said he didn't think it was a role to which he was suited.
"Whoever is the leader, this is a huge chance," he said, before reeling off some of the achievements of David Cameron's Governments: the National Living Wage, the pupil premium, free school meals.
"Everything was seen in the frame of austerity by the public," said Halfon.
"We will never get support again unless, in my view, we radically change our narrative, radically change our policies in terms of how we reach out to the public and radically change the way our political party operates."
Popular in the Community