The president of the Philippines has told a Channel 4 News journalist to "get lost, you son of a whore" for asking about the thousands killed by his Government in his short time in office.
Five thousand people have been killed in the five months since Rodrigo Duterte came to power as part of the country's brutal war on drugs.
This is more than died under Ferdinand Marcos, who ruled the Philippines under martial law for nine years.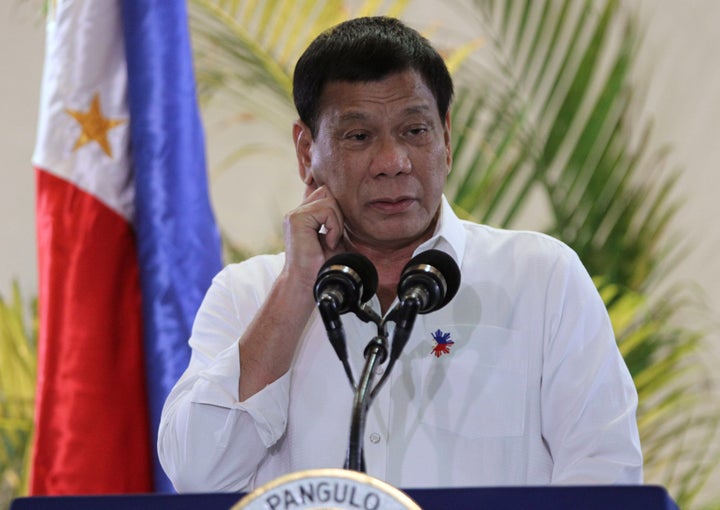 Those killed have been killed by security forces and gangs of vigilantes who operate with the government's support.
Jonathan Miller, Channel 4 News' Asia editor, asked Duterte about this at a press conference this week.
Duterte began by responding with a question. "Why is America losing 40,000 lives from drug-related cases? What makes the Philippines different from America, may I ask you?"
When Miller said those deaths are not carried out by Government , Duterte switched to a non-sequitur, saying that America is not a member of the International Criminal Court.
"And yet they threaten leaders and presidents. You do not do that to me. You're a hypocrite to me. You are hypocrite."
He added: "Do not talk about it. The lives of my own people, my own citizens. You have destroyed countries, deprived their sovereignty. So where is the moral basis? Tell me?
"What is the moral basis of so many things America did in the name of human rights?"
Duterte then asked Miller whether he had any questions and said: "If you don't, get lost, you son of a whore" in Tagalog.
Duterte is fond of the phrase, having previously called Barack Obama the same.
Duterte has been accused of being involved in extrajudicial killings when he was mayor of Davao City before he was elected president.
Human Rights Watch has called for an independent investigation into these claims,
A former hitman claimed he murdered 50 people under Duterte's direct orders.
Related