Inter Milan striker Romelu Lukaku is calling on footballers to take a united stance against racist abuse, saying the situation is getting worse, not better, after he was targeted by Cagliari fans on Sunday.
The Belgian star was racially abused by home fans as he took a second-half penalty, which he scored to give the visitors a 2-1 win in his second game in Serie A since joining Inter from Manchester United this summer.
This, however, was not the first time Cagliari fans have behaved like this in recent seasons, having also racially abused Moise Kean, now with Everton, Juventus' Blaise Matuidi and Ghanaian midfielder Sulley Muntari when he was with Pescara in 2017.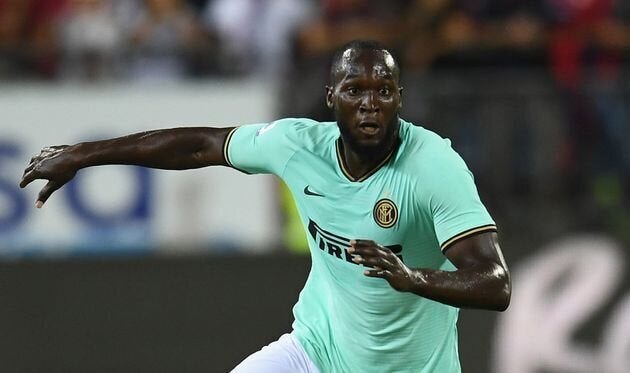 In a statement posted on his Instagram page, Lukaku noted that "many players" have received racist abuse in recent weeks and now he has, too.
"Football is a game to be enjoyed by everyone and we shouldn't accept any form of discrimination that will put our game in shame," he wrote.
"I hope the football federations all over the world react strongly on all cases of discrimination!!! Social media platforms (Instagram, Twitter, Facebook…) need to work better as well with football clubs, because every day you see at least a racist comment under a post of a person of colour. We've been saying it for years and still no action.
"Ladies and gentlemen, it's 2019, instead of going forward we're going backwards and I think as players we need (to) unify and make a statement on this matter to keep this game clean and enjoyable for everyone."
This comes months after Danny Rose was subjected to monkey chants during the Euro 2020 qualifier at the Gradski Stadion, Montenegro, in March. Earlier abuse at the match led Raheem Sterling to celebrate the final goal of the night by pulling out his ears in front of the home fans.
The Press Association found dozens of historical posts with racist language aimed at Premier League players such as Mohamed Salah, Danny Welbeck and Sterling.
After Liverpool winger Salah, a Muslim, scored against Southampton on Friday evening, one Twitter user said, in reference to the Islamic belief you should not eat pork, he would "force feed the c*** bacon".
Meanwhile, one post dated from September 2014 described Arsenal striker Welbeck as a "f****** cotton picking n*****", while another aimed at Manchester City's Sterling during Euro 2016 described him as "just a typical c**n all pace no brain".
The Manchester City player has also suggested that supporters should be banned from football matches. Speaking to the BBC, he said: "I think there should be a real [...] collective punishment for this. [...] When that ban is lifted, your fans will think twice to do anything silly like that".
Meanwhile, Manchester United and Kick It Out will meet representatives of Twitter regarding concerns over racism and other abuse aimed at footballers on the social media platform, The Guardian has reported.
"Over the next few weeks, Twitter representatives will meet with Manchester United, Kick It Out and any other civil society stakeholders interested in hearing about the proactive work Twitter is doing to address online racist abuse towards certain footballers in the UK," Twitter said.