A woman was slapped across the face in front of her terrified son during an argument over a space for pushchairs on a London bus, according to police.
The assault occurred on the route 86 bus in Romford after the suspect and a younger woman boarded with two pushchairs and went to the pram area of the bus.
Minutes later, the 29-year-old Asian victim got onto the bus on London Road with her five-year-old son and was confronted by the two women who had earlier boarded.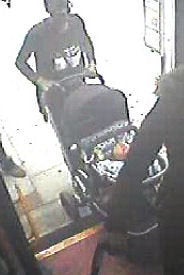 Detectives said that a dispute erupted over where the prams should be moved to on the bus.
The suspect then became angry and violent towards the victim and nearby passengers.
Police said in a statement about the incident on June 16: "The victim was slapped across the face in front of her terrified son and passengers on the bus, causing a laceration to her upper lip."
After the altercation, police said the suspect and the younger woman got off the bus towards Brewery Site, Romford.
The suspect police wish to speak to is described as being a black woman in her 40s, of slim build and standing about 6ft tall. She wore her hair in a bun.
She was wearing a black hooded jacket with front zips, black trousers and black trainers with white soles. She also had a black bag and was pushing a grey pram.
Police are keen to hear from anyone who may recognise the woman shown on the CCTV or who witnessed the incident.
Anyone with any information is asked to contact police on 101 or 07825 386484 or call Crimestoppers anonymously on 0800 555 111.
Popular in the Community