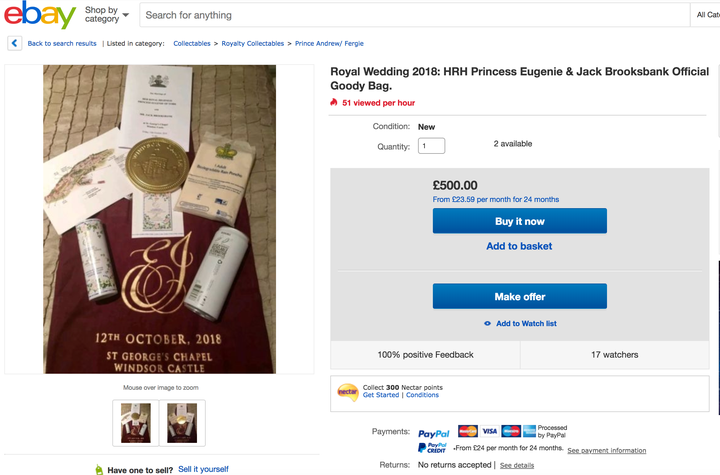 Several auctions popped up on eBay just hours after the pair had tied the knot at St George's Chapel on Friday, some with asking prices of hundreds of pounds.
The burgundy fabric bags, embossed in gold with the letters E and J and the date and venue of the wedding, were given to the members of the public who had been invited inside the grounds of Windsor Castle.
Inside, the bags contained an order of service, a Windsor Castle chocolate coin, a commemorative fridge magnet, chocolate chip shortbread, a poncho and a can of natural spring water.
One seller, listing their goody bag for £50, described it as a "chance to buy your very own piece of British royal history and memorabilia".
Another, asking for bids of £200, said it was a "very rare collectors item for those who love the British Royal Family and British Royal Weddings".
Gift bags from the wedding of the Duke and Duchess of Sussex in May were also offered for sale online, with some auctions fetching more than £1,000.
At the time, the Chartered Trading Standards Institute said that such transactions are private sales between consumers, and as such are not covered by trading standards.