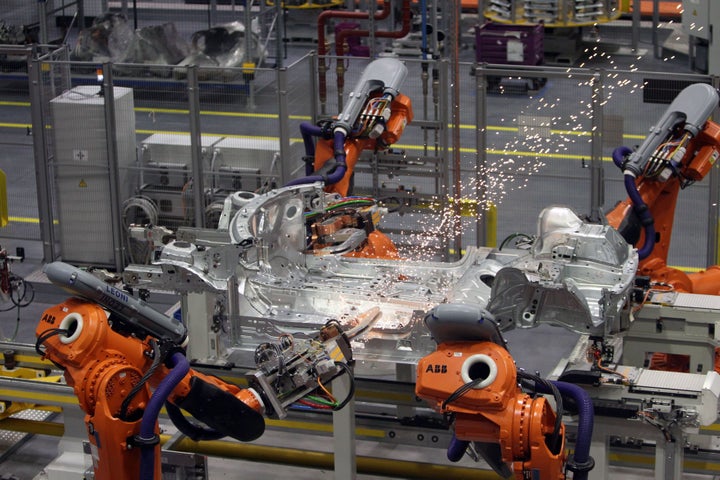 Britons should be able to bid for £10,000 to help them prosper amid huge changes to their working lives, a leading think tank suggests today.
The Royal Society for the Arts (RSA) has released research proposing a radical new sovereign wealth fund, which would be invested to make a profit like similar public funds in Norway.
The returns from the fund would be used to build a pot of money, to which working-age adults under-55 would apply to receive a grant in the coming decade.
People would have to set out how they intend to put the five-figure payouts to good use, for example, by using the cash to undergo re-training, to start a new business, or to combine work with the care of elderly or sick relatives.
It would be funded like the student grant system and wealthier individuals could be required to pay back more in tax as their earnings increase.
Ultimately, the RSA paper suggests, the wealth fund would finance a Universal Basic Income (UBI) as the world of modern work is turned upside down by increased automation, new technology and an ageing population.
The UBI would, the charity says, be best used to reward "good work" rather than simply replace existing benefits.
This proposal is not quite an unconditional model - which replaces all state benefits - currently being tested in Finland.
'Households vulnerable to shock'
Anthony Painter, Director of the RSA's Action and Research Centre, said: "Economic insecurity risks becoming the new normal unless we take action: around a third of the workforce today are economically insecure, and many more out of work can seem permanently excluded.
"The simple fact is that too many households are highly vulnerable to a shock in a decade of disruption, with stormclouds on the horizon if automation, Brexit and an ageing population are mismanaged.
"Without a real change in our thinking, neither tweaks to the welfare state nor getting people into work alone, when the link between hard work and fair pay has broken, will help working people meet the challenges ahead.
"Equally though those who advocate a Universal Basic Income must show how it is pro-work rather than post-work, and develop specific ideas to fund it. Our report is an attempt to do exactly that."