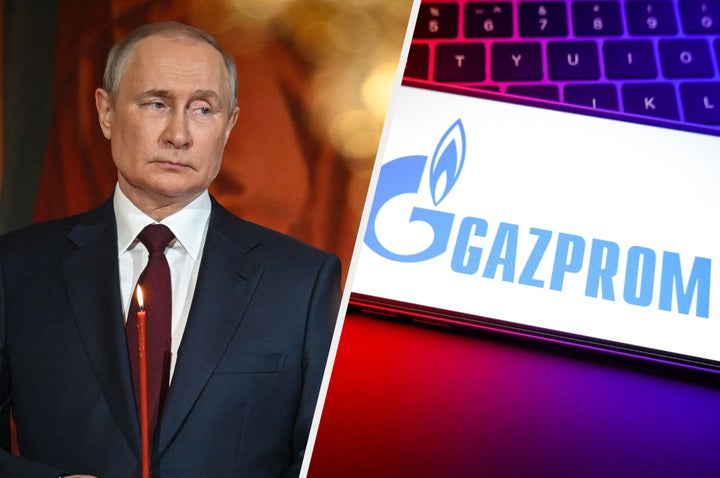 Russia has been accused of "blackmail" after cutting off its gas exports to Poland and Bulgaria.
This may be a significant turning point in the Ukrainian war, two months after Russia's president Vladimir Putin first ordered an unprovoked attack on its neighbouring nation.
But the move is not going to do Russia any favours either.
Here's everything we know so far.
How is Russia "blackmailing" European countries?
On Wednesday, the majority state-owned Russian gas company, Gazprom, released a statement explaining that it had "completely suspended gas supplies" going to Poland and Bulgaria.
These countries are essential transmit states for the Russian exports.
They were warned by the energy giant that if there was any unauthorised withdrawal of gas re-routed to other European countries, their supplies would be reduced by the same amount in retaliation.
In response, Polish gas company PGNiG said it was reserving "the right to seek compensation", and intends to use "all available" means to do so.
This dramatic decision from Moscow also comes after repeated Ukrainian appeals for Europe to stop funding the Russian invasion by buying their energy supplies elsewhere.
Europe uses Russia for more than a third of its gas, and Gazprom has a monopoly on the pipelines the country, so cutting off Poland and Bulgaria's supplies is an incendiary move from Moscow.
Gazprom claims it was following Putin's decree issued last month about how countries should pay for their Russian gas exports.
Why did Putin order this?
The Russian president declared in March that all energy payments for Russian gas must be paid in roubles, the Russian currency.
This was heavily resisted by European countries, as it would have helped prop up Russia's economy – effectively undoing the strict sanctions placed on the Kremlin over the invasion.
The speaker of the lower house of Russia's parliament, Vyacheslav Volodin, even encouraged the company to take similar action against other "unfriendly" nations.
What will happen to Poland and Bulgaria?
So far, neither nation seems too concerned.
Poland's deputy foreign minister Marcin Przydacz declared that Russia was looking to "foster divisions" between Western allies.
Its state gas company has bought 53% of its gas imports from Gazprom this year so far. However, Warsaw claims it can source gas elsewhere (such as Azerbaijan) and it has been preparing for such a situation for years.
Poland's PGNiG gas giant said its underground gas storage was close to 80% full and that with summer coming up, it was expecting demand for energy to drop.
In Bulgaria, the prime minister Kiril Petkov said the country was reconsidering its contracts with Gazprom, which include moving Russian gas to Serbia and Hungary, pointing out: "One-sided blackmail was not acceptable."
The country uses Gazprom for 90% of its gas supply but it is looking for alternative sources. For now, no restrictions are in place.
How has the rest of Europe responded?
Ukrainian president Volodymyr Zelenskyy's chief of staff – Andriy Yermak – said that Russia was "beginning the gas blackmail of Europe", and using its gas supplies as a "weapon".
He called for the EU to "impose an embargo on energy resources, depriving the Russians of their energy weapons".
Deputy prime minister Dominic Raab said this move was only contributing to its "pariah status" by threatening other countries.
He told Sky News: "We will stand shoulder to shoulder with our Polish friends and allies, they've said they can deal with this but of course it will have a very damaging effect on Russia as well.
"Because it is becoming further and further, more and more, not just a political pariah but an economic pariah and that will put the squeeze ultimately on Vladimir Putin.
"But one thing is true and clear. We cannot allow his bullying behaviour, whether it's economic warfare or military warfare, to succeed."
European Commission president Ursula von der Leyen dubbed the move "blackmail", and warned the EU was coming up with a "co-ordinated" response to this "unjustified and unacceptable" act from Russia.
However, Slovakia and Hungary have worked out separate deals with Gazprom, by paying a euro-denominated account into Gazprobank which then deposits the amount in roubles.
Still, von der Leyen said Moscow's behaviour showed Russia's "unreliability" as an energy supplier and maintained that the EU is "prepared" for this.
She promised that leaders have been working to "ensure alternative deliveries and the best possible storage levels across the EU".