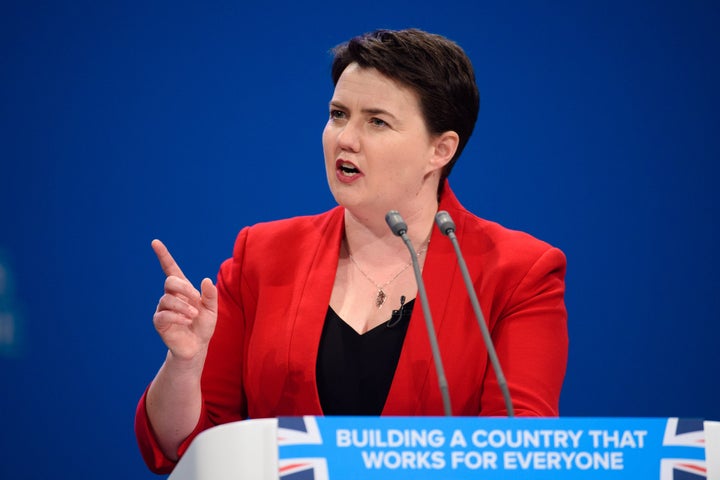 Tories are "too joyless" to win over younger voters, Scottish Conservative leader Ruth Davidson declared in an uncompromising attack on her own party.
Speaking at the launch of new think-tank in Parliament on Monday evening, Davidson called on party members to stop "hectoring", as it was only putting voters off.
Addressing a gathering which included Cabinet Members, junior ministers and some of Theresa May's closest advisors, Davidson said that while Labour could only offer "Caracas-on-Avon" to the voters, the Tories needed a positive vision to sell.
Her comments came as the anniversary of the 2017 General Election approaches, which saw Theresa May criticised for her 'Maybot' persona and the Tories lose their Parliamentary majority.
Speaking at the launch of Onward, aimed at attracting younger voters to the Conservatives, Davidson warned that she was about to "create news", before saying: "Sometimes as Tories we just look a bit dour.
"We look a bit joyless, a bit authoritarian sometimes.
"We don't get to win if we start hectoring the people we need to vote for us.
"We don't get to say 'just stand on the right' like every tube message out there.
"We've got to learn to be a bit more joyful and that's something that we have tried to learn in Scotland.
She added: "When you do it with a smile, they actually get behind you."
Davidson quipped that Onward, led by Theresa May's former deputy policy chief Will Tanner, had only invited her to speak to highlight diversity within the party.
"Just call for the pregnant lesbian!" she remarked.
Defra Sectary Michael Gove also spoke at the launch, and echoed Davidson's call for more positivity from the Tories.
He called on his colleagues to channel musician Pharrell Williams, saying: "What we Conservatives need to do, is to remember, we need to be happy."
He added: "The critical thing about Conservatives, as Ruth has said, is that sometimes in the past we have seemed censorious and finger wagging, pessimistic and unhappy, uncomfortable that we seem to be living in the 21 Century when the 1950s would be far more attractive and what a pity that the 19 century isn't an option."
Gove did prompt some shock in the room when he said he was the 'Ike' to Davidson's 'Tina' - perhaps unaware that Ike Turner was violent towards his wife on numerous occasions.
Related