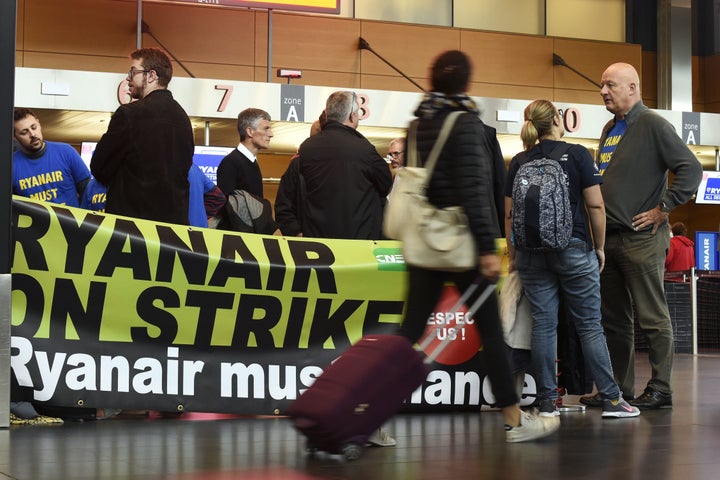 Ryanair is digging its heels in as a row over whether passengers affected by last week's strike action are entitled to compensation continues.
Affected passengers were offered the option to choose another flight or take a refund, but the budget carrier is offering no compensation for other costs – such as extra nights in a hotel or booking alterations – claiming the disruption was "beyond the airline's control".
Their latest statement, issued to HuffPost UK on Wednesday, adds: "If these strikes, by a tiny minority of Ryanair crew, were within Ryanair's control, there would be no strikes and no cancellations."
Stephanie Dermott was due to fly home from Malaga to Manchester last Friday, but received a text informing her that her flight had been cancelled in the days before. She was given the option of taking a refund or the next available flight – which was three days after her planned departure.
"I did not have the time to wait to speak to Ryanair customer services or be accommodated at the airport, and so I was forced to purchase flights myself at almost double the original price," the 28-year-old told HuffPost UK, adding that her friends needed to be home for childcare commitments.
Once back in the UK, she set about seeking "reimbursement for flights rearranged by myself and compensation in accordance with EU261 passenger rights", completing forms online and speaking to a customer services adviser over the telephone.
On Wednesday morning, Dermott was informed she would receive the cash for the original flight and difference in price between that and the new ones, but no extra compensation for "the inconvenience, disruption or time wasted".
"I have spent two days trying to sort this matter with Ryanair, to find that I will receive absolutely nothing other than a 'sorry' for this whole ordeal," she said.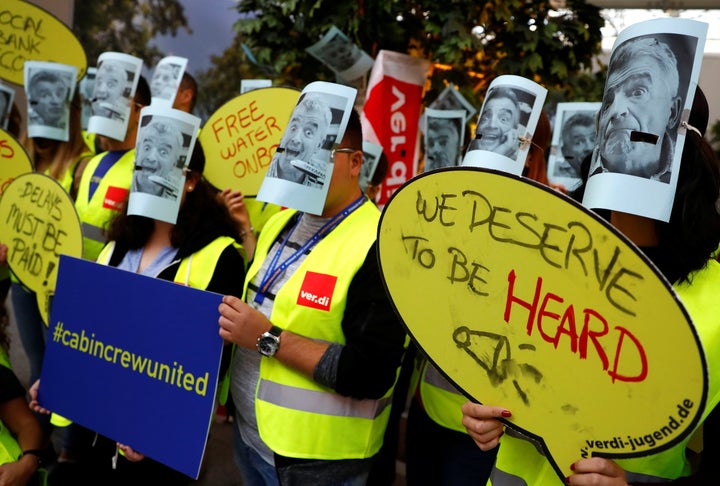 The EU 261 regulation at the centre of the dispute states that if a passenger's flight is cancelled less than 14 days before it is due to depart, the airline should pay €250 (£224) in compensation for journeys shorter than 1,500km, or €400 for those of a greater distance.
However, a clause in the legislation means airlines can decline to pay out in the event of "extraordinary circumstances", which usually means bad weather. Ryanair is claiming the strikes fall into this category, but industry regulator the Civil Aviation Authority (CAA) thinks otherwise.
The watchdog previously released a statement which said: "Passengers have the right to seek compensation under EU legislation when flights are delayed by three hours or more, cancelled or when they are denied boarding.
"It is our view that when a flight cancellation is caused by strike action by the airline's employees, the airline is required to pay compensation if it has not warned passengers of the cancellation at least two weeks prior to the scheduled time of departure."
In response to this, a Ryanair spokesperson told HuffPost UK: "In recent years during which there were over 15 days of pilot and cabin crew strikes in Germany, Lufthansa was not required to pay EU261 compensation.
"Similarly, the UK CAA should also explain why it took no EU261 action against BA during last year's cabin crew strikes."
HuffPost UK has contacted the CAA for further comment. Passengers can still try to claim compensation from Ryanair on an individual basis. In the event their claim is rejected – as Dermott's was – they can pursue a complaint with the independent, Ombudsman-like service, Alternative Dispute Resolution For Aviation (ADR).