London's Labour mayor Sadiq Khan was loudly booed at a rally for thousands of Jeremy Corbyn supporters on Sunday evening.
On Sunday, Khan dramatically intervened in the Labour leadership race and urged party members to vote for Corbyn's challenger Owen Smith.
Corbyn told the crowd at the almost packed 4,000 capacity Ruach City Church in Kilburn, north London, he wanted to break the "magic circle of decision-making" that ran Westminster.
Speaking before the Labour leader, Claudia Webbe, a member of the party's National Executive Committee (NEC), said accusations Corbyn could not win a general election were wrong. "Despite what Sadiq Khan says. We won London under Jeremy Corbyn's leadership," she said.
The mention of Khan's name, who won the London mayor's race in May by beating Conservative candidate Zac Goldsmith by 1,310,143 votes to 994,614, was greeted with loud booing.
Webbe, a Labour councillor Islington, said Labour MPs who "want to engage with media in campaigns of smear and demonisation" should focus on fighting the Conservative Party.
"Sadiq's victory was a victory for the politics of unity and against the politics of division and disunity," she said.
"Look what Jeremy has achieved in the short space of time since he has been leader. We have seen a massive explosion in party membership, government U-turns on cuts to tax credits, disability benefits, and academy schools in England, by-election win after by-election win."
Webbe added of Corbyn's 2015 Labour leadership victory: "This was not just a political wake up, it was a political revolution. Because the changes our country drastically needs can only happen when we wrestle our democracy from the corrupt grip of an unfair system."
Some Labour MPs reacted angrily to the booing of Khan. Labour Whip Conor McGinn attacked the "cult" surrounding Corbyn's leadership and defended Khan.
"The fact he was booed and jeered, the mention of his name, speaks volumes about the very sad and perilous state the Labour Party is in. Sadiq has the biggest personal mandate of any politician in the history of this country," he told BBC Radio 4's Westminster Hour.
Tom Blenkinsop said "every single person who booed Sadiq Khan should be expelled" from the party, adding, "stop the rot".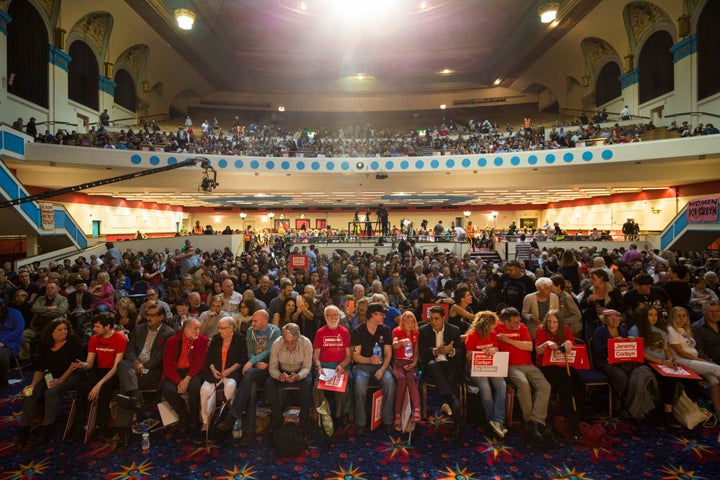 Also speaking at the event, Manuel Cortes, the general secretary of the TSSA union, said Corbyn was capable of transforming the country.
"I have been a member of the Labour Party for over 30 years. In that time we had many leaders. I tell you what we haven't had in those 30 years, is a socialist leader," he said.
Cortes added: "Jeremy is the great liberator, he has taken us out of the neoliberal agenda."
Ballots in the leadership contest will be sent out on Monday and members can vote until September 12.
Corbyn told the rally the country needed "decision-making made for the millions and not the millionaires".
"It is about breaking open this magical circle of Westminster, some of our great universities, Whitehall and the boardrooms who try to control thinking, control ideas and control the way policy is developed," he said.
And the Labour leader attacked the press for what he said was its attempts to downplay the size of the crowd in Kilburn. "Some of the media think this is small or moderate crowd," he said. "I just say to them, gently, do some maths."
"Many of the straight media simply don't get it, and don't understand it. Thousands of people actually want to be involved, their voice to be heard, their views to be listed to and to make a contribution," he said.
"It's about democracy in our own party and our own movement because we have to be held to account for what we do."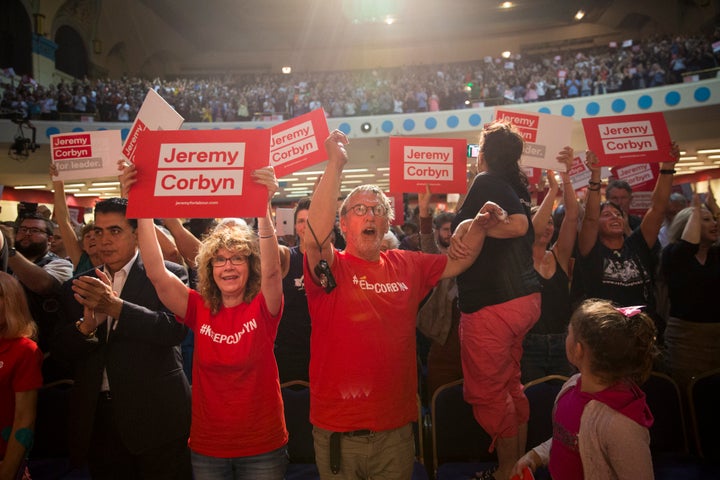 Corbyn added: "We are elected into office in our party, we also have to make sure that every member the party has their right participate, their right to vote, their right to be heard, their right to propose policy, their right to put forward the ideas they want. That is not a weakening of leadership."
Urging his party to ditch Corbyn in favour of Smith, Khan said: "I served with Owen Smith in the shadow cabinet and he has the strongest Labour values."
In his article, Khan also also bitterly denounced Corbyn's performance in the EU referendum campaign, saying that he had to take his share of the blame for the vote to leave.
Related