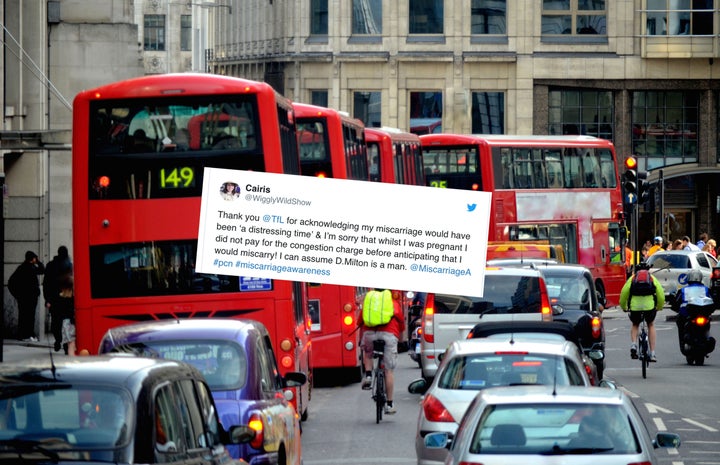 Sadiq Khan has intervened after a woman said she was told by Transport for London she would have to pay a congestion charge penalty fine, despite providing evidence she had a miscarriage on the day in question.
Cairis, who runs 'Wiggly Wild Show' insect workshops and science education programmes for children in London and Kent, shared a snippet of the letter she said she received from TfL on Twitter.
She had intended to pay the daily amount of £11.50 when she got home from work, but then discovered she'd had a silent miscarriage – when a pregnancy sac develops in the womb but is empty. This usually occurs between the 8th and 11th week, according to the NHS.
The letter from TfL read: "Whilst Transport for London (TfL) recognises this must have been a distressing time for you, there is a responsibility for the appropriate charge to have been paid for the use of a vehicle on a road within the Congestion Charging Zone.
"We have considered fully the issues raised and have decided that on this occasion we are unable to exercise discretion and PCN (penalty charge notice) will not be cancelled, as the charge could have been purchased in advance.
"Your [vehicle] has been clearly captured travelling within the zone during charging hours."
Posting the letter on Twitter, Cairis wrote: "Thank you TfL for acknowledging my miscarrying would have been a 'distressing time' and I'm sorry that whilst I was pregnant I did not pay for the congestion charge before anticipating that I would miscarry! I can assume [the person in the signature] is a man."
"I cannot afford to appeal your decision but will be making a formal complaint for the tone of your letter.""
Cairis continued: "I cannot afford to appeal your decision but will be making a formal complaint for the tone of your letter. I would not wish this on my worse [sic] enemy so am glad no one in your department seems to have experienced this or empathise."
After Cairis' tweet gained traction on Twitter, and was covered by Grazia magazine, the Mayor of London Sadiq Khan tweeted: "TfL will be issuing an apology and waiving the fine. I have also asked them to ensure issues like this are treated with the sensitivity and humanity they deserve in future."
Less than an hour later, Cairis confirmed TfL had apologised and agreed to cancel the fine. "Just to let everyone know that TfL have rung to apologise, cancelled the PCN [penalty charge notice] and assured me that normally this tone of letter is not used for mitigating circumstances involving bereavement (which was what most concerned me).
"Wasn't really expecting so much response as was just upset and angry when I tweeted. If anyone is going through a miscarriage themselves (it is very common) then I recommend the @miscarriageA website and don't hide it."
Helen Chapman, TfL's director of licensing, regulation and charging, told HuffPost UK: "We are extremely sorry for the highly insensitive letter that we sent Ms Hickey [Cairis]. It is clear that we handled this incorrectly. We have cancelled the penalty charge notice with immediate effect and we will deal with any similar future case with much greater sensitivity."