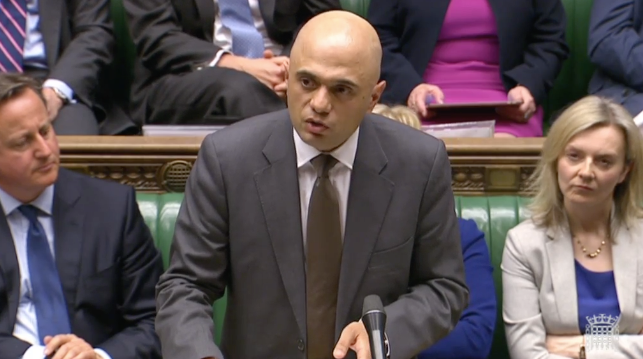 Sajid Javid today claimed he persuaded Tata not to close down Port Talbot's steel works – despite being in Australia when the crucial meeting was taking place in India.
The Business Secretary told Parliament that it was in fact his work which convinced the Mumbai-based company to sell off their UK steel division instead of scrapping it.
But just over a week ago Javid told the BBC's Andrew Marr Show he was surprised by the decision taken in Mumbai, saying the announcement went "much further than we expected."
His statement was met with incredulity from Labour, who claimed it was his "incompetence" which had led to the escalation of the steel crisis in recent months.
Javid also announced today that the Government was set to put money in to help keep the UK steel industry afloat, confirming it would work with a private company on any buyout.
Speaking in the Commons, he said: "Several weeks ago Tata told me, in confidence, that they were seriously considering an immediate closure of Port Talbot.
"Not a sale, a closure. That would have meant thousands of hard-working men and women could already be out of a job.
"Thousands more would be facing a bleak future. I was not prepared to let that happen.
"In the days that followed, I worked relentlessly to convince Tata that it was in everyone's interests to keep the plant open and find a new buyer.
"I also made it very clear that the government is totally committed to supporting and facilitating that process.
Labour's Shadow Business Secretary Angela Eagle poured scorn on Javid's claim, and said both he and the Government as a whole had been "found wanting."
Referring to the crunch meeting of Tata executives in Mumbai on March 29, Eagle said: "Where was the Business Secretary at this crucial moment? Was he fighting tooth and nail to ensure the future of a UK foundation industry? He was not. We all now know that he was on his way to Australia to fulfill a few pleasant engagements Down Under.
"It is this laissez-faire approach, this incompetence, this inaction which has characterised his response to this crisis from the beginning."
Responding to Javid's claim he had stopped Tata closing down the Port Talbot plant, Labour MP Stephen Kinnock, who flew out to Mumbai to represent steelworkers in his Aberavon constituency, told the Huff Post UK: "I believe that the opposite is the case.
"Tata Steel has expressed deep disappointment and frustration with the lack of support they have received from this government, particularly around anti-dumping and MES for China.
"Therefore the Government's influence on Tata is very limited. What made the difference was the Community Union Save our Steel campaign, and the fact that Labour has raised steel 203 times since the General Election."
The Commons debate came just hours after it was announced Tata had sold its Scunthorpe plant for £1 – saving 4,400 jobs.
Javid told the Commons this afternoon he was in contact with "potential buyers" for other parts of the business, "making clear that the Government stands ready to help."
He said: "This includes looking at the possibility of co-investing with a buyer on commercial terms."
The news the Government is willing to put money in to keep the industry alive seems to contradict Javid's claim last week that nationalisation is not a "solution" to the crisis.
Kinnock told the Huff Post UK: " This is further evidence of the fact that this shambolic Government is making policy on the hoof. It is high time that the Secretary of State now makes a clear and comprehensive written statement, explaining what the Government is or is not prepared to do, in terms of intervention.
"The continued speculation and uncertainty is not helpful to the sales process. It seems that BIS officials are as bemused as we are by the Secretary of State's comments today."
Related