A woman's agonising genetic condition is causing her skull to gradually crush her own spinal cord – and it could kill her without life-saving surgery.
Samantha Smith, 30, is in a race against time to fund an operation in the US while she suffers daily bone dislocations, frequent unconsciousness and constant pain from Ehlers Danlos Syndrome (EDS).
The terrifying health condition means the 'glue' that holds her bones together is faulty and, as a result, her bones slip and cause her constant pain.
Now reliant on a neck brace to try and hold the weight of her skull from her spinal cord, the determined mum-of-two is desperate to get treatment before it is too late.
There are only three surgeons in the world qualified to carry out an operation to correct the rare complications caused by EDS, so she is now raising money in a bid to get the surgery abroad.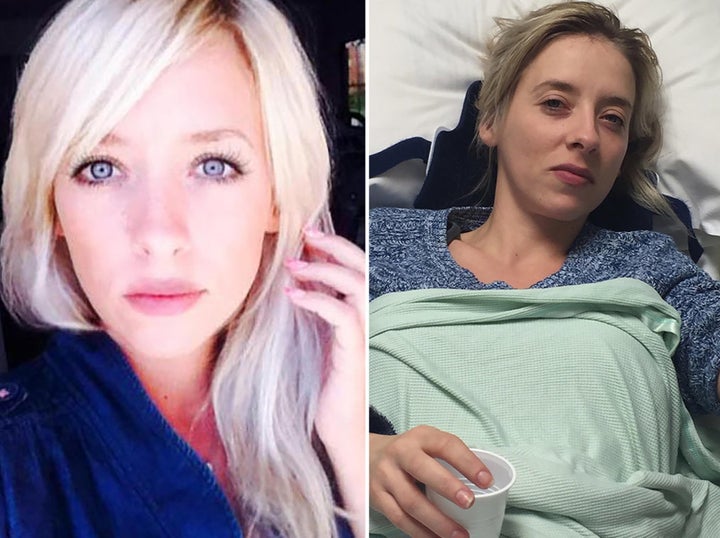 Samantha, from Rochdale, Greater Manchester, said: "At the moment it's now hard to move, I'm in constant pain all over my body, but I'm very, very fidgety because my bones will dislocate a lot.
"It doesn't take much at all for my bones to dislocate – it happens every day, especially in my neck and hips.
"I can even just be sat on the sofa and something will pop out, and I'll have to pop it back in.
"I can lose consciousness about four times a week because of my skull pressing on my spine and brain stem, caused by the EDS.
"Sometimes I can be aware that it's coming on, I can feel the blood going to my legs and I can go and lie down, but other times it can be much more sudden."
Samantha, a psychotherapist, who is mum to Jenson, eight, and Brooke, seven, finally got a diagnosis in December 2016 after eight years of horrific symptoms, including vomiting blood.
It was then that she discovered the EDS had caused Crainocervical Instability (CCI) – meaning her neck ligaments are stretched and cannot support her head.
But the problems had only started to materialise fully after the birth of daughter Brooke, who was delivered by emergency caesarean in 2009.
Samantha said: "Brooke had to be delivered by an emergency caesarean because my placenta came away, which was due to the EDS, but they didn't know about my condition then.
"It's happened gradually over the last eight years. At first I didn't even know that my bones were dislocating, I just thought I was very clicky.
"I used to have to sit and crack my fingers quite a lot and friends didn't like it – it's the kind of noise that goes through people. But I kept telling them that I had to do it.
"I vomited blood, had head pain, lost consciousness regularly and had chest pain because of the CCI."
The condition has become so severe that Samantha was forced to give up her psychotherapy business just weeks ago, after spending years studying to become qualified.
Samantha said: "It feels like it's stopped me in everything. Just moving is a problem for me.
"I remember I had a lot of pain as a child, but I didn't really know any different – I had no idea I had this condition."
The determined mum says she has an incredible support network around her to help her and her two children as she tries to raise money for a life-saving operation which is not available in the UK.
Samantha said: "The children are great – they help me when I need it. They understand my illness in their own way.
"I just want to be able to be a mum to them again without this."
She added: "There are apparently only three surgeons in the world who can perform the surgery to take the CCI.
"Without the surgery, the EDS and CCI could end my life. At the moment it's just slowly getting worse and causing more damage."