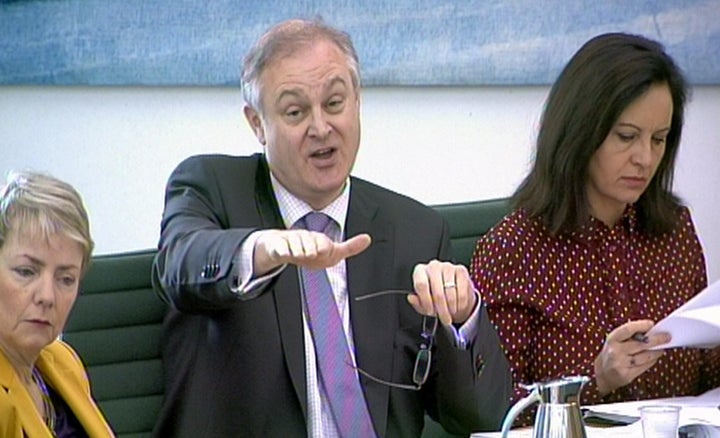 A Tory MP has criticised the Government's plan to turn all schools in to academies, labelling the plan "rushed, ill-thought out and flawed".
Stewart Jackson, MP for Peterborough, said he was willing to defy the party line as the reform was a "million miles from what a Conservative Party in office should be doing".
Jackson's withering criticism of the "compulsory academisation" of primary and secondary schools underlines growing unease among some Tory backbenchers at the flagship plan being taken forward by Education Secretary, Nicky Morgan.
Writing in a column for his local newspaper the Peterborough Telegraph, seen by HuffPost UK, the MP argues the move is a "recipe for upheaval as well as muddle and costly confusion" and that there is "no evidence (as yet)" that the move will improve schools.
He says: "Do we really believe that remote civil servants or 'local' Regional Schools Commissioners will be adequate substitutes for the real local knowledge, expertise, passion, teamwork, skills and shared history of local councillors, dedicated education officers and parents 'on the ground?'
"The difference is obvious: at least the latter are accountable to their electorate, whilst the former are accountable only to their hierarchy – namely the Secretary of State, rather than pupils, parents, teachers or governors."
The MP goes on that the plan will risks "squashing local choice, differentiation and expertise" and "rightly irritates local councillors".
In recognition of many Tories feeling ill at ease with state control, he argues: "It's because I'm a Conservative that I can see that something like this is a million miles from what a Conservative Party in office should be doing."
Meanwhile, one senior Tory told HuffPost UK: "I don't believe in 'compulsory freedom'. There's lots of us who aren't comfortable with this."
Under the reform, all state schools must become academies by 2020 or have plans to do so by 2022.
Jackson questions whether academy chains - so-called Multi Academy Trusts that run more than one school - can "run and turnaround not just high performing schools but those which are struggling", and references the troubles of the Voyager academy in his constituency.
He continues the prospect of "nationalising" education and handing down a "top down system" to a Jeremy Corbyn Labour government "fills me with horror".
"I will not be supporting this rushed, ill thought out and flawed policy and I suspect the government will dump it before too long," Jackson finishes.
Labour today leads an Opposition Day debate having tabled a motion claiming there is "no evidence that academisation in and of itself leads to school improvement". The vote is not binding but could prove embarrassing for the Government.
Academies are state-controlled but free of local authority control.
For any school that fails to have a plan in place, the Government will take on radical new powers to intervene and ensure academy conversion takes place.
Unions have hit out at the Government was moving to "undo over 50 years of comprehensive public education at a stroke".
Popular in the Community