An online clothing store has sparked a social media backlash after claiming to be selling dogs as "fashion accessories".
The official Twitter account for Lyst announced this morning that it was launching the 'Canine Collection'.
"Be sure to compliment your summer outfit with a four legged friend," the message read.
On the company's website, a new page appeared apparently offering a variety of dog breeds for sale - available in 'sizes' including 'X-Small', 'Small' and 'Large'.
Lyst's Twitter account has also been retweeting messages from people claiming to be customers whose puppies had arrived in the post.
The campaign is widely believed to be a hoax - any attempt to place an order only links to an email address 'caninecare@ly.st' - but Twitter users were quick to brand it a "sick joke".
The Mirror reported that Lyst's head of global communications Joanna Christie recently said the company would be launching more 'provocative' PR campaigns.
"We feel strongly that people will either love or hate the campaign," she said.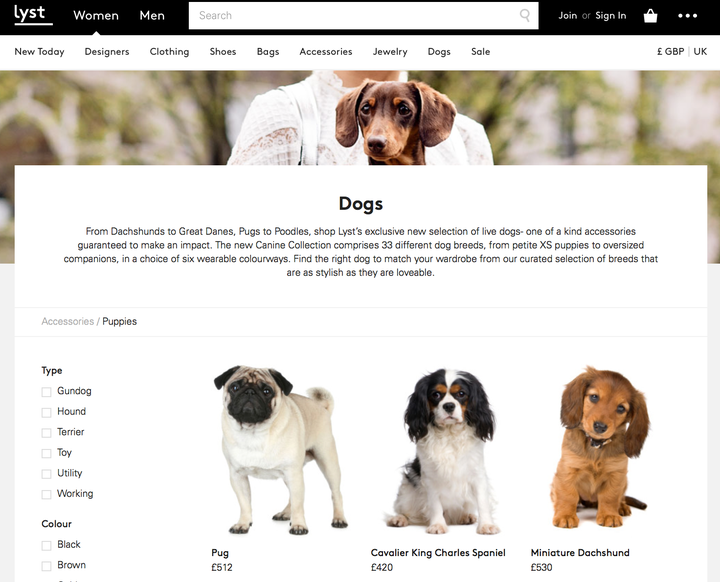 The RSPCA has slammed the retailer for sending out an "extremely worrying message" - whether the campaign is a hoax or not.
"It is important to remember that dogs are not a fashion accessories or throwaway commodities and the RSPCA has concerns about anything which might lead people to see them as replaceable ornaments, rather than intelligent, living creatures which need long-term care and commitment," they told the Mirror.
In response Lyst issued the following statement to The Huffington Post UK:
"We were surprised to see the negative reactions on social media- the very space where dogs are paraded as accessories the most.
"Who doesn't love a cute puppy in a handbag? We're just helping you buy both pieces of the Instagram shot at once."