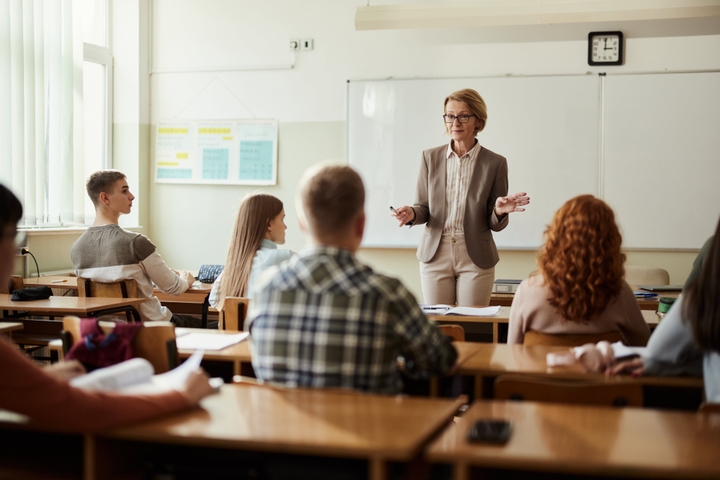 It's every teens' nightmare – your parents want to talk to you about sex. It's cringe AF, sure, but this could become a reality if the Department for Education gets their way.
The thing is – kids aren't even learning about sex from school, according to a recent nationwide study by Lovehoney.
The study reveals that 34% of 18-24-year-olds learned about sex from their friends, and that 32% acquired their knowledge of sex from pornography.
A worrying 44% "learned by doing" – meanwhile, TikTok was the fourth most popular sex education resource for young adults, and school came in sixth place.
In fact, only 3% rated their school-based sex education as "excellent" (10 out of 10), while 36% deemed it "bad" (rating it between one and three).
Of the 18–24-year-olds surveyed, many also criticised the RSHE curriculum itself. More than a few (40%) believe that masturbation should be discussed in sex education, while oft-ignored topics like gender identity (36%) and LGBTQ+ information (32%) were also suggested to be lacking from the syllabus.
For the older respondents (the survey's age range was 18 to 64) the picture is alarmingly different. In fact, a whopping 62% of those over 40 years old think that sex education should not be taught in school, and that it should come down to parents or guardians.
Indeed, nearly one in five (18%) of respondents did not think sex education was necessary to be taught in schools at all.
The government remains steadfast in its plan to involve parents in sex education, with Keegan also penning an open letter to parents saying they should feel confident "in their right to know what their children are seeing and being taught in the classroom".
This forms part of a larger plan to review RSHE statutory guidance that the Tory party introduced in 2019. Sensationalist concerns over "graphic" and "age-inappropriate" lessons emerged earlier this year during PMQs, which prompted the Prime Minister to bring forward the already scheduled three-year review of the guidance.
A spokesperson for the Association of School and College Leaders described these concerns as "sweeping generalisation and inflammatory rhetoric", while the National Association of Head Teachers said they were "deeply concerned" by them, as schools are only following the government's own guidance when it comes to relationships and sex education.
Speaking to HuffPost, Annabelle Knight, sex & relationships expert at Lovehoney, writes that "sex education is a vital component of school curriculum, addressing essential topics like sexual health and contraception, but also things like consent, which you scarcely learn about elsewhere.
Young people need to be equipped with this knowledge within a secure environment by trained professionals, and sex education at school is crucial for helping teenagers navigate relationships and make informed decisions about their own wellbeing."
The results of the RSHE guidance review are due to be published later this year.