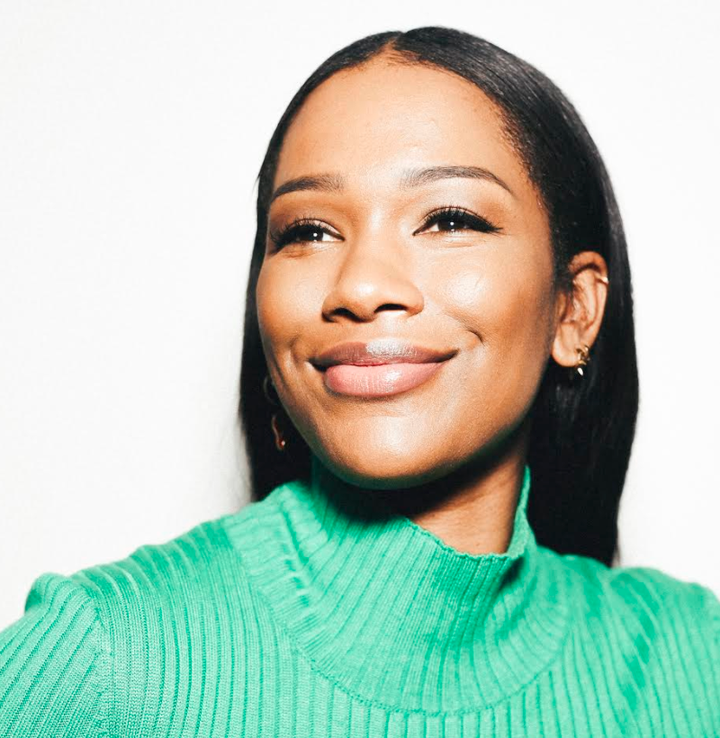 This story is part of Black Ballad's takeover of HuffPost UK, a week-long series by Black women on parenting, family, and our post-Covid future.
Sitting in her car, with her nine-year-old son Roman in the passenger seat, Sharmadean Reid is refreshingly honest about parenting during a pandemic.
"I had a massive freakout in the beginning, because Roman was going to private school. It had lockdown a week before all of the other schools, because posh people like to travel and there were two cases in the school, even before they announced that schools needed to close," says the beauty entrepreneur.
"I am a Black mum who wants her child to do well and be amazing and I was freaking out that he wasn't learning anything."
Many parents felt the same pangs of panic when the government announced school closures in March. Yet, like other families dealing with homeschooling, Reid made the best of a situation that none of us had ever experienced.
"After a couple of weeks, I had to really organise," she says. "One of the critical things for us was when I went to my office and got a desk for him. I got loads of stationery and re-organised his bedroom, so it was more like a workspace and then we settled down into a really nice rhythm."
If you know anything about Sharmadean Reid, you'll know that this 36-year-old is on a relentless mission to empower women through the beauty industry – and to provide working mums with opportunities to succeed beyond measure. This passion to ensure working mums can fulfil their career ambitions started back in 2009, when she founded her first business, WAH Nails.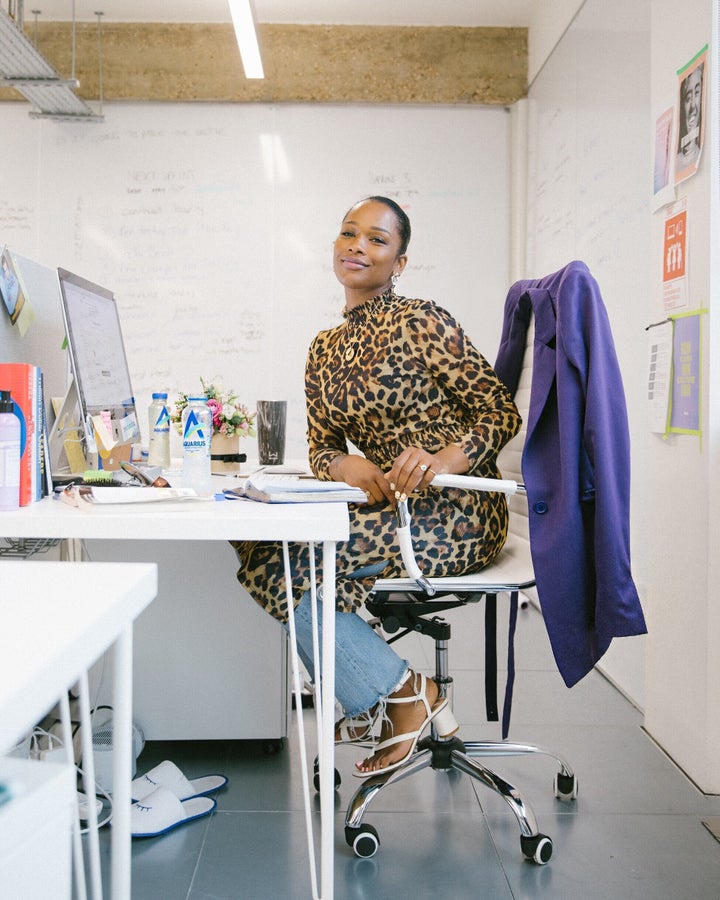 Not only did Reid achieve her quest of creating the coolest nail shop in London – with stores in Dalston, east London and in Topshop's flagship branch at Oxford Circus – WAH Nails also built pop-up nail bars for brands including British Airways, Marc Jacobs and Nike.
And it was through these innovative ventures that she was able to employ numerous single mums. "There are not many jobs you can do when you are a mum that are flexible but beauty is one of them," she says – adding that many of the jobs that do have flexibility "tend to not be as gratifying".
"The thing about working in a salon is that it is really satisfying. You are tapping into your creative brain that you might not get to do when you are running around being mum and there is the social interaction element. I've always thought that beauty was a really important part of the future of work and the future of work for women – as it's paid, flexible, creative and social work."
She adds: "The way that it happened with WAH, we just endorsed them. A lot of women who were very enterprising were like: 'I am going to learn how to do nails because I've got a kid and I need to pick him up from school when I want.'
"It kinda turned out that they chose me. We all know what it is like when your babysitter cancels or your child is ill. I think to employ working mothers you have to be empathetic to their experience and that can be hard if you have never been a caregiver before."
Now, after a decade of revolutionising the beauty industry, Reid has closed all her WAH stores to focus on her current venture, Beautystack, an app that acts as a marketplace for next-generation beauty professionals to sell their services and take bookings directly from clients, all through the power of their imagery.
Founding the app in 2017 while still running WAH, Reid knew, again, that she wanted to make flexible working and her staff's childcare needs a priority. The tem had moved into a much larger office where it could run events. But Reid saw potential in the space beyond another ping-pong table or games room.
"I thought: wouldn't it be far more economical to employ a nanny then lose a team member at such a critical juncture of our startup?"
"My co-founder, who is a Ugandan male had just had a baby, one of my team members – also a father – had just had a baby. I had Roman and I thought: wouldn't it be far more economical to employ a nanny to help with the childcare then lose a team member at such a critical juncture of our startup? It wasn't expensive.
"I went to Ikea and got a tent, toys and stuff and hired someone who could be with the kids.
"Some of the biggest companies in the world like Nike had a crèche. It means you can drop the kids off at the office and you work knowing that your child is cared for. Part of the stress as a parent is thinking: 'Is my child being looked after very well?'"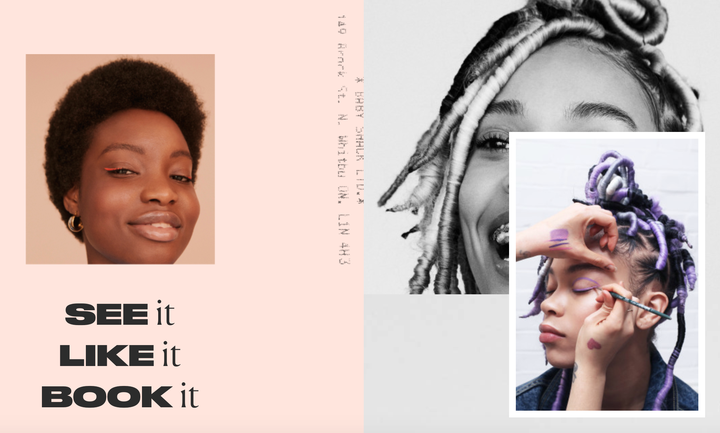 While doing her part to help parents in the workforce, the Wolverhampton native strongly believes the government's approach – or non-existent approach – to supporting new parents is one of the biggest social problems that we face.
"This country has targets and mandates for productivity and economic growth without considering for the first three years of a child's life, there is no financial support for women – therefore eradicating a huge proportion of the population who could be contributing to the economy if they wanted to," says Reid.
"Without making it economically viable for women to return to work easily, the government are taking women out of the workforce for three years."
"They are removing from the workforce the opportunity for productivity, innovation, research, new entrepreneurs, as a lot of women will eventually give other people jobs.
"Without making it economically viable for women to return to work easily, they are taking women out of the workforce for three years and it's incredibly hard to return to work. It is very, very short-sighted to think tax breaks are the issue – just give full time childcare from age one for anyone who wants it."
For her part, Reid admits that parenting during Covid-19 had made her a much more "relaxed" mum. "I would say I've gone from micromanaging and feeling very, very guilty to now being: 'It is what it is – let's just have some adventures,'" she tells me. But despite her self-assuredness, this confident businesswoman struggled with finding her identity after giving birth to her son.
"In the year he was born, I didn't know what clothes I should be wearing. I was only 26. I also lost my identity. I wasn't sure the right way to be, as your body changes so much, but unfortunately as women – and this a horrible fact of the socialisation and sexualisation of women – much of your identity is defined by your physicality.
"So I was like, if I've lost my physical body as I've known it, then who am I?"
"In that first year, I was cooking, baking and doing so much mum crafting stuff, you won't believe it. I was turning into Martha Stewart," she says with a laugh.
"What did I do to combat this? I took a full time consultancy role at Nike when Roman was one and that forced me to get my identity back and when I mean identity, I mean I got my work ethic back."
As our interview continues, it's clear Reid is juggling work and motherhood right in front of me – driving around London with Roman by her side, picking up packages for Beautystack, while continuing to interact with her son throughout.
Looking from the outside in, it's easy to assume she has this work-life balance thing nailed, but she is quick to reject any praise that suggests she's a mum who manages everything with ease.
"I hate when people say you're superwoman because you have a kid and got a business. Like no, no, I only have my child half of the week."
"The biggest challenge is energy management. I'm obviously and clearly more tired when I have my son, not because he requires my energy, but because you are double-thinking. You are thinking for yourself and you are thinking for somebody else," she says.
"I hate the idea when people say you're superwoman because you have a kid, you got a business. Like no, I only have my child half of the week. Don't look at me and think that what I do is comparable or achievable, because on Wednesday, Thursday, Friday, alternate Saturdays, I don't have anyone to look after apart from myself. Imagine if you had all of that time, what you could achieve. Imagine your clarity of thought?"
Reid shares parental duties of Roman with his father Greg. "I love and think about my son all the time but when it comes to Wednesday to Saturday I am not in mother mode whatsoever. I fully rate people who just have their kids full time – because if I'm honest, I'm not even sure how I would manage."
Key to the co-parenting relationship is routine, she says. "By hook or by crook, Greg always has Roman at Wednesday one o'clock to Saturday one o'clock. We are obviously flexible, but I wouldn't book a holiday on those days. Think how passive aggressive it would be," she says. "These are the games that people play and all it is is a bid for power."
She values keeping things more civil and courteous. "If there is a triangle of a relationship between mother, father and child, you absolutely have to sever that connection between mother and father emotionally and don't let any positive or negative feelings you have towards your former partner affect the consistency of their relationship between their dad or mum.
"The child to parent relationship always stays intact even if the mother and father one doesn't; the single thing that has made it successful has been consistency – that is what children need."
Reid is just as transparent when reflecting on how her own childhood and becoming a mum inspired her to empower other women economically.
"When I was younger, we couldn't really afford anything I wanted. I remember always thinking when I was a kid I'm going to earn money to buy the things I want," she tells me.
"At the time I was separating from Roman's dad, I couldn't actually afford to move out for ages. I remember thinking I needed to do a couple of styling jobs to get money for a deposit on my flat. Luckily, I could do that and it was big chunks of money I would be paid. That is not typical.
"In the world we live in today, the freedom of choice, while it is very mental – you mentally have to choose the life you want to live – it is accelerated by having an income and being economically independent to choose the type of life that you want."
As we edge nearer to the end of our 45-minute call, I'm curious to find out are the things Reid most enjoys doing with Roman. She laughs again."What I like to do with him (whether he likes to do it is another story) is to go to the Science Museum."
She turns to Roman and asks him the same question I've just asked her.
"What do we enjoy doing together the most?"
Roman answers: "Going to the park."
"Yes, long walks and I love travelling by ourselves," she responds. "Staying at new hotels – he loves a hotel. We used to go cinema nearly every Saturday, that was our thing. We watch a movie almost every night, so basically we can be home and just watch a film. Roman adds: "I can only remember a few days where I didn't watch an entire movie with my mum."
Soon after this, Reid drops Roman off, leaving just the two of us in conversation. With the interview coming to a close, I want to know how she stays motivated to keep building businesses that put women – and by extension, mothers – at the centre? Her answer is quite simple.
"I really want to prove the point that it's good business. I think that people bang on and on about the charitable part, the social impact part, but it's just obvious that it is good to do, that it's just good business."
This article was commissioned for HuffPost UK by Black Ballad, the lifestyle platform that tells stories of human experience through the eyes of Black British women and elevates their voices. If you would like to read more, become a Black Ballad member to get unlimited access to content, events and discounts, and to connect to its community of like-minded women.