Socially-distanced sex just isn't possible, but there was some good news for couples who don't co-habit in the latest government guidelines.
The rules now state shagging is back on the cards – as long as you're in an "established relationship". If you're single, you're still screwed though – and sex coach Charlene Douglas told HuffPost UK you could "potentially be giving yourself a death sentence" by having sex with someone you barely know. The least sexy thing we've ever heard...
But what actually counts as "established" when you're in a relationship? When pushed on the definition during a Sky News interview, health secretary Matt Hancock blushed a bit, then bumbled about being "sensible and careful" – without really clearing up the matter.
So we've decided to create our own definition – with a little help from relationship experts and suggestions on Twitter. Of course, you don't have to hit every single one of these relationship milestones – and you could always opt for Covid-safe sex, otherwise – but it's a good place to start.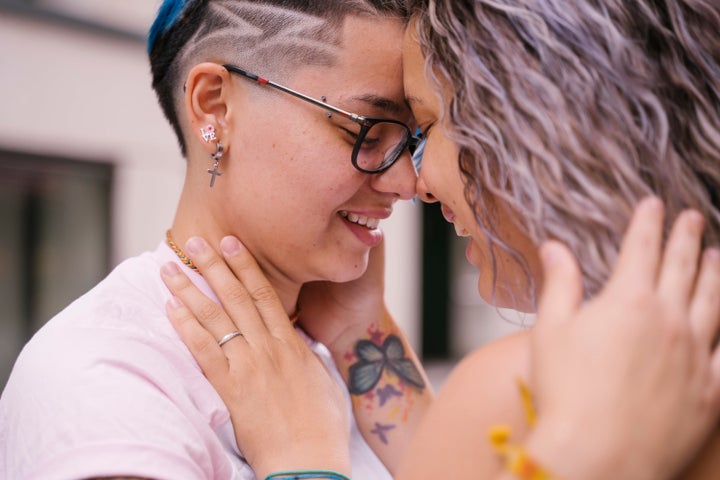 1. You know their middle name
Seriously, how many times have you asked the middle name of a casual hook-up? This is a thing. If you know their full name, that's a good first sign. If you can reel off the names of their parents and siblings without thinking about it, you're practically married.
2. You've stopped watching the texting clock
If you're still wondering if it's too soon to text back, you've got a long way to go. Ditto if you think twice about calling them for a chat.
Previously writing for HuffPost, Bobbi Palmer, founder of dating site Date Like A Grown Up, warned that texting alone can create a false sense of intimacy in a relationship. "A text 'relationship' is simply like being a player in a game," she said. "It's a type of false connection that sets up incredibly unrealistic assumptions and expectations."
Make sure your texting interactions are backed up with IRL dates before you consider yourselves "established".
3. This person is not your ex
The new rules are going to bring a cuffing season like we've never seen before. But – and this is a big but – if you've started talking to your ex, that probably isn't an established relationship, it's a train wreck.
4. You've had The Talk
People on Twitter have been asking if "established" also means "exclusive". Matt Hancock failed to clarify this, so we can't imagine him talking sensibly about casual sex with a regular hook-up or polyamory anytime soon.
But seriously: have you discussed what you and your partner(s) actually are – a.k.a, have you had The Talk? The best way to find out what your situation is, is to talk about it and be honest with what you both want. Bite the bullet.
5. You've worked through your commitment issues
If you're unsure if you even want to be in an "established relationship" with this person, it's probably not a good sign.
Remember, if you decide to "un-establish" the relationship, you'll technically be single and among the banned shaggers once more – proceed with caution.
6. You display loving gestures
Sky's Kay Burley asked Hancock if people have to say 'I love you' in order to be in an established relationship, bizarrely adding "because some people say that and they don't mean it".
Kurt Smith, a therapist specialising in counselling for men, told HuffPost people display affection in different ways – and it doesn't always mean saying the 'L word'. "Showing your partner you care and appreciate them is done in many small, day-to-day ways," he said. "Little things add up, like making him a cup of coffee every morning or telling her you appreciate how hard she works. When these gestures become habits, it's a sign a relationship is more likely to last."
If that's what you and your partner do, it sounds like (established) love to us.
7. You're on the same page about Covid
And most other major things, to be frank. Karl Pillemer, professor of human development at Cornell University, previously told HuffPost it's important for your core values to align if a relationship is going to work. If you've hopped into bed with a Covid denier and you're taking the virus seriously, it's unlikely your relationship will be "established" for very long.