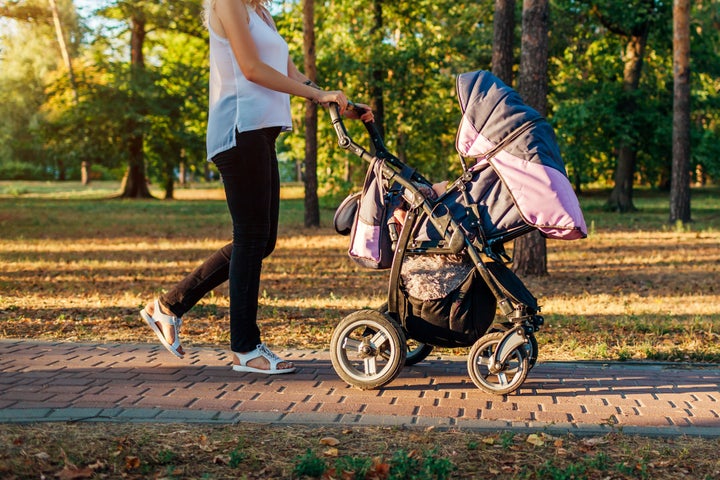 Single parents of young children who want to meet people outside of their household after weeks at home under lockdown will be at the mercy of police officers' discretion, HuffPost UK understands.
From Wednesday, as part of the government's measures to ease the Covid-19 lockdown, people in England can meet up with one person outside of their household as long as they remain outdoors and stay two metres apart.
But single parents with babies and young children have effectively been banned from enjoying this freedom, with these gatherings strictly limited to a maximum of two people.
Asked whether the two-person limit would apply to single parents whose children were too young to be left at home alone, a spokesperson for the government said: "The regulations are clear that gatherings of more than two people outside are still banned if they are not all members of the same household."
HuffPost UK understands that single parents who want to meet up with someone with their children in tow will be at the discretion of police officers upholding social distancing rules.
It is little comfort to thousands of single parents who have been in isolation with their children for weeks on end during lockdown.
Yasmine Camilla, a single mum with two small children, said she was "desperate to see a friendly face" having "worked, parented and home-schooled all at once for the last eight weeks".
"I have no other adult in my household, so this means I am still unable to socialise with anyone," she said.
"I keep hearing how the government is taking steps to support people's physical and mental health, but as yet, despite being in an increasingly difficult situation, there is no respite for me as a single parent."
Single mum Genevieve Roberts, who also has two children, said it was clear the government had overlooked single parents – "the group of people who have had the least contact with other adults, yet have been busier than ever" during lockdown.
"Many single parents who I'm in touch with are starting to face mental health issues as a result of having no adult company and no face-to-face conversation for such an extended time," said Roberts, author of 'Going Solo: My Choice To Become A Single Mother Using A Donor'.
"There has been such confusion over messaging. We have been told to use our common sense, so I suspect that many responsible adults… will believe in good faith that as the main, or sole, carer for their children that they can bring them along when they meet up with another adult."
Gingerbread, a charity that supports single parent families, said it had seen a 130% increase in calls to its helpline during the coronavirus lockdown.
"Isolation is affecting many people but it is particularly tough for single parents – many of whom won't have seen another adult for weeks," said chief executive Victoria Benson.
"Single parents don't have the option of leaving their children at home and because of this they still won't be able to meet another adult for a socially distanced chat in an outdoor space.
"It's tough and relentless being the only adult and being solely responsible for children – single parents need support too."