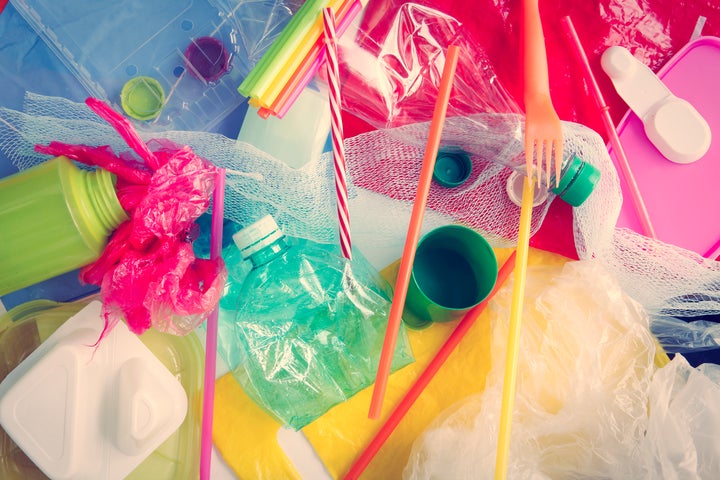 While I have realised that giving up single-use plastic is practically impossible, cutting right down is definitely getting easier and easier as the weeks have gone on. Much of our plastic consumption is a force of habit so it takes a conscious daily effort to change. Last Saturday, I went to the indoor market in Chelmsford (I can highly recommend the Italian deli and its fresh pasta for lunch!). When I was there I was offered a plastic fork but when I politely declined I was immediately offered a metal one. Until recently that would have been seen as a bit odd but now it gets a nod of approval as we become more environmentally conscious as a society.
On my visit to Chelmsford market, I couldn't resist a stop at the sweet stall – I stocked up on two of my favourites, yoghurt coated peanuts and chocolate honeycomb. All of which, I am very happy to say, came in paper bags.
It is great that so many businesses and retailers, both large and small, are starting to take the problem of plastic pollution seriously. This week I met representatives from some of the UK's largest retailers to hear all about what they are doing to reduce their use of plastic across their stores. Many of them have signed the 'Plastics Pact' and have made commitments to drastically reduce their consumption of plastic by 2025. For example, Morrisons has pledged to ensure 100% of the plastic used in its own-brand packaging is recyclable and Lidl has replaced all black plastic in their fresh produce range - saving approximately 50 tonnes of black plastic waste per year.
It is true that perishable food is always going to be a challenge when it comes to replacing its plastic packaging. But things like milk always used to come in cartons or glass bottles – and it is something we should bring back. I was thrilled when my colleague Caroline Dinenage recommended 'Milk and More' last week, a service that delivers milk in bottles straight to your doorstep.
Speaking of doorsteps, I really enjoyed the Great British Spring Clean last weekend. This is part of a nationwide initiative to clean up our villages, towns and cities and there are people taking part in community litter picks all over the country. I joined over 100 volunteers in Chelmsford to tidy up the riverside and parks. Many of my MP colleagues have pledged to lead local groups of #LentLitterPickers. If you would like to arrange a litter pick yourself do contact your local council. Most councils will provide equipment and will arrange to collect the bags at the end.
I was delighted this week that new statistics show as a country we have cut our greenhouse gases by a record amount - down by 25% since 2010 and our renewable electricity generation is at an all-time high. We have also met our targets for the second carbon budget. The commitments we have made as a Government mean things are most definitely moving in the right direction. But it is crucial that we do not allow such success to turn to complacency – there is much more still to do and community-led initiatives such as the Great British Spring Clean are a means for us to come together and take action, not only to educate but also to do our small bit to leave our environment in a better state for the next generation.
In other news, my new favourite vegetarian recipe of the week is an avocado, feta and chilli salad with a poached egg on top. Although, given how much water I have now discovered it takes to grow avocados, I think I might have to reconsider because it isn't as environmentally friendly as I first thought!
Vicky Ford is the Conservative MP for Chelmsford