A huge sinkhole has opened up in an elderly couple's back garden on the site of a 100-year-old mineshaft.
Dramatic aerial footage from the scene showed the huge hole which swallowed up much of the McKays' garden at their home in Ipswich, Queensland.
Lyn and Ray McKay have lived in their house for 25 years - but had no idea they would end up with the unexpected water feature in their garden.
They were alerted to to the hole by a neighbour at 9am but grew in size to around 10m in diameter through out the day, ABC reported.
The local water company was initially called as it was assumed a pipe had burst but it now appears that the problem is more historic.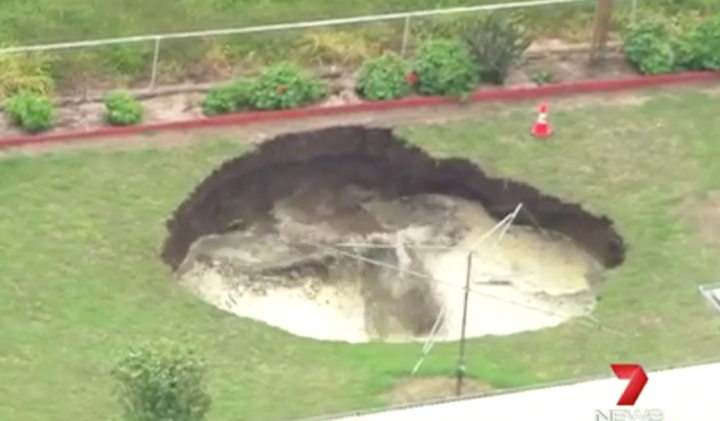 According to the Daily Mail, Ipswich Mayor Paul Pisasale said: 'It's an exploratory shaft that goes down about 100 metres and there's no need to panic about a neighbourhood falling in.
He said that the shaft was put in between 1903 and 1920, adding: "'You can see this shaft was full up with rubbish and bottles and whoever did it (filled it), didn't follow very good practices."
He vowed to get the McKays back in their house as soon as possible, adding that responsibility for the sinkhole rested with the mining department.
This is not the first time the couple has had water-related trouble. Their property was damaged in the 2011 floods which swept through Ipswich.