He achieved legendary status during the first coronavirus lockdown and now the "Skipping Sikh", Rajinder Singh, has turned Santa to bring more festive smiles.
The 74-year-old grandfather inspired others to pick up a skipping rope and keep active even when self isolating at home during the pandemic. Now, he has donned a Santa outfit to drop off festive-themed skipping ropes and other presents for children who might have otherwise gone without this Christmas.
"The difference is, this Santa wears his turban with pride instead of a hat and the white beard I have already got," Rajinder Singh told HuffPost UK.
"Even though as Sikhs we don't celebrate Christmas, my daughter said to me: 'Dad, why don't you do something different and become the Skipping Sikh Santa and let's drop off some surprise gifts for those in need.'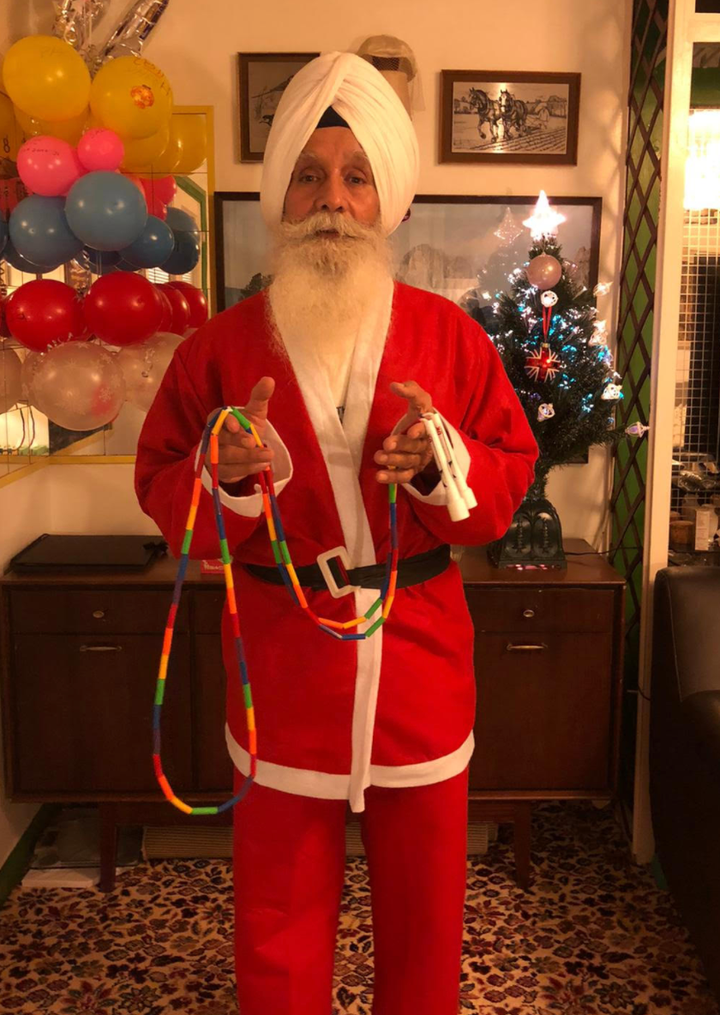 Daughter Min Kaur, 40, explains: "Christmas is such a happy time of year for those who celebrate it, but it will be completely different for people this year. It has been a bad year and we wanted to do something to give back to the community and give people something to smile about.
"Our faith says we should show compassion, kindness and love to everyone and my Dad wanted to spread some happiness to children at Christmas."
Rajinder, who lives in Harlington, Middlesex, became a social media sensation with his skipping videos and was awarded an MBE after raising £14,000 for the NHS.
Now, the family has joined forces with Springwest Academy school to take part in the Hounslow Christmas Project for under-privileged children in the borough to ensure no child goes without a gift this Christmas.
The project, run with Hounslow Education Partnership and MP Seema Malhotra, raised £12,000 through public donations for Christmas presents for children.
Jump Rope UK donated 40 handmade beaded Christmas skipping ropes and the Singh family added to them by buying more ropes, chocolates and toys.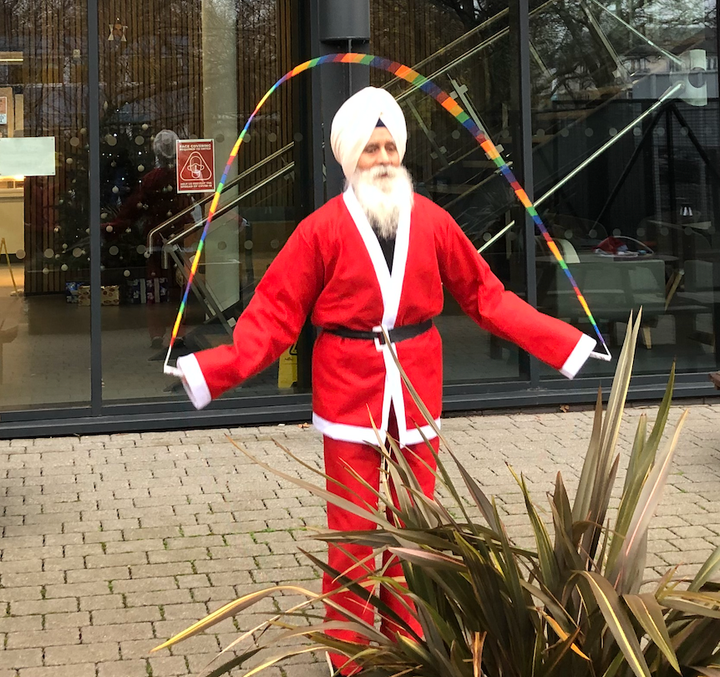 Project lead Emma Siddhu expressed her particular thanks to Singh for his Christmas contribution and "for motivating thousands of youths in isolation by skipping during Covid lockdown".
Seema Malhotra MP added: "We have been incredibly moved at how the community has come together to help with this project. After a very difficult year for children and their families, every child deserves a gift this Christmas and to know that they have a community that cares."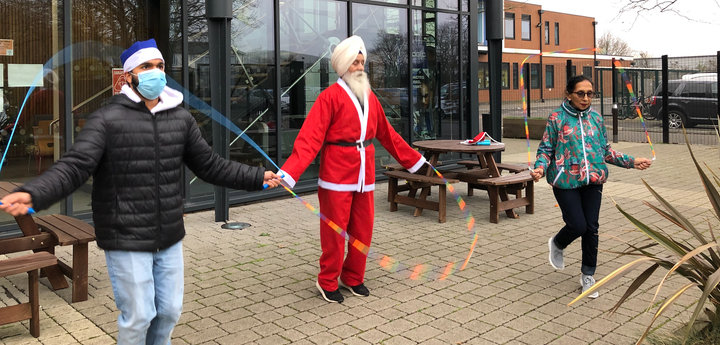 Of Singh, she said: "He has a unique ability to reach out and connect with people of all ages – and his gifts of handmade skipping ropes made by Jump Rope UK for young people were an instant hit.
″He brought a message of generosity and a message of well being – as well as a great deal of humour as a very special Santa."
Singh said: "Life is too short and I want to do what I can to give back. As a family, we wanted to send a very strong positive message which is stay strong, be positive and keep smiling.
"It gives me real joy when I see others smile."