Article originally published 31/07/2016: due to a technical issue this article may have resurfaced for some readers, and the original publish date may not have been visible.
A Hollywood stuntman has become the first person in history to skydive from 25,000 feet without a parachute - landing in a net at the speed of 120 mph, or terminal velocity.
Luke Aikins, 42, jumped from a plane above the desert landscape of California's Simi Valley and successfully landed in a 100 feet by 100 feet net below.
Aikins has completed 18,000 skydives before this daring attempt.
He did dozens of practice jumps aiming at the 100 square foot target, opening his parachute at the last moment.
Moments before he reached the safety net, he flipped onto his back to land in the right position.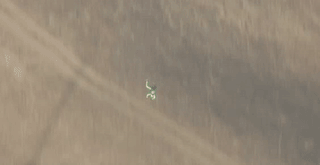 The event, dubbed 'Heaven Sent', was broadcast live on TV as his wife and four-year-old son watched from the landing site.
Shortly after the triumphant freefall he posted images on Facebook.
He wrore: "My vision was always proper preparation and that if you train right you can make anything happen."
READ MORE: