Parents have been warned against buying some toy slime products as they may contain higher than recommended levels of a chemical called boron, according to a consumer watchdog.
Which? tested 11 popular children's slimes and found eight of them failed safety testing as they contained more than 300mg/kg of boron - a limit set by the European Union (EU).
The worst slime tested had more than four times the permitted level of boron and only three products of the 11 tested - one from Amazon, one from Smyths and one from The Works - met the safety limits.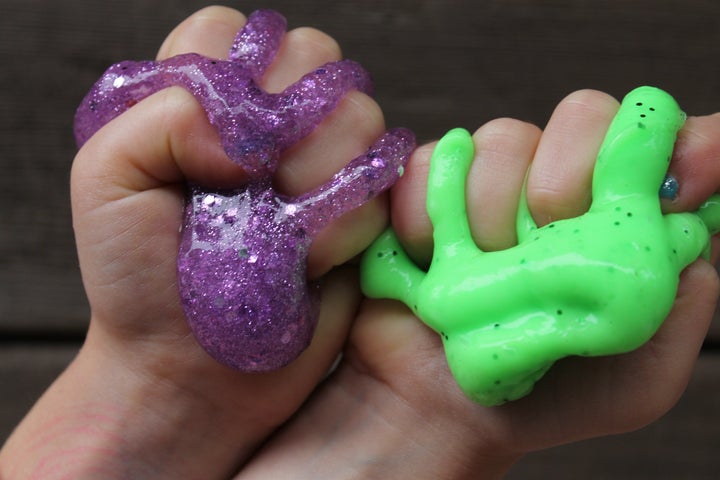 What is boron?
Boron is an element in minerals found in the Earth's crust. Which? said it is also found in borax, a common ingredient in slime that helps to create its "stickiness".
Studies of high levels of boron in animals have been linked to low birth weights, birth defects and developmental delays. Meanwhile the EU states that exposure to very high levels of boron may impair fertility and may cause harm to the unborn child in pregnant women.
On an extreme scale, exposure to large amounts of it (about 30g of boric acid) over short periods of time can affect the stomach, intestines, liver, kidney, and brain and can eventually lead to death, according to the Agency for Toxic Substances and Disease Registry.
Which slimes didn't meet safety levels?
An EU safety directive suggests liquid or sticky toys should contain no more than 300mg/kg of boron. Of those tested, Toysmith Jupiter Juice contained the highest level: 1,400mg/kg.
This was followed by CCINEE Pink Fluffy Slime, which contains 1,000mg/kg, and Cosoro Dodolu Crystal Slime Magic Clay, which contains 980mg/kg.
Baker Ross, supplier for Mini Bucket Putty, claimed that its product should officially be called a putty, not a slime, and was therefore within the safety limited for Boron. However, Which? said it should be classed as a slime by reason of both its texture and substance. Pending further investigation, Baker Ross told Which? that it has taken Mini Bucket Putty off sale.
iBase Toy's Slime Toy contained 860 mg/kg, LOYO's Fluffy Slime contained 730mg/kg, and both Brezeh's Free Slime Toy and Virtuotrade's My Fluffy Slime contained 560mg/kg.
Which slimes are considered safe?
Only HGI Goopy Slime, Glam Goo Deluxe Pack and Planet Slime Shop's Hulk Green Halloween Slime fell within the safe limits.
Which? has called for all potentially unsafe children's slimes to be removed from sale and for the government to act to safeguard children's safety when it comes to slime.
If you own a slime toy mentioned above, it might be worth throwing it away and buying a safer version or making slime yourself, ensuring you monitor your child while doing so, so they don't sustain injuries.
Amazon has removed the slimes found to be unsafe from its website. A spokesperson said: "All Marketplace sellers must follow our selling guidelines and those who don't will be subject to action, including potential removal of their account. The products in question are no longer available."
A Department for Business, Energy and Industrial Strategy spokesperson told PA: "The government's top priority is to keep people safe, which is why goods being sold in the UK must meet some of the strictest safety laws in the world.
"The evidence provided by Which? will be considered by the Office for Product Safety and Standards and (it can) take any appropriate action."