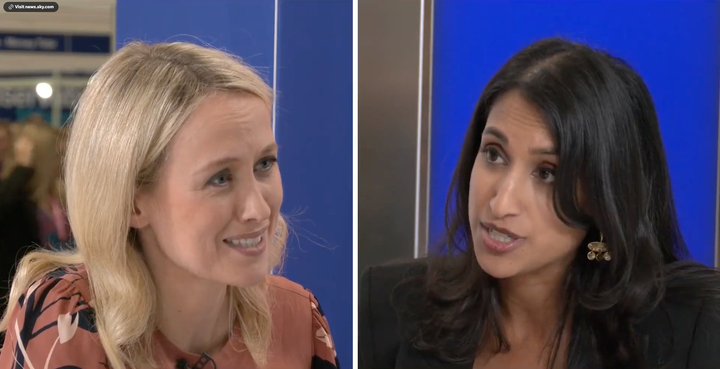 Sophy Ridge ripped apart a cabinet minister live on air after she made a particularly bizarre claim about Labour supposedly launching a meat tax.
Broadcasting from the Conservative Party conference in Manchester, the Sky News presenter called Claire Coutinho out for a strange detail she had included in her speech to Tory delegates.
In a tense exchange last night, Ridge said to the energy secretary: "I just want to read a bit of your speech to you, because there was one section of it that really struck me.
″You said: ′It's no wonder that Labour seem so relaxed about taxing meat, Sir Keir Starmer doesn't eat it, and Ed Miliband is clearly scarred by his encounter with a bacon sandwich'."
Ridge pushed: ″You didn't write that, did you?"
The minister began: "I did actually write that, I think it's good to have a light moment in your speech as well..."
The Sky News journalist just cut across the energy secretary, saying: "They're not proposing a meat tax, are they?"
"The point is actually very serious," Coutinho replied. "The things that Labour are proposing are actually incredibly hard for working families."
But Ridge didn't let the point slide. She asked repeatedly: "What's the meat tax?"
The cabinet minister deflected: "They are proposing things which are pushing families too hard. So you've got things like the ULEZ tax..."
Ridge added again: "That's not a meat tax!"
"It does cost families at least £12.50 a day –"
Ridge repeated: "That's not meat tax though, is it?"
Coutinho then citied Labour's other pro-climate policies, such as decarbonising the electricity grid, and their plans to borrow £28 billion.
Eventually, she said: "Yes that was a light-hearted moment in the speech, but the point is actually deadly serious.
"If you push people too far in this country, you will lose the cause of climate change, something which I am passionate about because I think it's really important that we get there."
But Ridge wasn't willing to let this go. She said: "Genuinely – there isn't a meat tax?"
Coutinho explained this has been "part of the debate", talking about discouraging people from eating meat , although she was unable to say when exactly Labour had ever suggested a meat tax.
The minister said: "When they talk about moving at the pace at which they're moving, what they're implying is that difficult choices will have to be made, and we know from having carefully safeguarded this debate, when people talk about having to do things faster and quicker, they do talk about doing things like discouraging people from eating meat, and changing their dietary requirements."
With incredulity, Ridge hit back: "Keir Starmer's talked about discouraging people from eating less meat, has he?"
″Starmer doesn't ever tells people exactly what he thinks, which is part of the problem," Coutinho claimed, before suggesting the Tories have a clear agenda on Net Zero.
After less than 24 hours online, the clipped exchange has drawn in 1.5 million views on X, formerly Twitter.
This isn't the first time the Conservatives have promised to scrap a meat tax, even though it is not a public policy being pushed by any major party right now.
When PM Rishi Sunak announced he was rowing back on green pledges in September, he said: "We will never impose unnecessary and heavy-handed measures on you, the British people."