Dogs destined for the dinner plate could soon be saving lives by sniffing out cancer and other life-threatening illnesses.
The eight rescues to arrive in the UK were among 200 canines released from a dog meat farm in South Korea's Gangwon province, the same area where the 2018 Winter Olympics will take place next year.
A golden retriever-cross called Bridgette and a spaniel collie mix called Nina will be assessed to see if they are suitable candidates to join Medical Detection Dogs.
The charity trains canines to sniff out cancer and other ailments.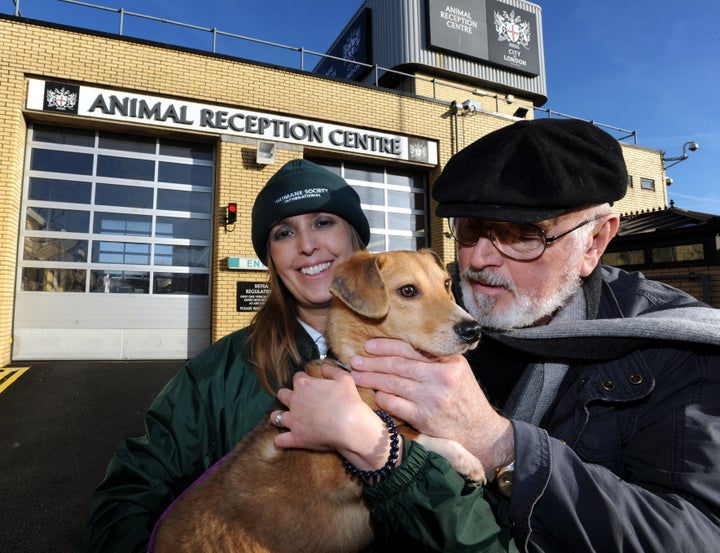 The group's Bio-Detection Dogs are trained to find the odour of diseases and to detect minute changes in an individual's personal odour triggered by their disease and alert them to an impending medical event.
Dr Roger Mugford, a dog behaviourist from the charity, visited the meat farm in South Korea to get an idea of which rescues would most likely be the best candidates to join the Medical Detection Dogs programme.
Actor Peter Egan, a supporter of HSI and Medical Detection Dogs, told the Huffington Post UK: "The imperative behind that is to simply say to anyone, but particularly the people who want to eat dogs, that there's a much better use for these animals than eating them and that is allowing them to benefit the health and the happiness of humans."
Dogs at the charity can also be trained to work with diabetes sufferers and detect vital changes in blood sugar levels that could save a person from dying.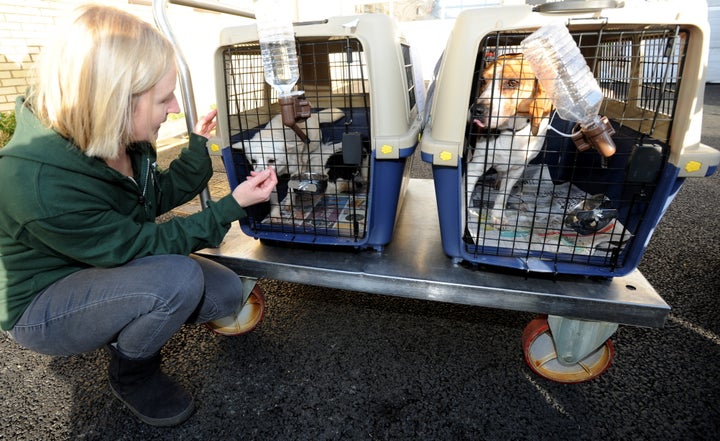 It is estimated that about 30 million dogs are killed for human consumption each year across Asia.
HSI has helped rescue nearly 800 dogs from dog meat farms in South Korea.
There are an estimated 17,000 dog meat farms in South Korea, breeding more than 2 million dogs annually.
HSI says the method used to kill dogs in South Korea is "brutal", with animals usually taking up to 5 minutes to die, although there have been instances of dogs taking up to 20 minutes to die.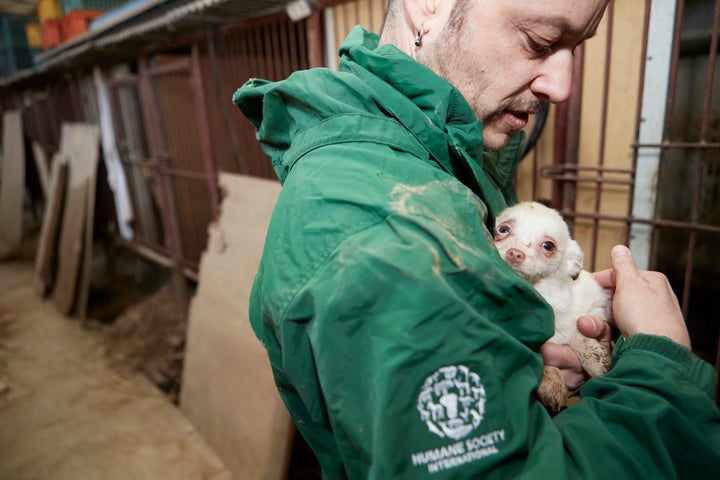 A variety of breeds are found on dog meat farms, including cocker spaniels, huskies, beagles, pyrenees, mastiffs and jindos.
The size of the farms vary significantly in size, with some housing more than 1,000 dogs and others fewer than 50.
HSI is calling on the South Korean government to support a phase out of the dog meat trade ahead of the Olympics and an ultimate ban on the trade.
The owner of the farm approached the international animal welfare organisation after being urged by her daughter to give up the dog meat business.
Claire Bass, UK director of HSI said from Heathrow where she greeted the eight dogs for UK adoption: "It's such a wonderful feeling to get these dogs out safe and sound, and to know that they are at last free of daily suffering and the threat of being killed and eaten.
"Despite being denied love and comfort for so long, it's incredibly touching that these dogs still have such great affection for people, and we're very confident that they'll make wonderful companions in their happy new homes here in the UK.
"They'll also serve as ambassadors for the millions of other dogs still languishing on dog meat farms in South Korea."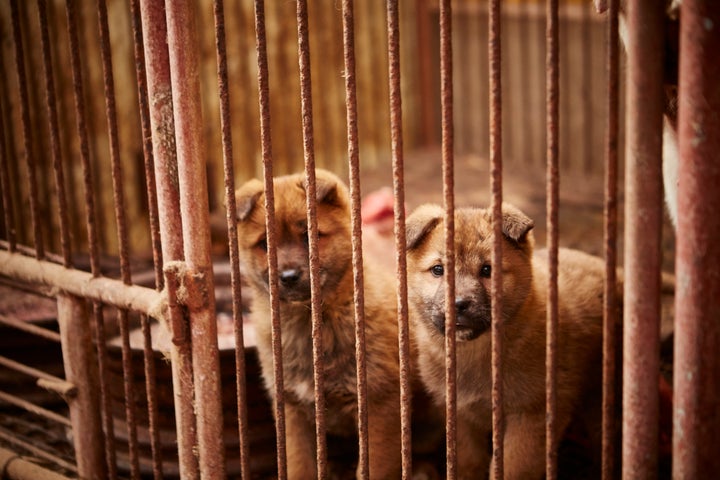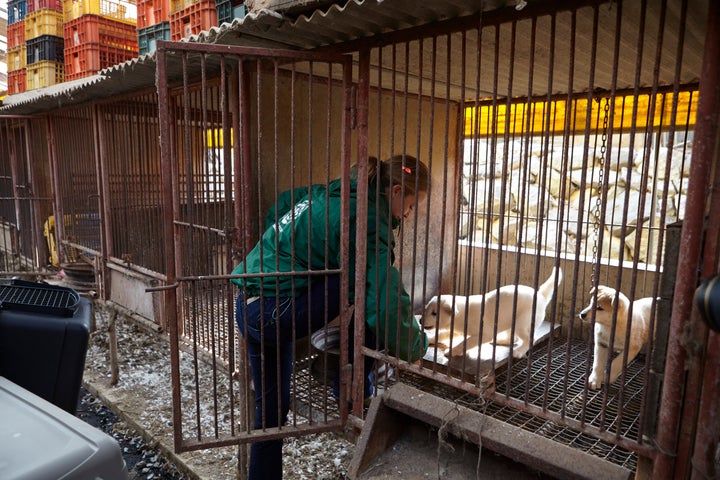 The consumption of dog meat is largely seasonal in South Korea, most popular during the summer months over the boknal days.
Dogs on a meat farm often live in small, filthy cages with no enrichment and little food and care.
HSI works with dog meat farmers to permanently close farms and help them transition towards other livelihoods.
Dogs rescued from the farms have been flown to the UK, US and Canada.
HSI said that in South Korea there currently is not a widespread adoption programme for ex-meat dogs, making large scale adoption within the country difficult.
Related