Specsavers has apologised and scrapped an advert it placed in the Daily Express after dozens of customers complained after it appeared alongside a "bigoted" front page story.
The eyewear firm said it was "never our intention" for the ad tagline "Just what you've been waiting to hear" to appear under a story that warned of a fresh rush of migrants from Calais.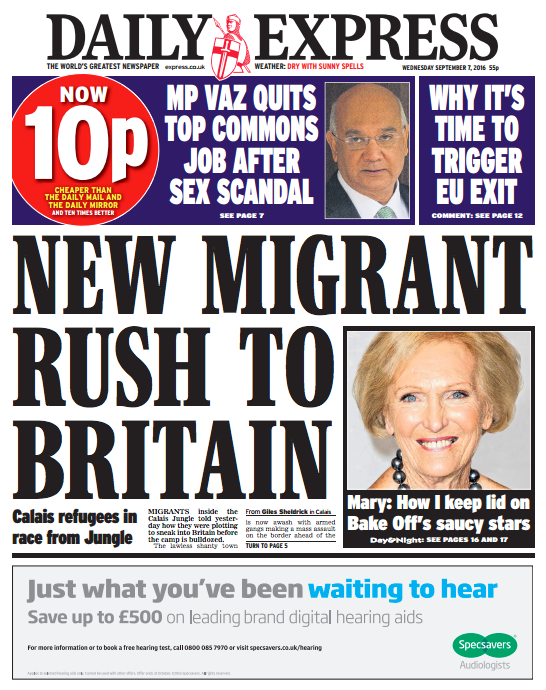 Specsavers' advert prompted a flurry of criticism from customers, with people threatening to boycott the brand until it stopped "funding hatred" by paying the Express vast sums for prominent coverage.
Others also took issue with a follow-up full-page ad by the firm a week later, which appeared by a spread on how the "migrant influx is threatening to destroy our way of life".
The Express feature was separately criticised for suggesting that Christmas was exclusively a British tradition.
Specsavers was also tackled by 'Stop Funding Hate', a group rallying against the "divisive hate campaigns" of certain tabloids.
Following the deluge of pleas from customers and the campaign group, Specsavers apologised for any upset caused and vowed to pull the "just what you've been waiting to hear" ad.
Responding on social media, the firm defended itself against suggestions it knew what content its adverts would appear alongside.
"We advertise with a number of publications who carry different editorial policies and political stances," Specsavers said. "While we may not always agree with these stances we do believe in freedom of press.
"Should any content be deemed to incite animosity that is up to the Press Standards Commission to investigate. We do not have prior knowledge of editorial content that our ads appear alongside.
"This particular ad with the slogan 'Just what you've been waiting to hear' won't be used again."
It added: "It was never our intention for these words to be linked to any editorial. This was purely coincidental and we sincerely apologise for any upset caused."
The Daily Express was approached for comment but is yet to respond.