I spend a lot of time applying lotions and potions to my face. I am lazy when it comes to makeup so have to make an effort with my skincare or else pay the price of getting up ten minutes earlier to cover up bad skin. And given I'm in the office by 7.30am, those extra seconds in bed I will defend till my dying breath.
Years of trial and error (with enough products to stock a pharmacy) have helped me establish that I have dry/dehydrated skin - not because of lack of water intake orally - but because of environmental and hormonal factors, such as stress, office air conditioning and not being able to resist eating dairy.
So I've always been intrigued by the idea of a product you can apply half way through the day to boost those moisture levels. Step up, the face mist.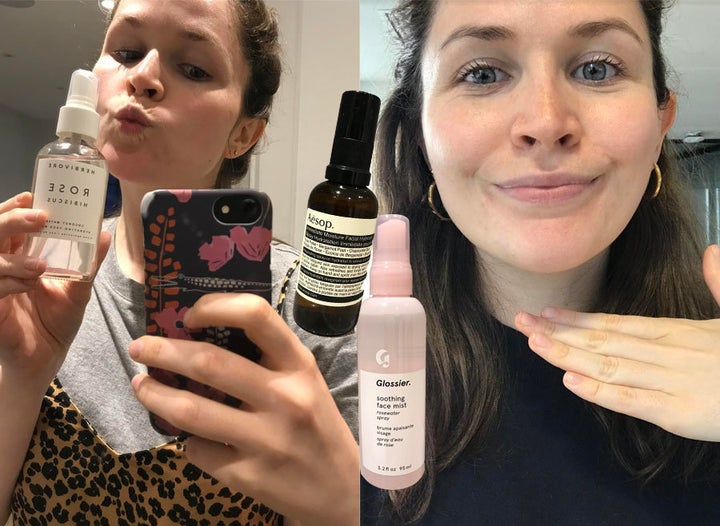 Face mists are designed to be used as part of your morning routine (after skincare and before make up) and then throughout the day to rehydrate, calm irritated skin, or brighten a dull complexion.
Is this the most bougie middle-class thing ever? Yes. Will my colleagues hate me spritzing a fine wet mist over the desk and all our laptops? Likely. Will the coating give the edges of my hair that nice slightly rained-on frizz? Absolutely. But here I am, ready and raring for the challenge.
I tried five different face mists - all that promise to give my face a boost - and sharing the results along the way. Strap in gang.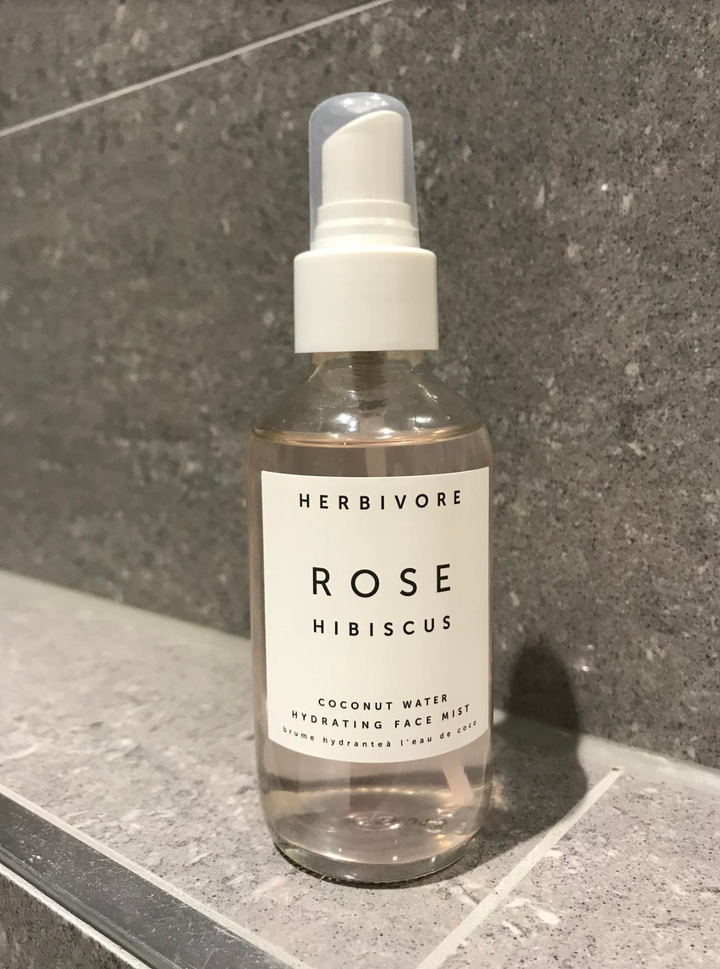 At 30 quid, this is one of the most expensive products I try – a lot to shell out when you're already spending a lot on a range of other skin care products, but as a big fan of Herbivore, I'm willing to see if the cost is worth it. Formulated with coconut water, hibiscus flower, rose, witch hazel and aloe it is meant to do several things: reduce redness, tighten the skin, and help heal any spots or blemishes you've got knocking about. Sign me up.
The brand say it is good for all skin types and should be applied by spritzing on your face and then rubbing in. At home that evening I try post-cleanser and moisturiser. Initial thoughts: it smells a lot like rosewater (which I like) and the fine mist feels luxurious. Not to mention the glass bottle is beautiful. It absorbs quickly but as I get into bed about 15 minutes later my skin feels tight, not moisturised. As dryness is what gives me bad skin, I get scared and go to add some of my favourite oils. Maybe expecting a light mist to give the same level of moisture as my normal two layers of oils was optimistic. If you're not a dry skinned person, then of course this is likely not a problem. I would use it again but in conjunction with other products.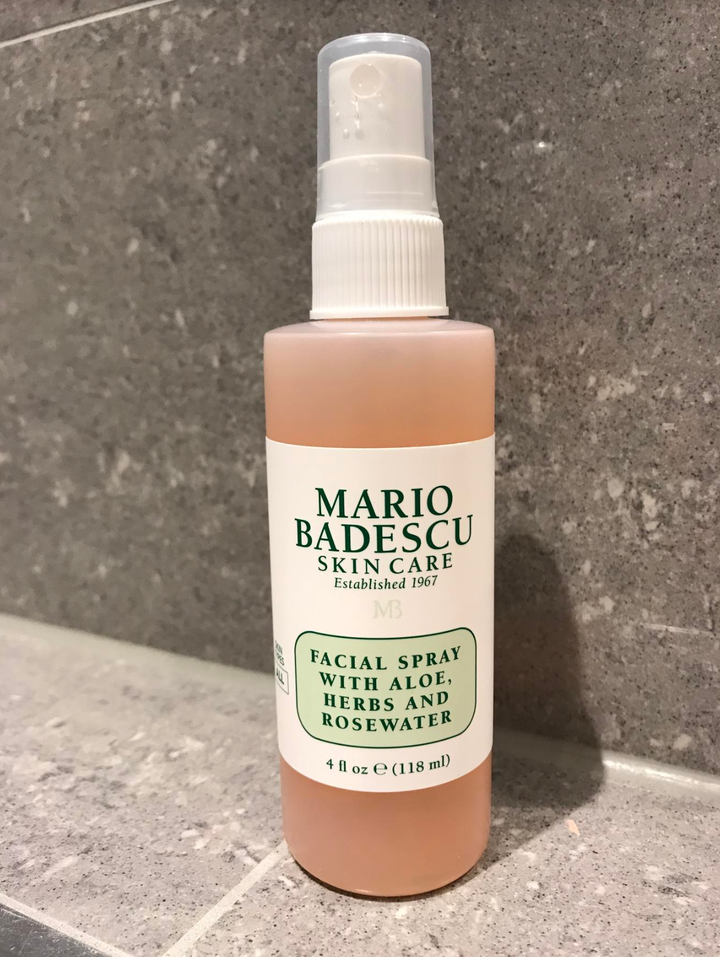 For me the Mario Badescu brand is totally synonymous with the cult 'drying lotion' (pink stuff you put on spots) that I have loved for many years. Given my eternal faith in that pink gunk I'm more than willing to believe that this face mist will do wonderful things despite being the cheapest of the lot. It's only seven pounds guys! That's £21 less than Herbivore despite having a similar ingredients list – rosewater, aloe, herbs (albeit no witch hazel or coconut water) – and promising to deliver similar things – refreshment, hydration and a general fix to tight pores.
I decide to use on the morning after the bank holiday weekend when I might have had a little too much sun and and experiencing a tighter-than-usual face. The plastic bottle does have the benefit of bouncing when I drop it on the bathroom floor (eek) but the spray function isn't as fine as Herbivore and instead leaves me with frothy specks all over my face. Fine at home, embarrassing if used in the office. It does feel slightly nourishing, but still not enough without another layer of moisturiser afterwards.
Glossier is another affordable version of the face mist and has the added bonus of being cruelty free and vegan (win win). The mist, which like the others combines rosewater and aloe, also claims to be suitable for all skin types. It says it can achieve the holy grail of making you look both fresh and awake: a bold claim for something that isn't coffee, Glossier. But I'm willing to believe.
This bottle was small enough that I decided it was safe to carry with me to the office for a midday top up (sorry Herbivore I don't fancy a tote bag full of glass). So I did my normal moisturising routine in the morning and then deployed the goods at around 2pm when you've got that post-lunch slump and the glow of the morning skincare routine has totally worn off. This works well and I think made me slowly realise that for me and my dry skin perhaps this is the function of face mists: they can't replace moisturising stages in my skincare routine but can pep me up during the day when I don't normally do anything else. What a rollercoaster of learning this is.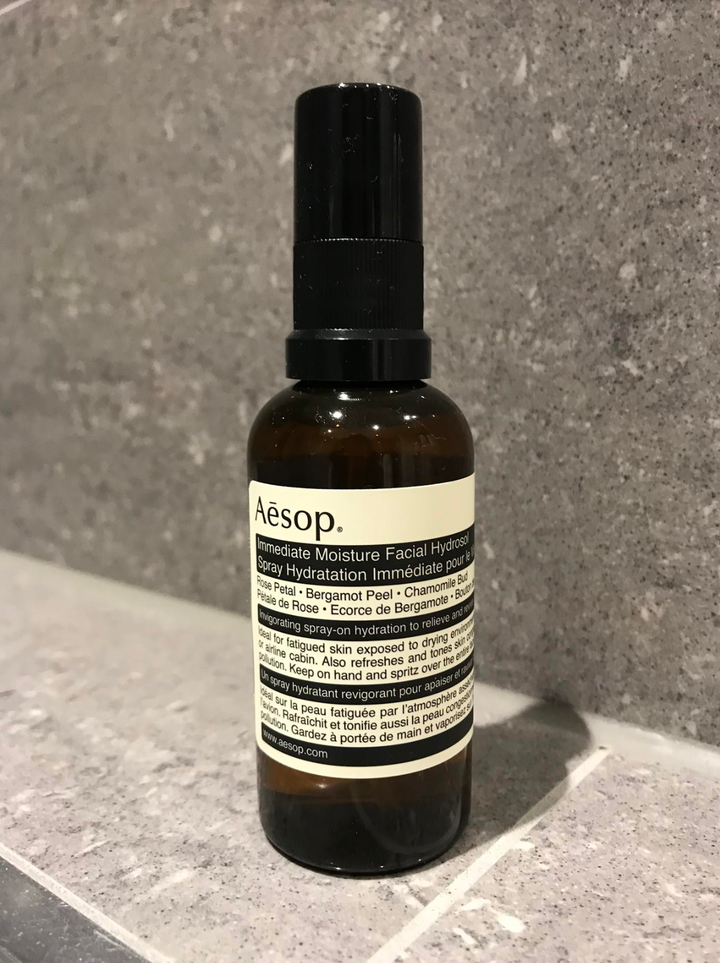 Oh Aesop, I am such a sucker for your highly Instagramable brand aesthetic. I am a cliche and very basic, but I cannot help it. This face mist was the smallest dose of all at only 60ml, making it the most expensive at £28 per 100ml. Annoying for your purse but also unsurprising – let's be honest no one buys Aesop for value for money.
After my breakthrough with Glossier and learning face mists for me are a top-up rather than a fundamental pillar of my skincare routine, I kept the Aesop mist in my handbag for a week. Despite not being the best value for money, the small bottle does make it portable in a way the others just are not (no matter what the brands say). I found myself deploying on the London underground on a particularly hot day, and once drunk at a pub when it just went straight in my eyes (do not try this at home kids). It smells very 'Aesop-y' (it is rose petal, bergamot and chamomile) and I like that. Although not a subtle smell in public. I keep it by my computer to keep me feeling fresh despite sitting in front of a screen for 90% of my day. It would also make you feel really swanky if you took it in your cabin bag on a long-haul flight. I'm still not sure it is helping my skin though.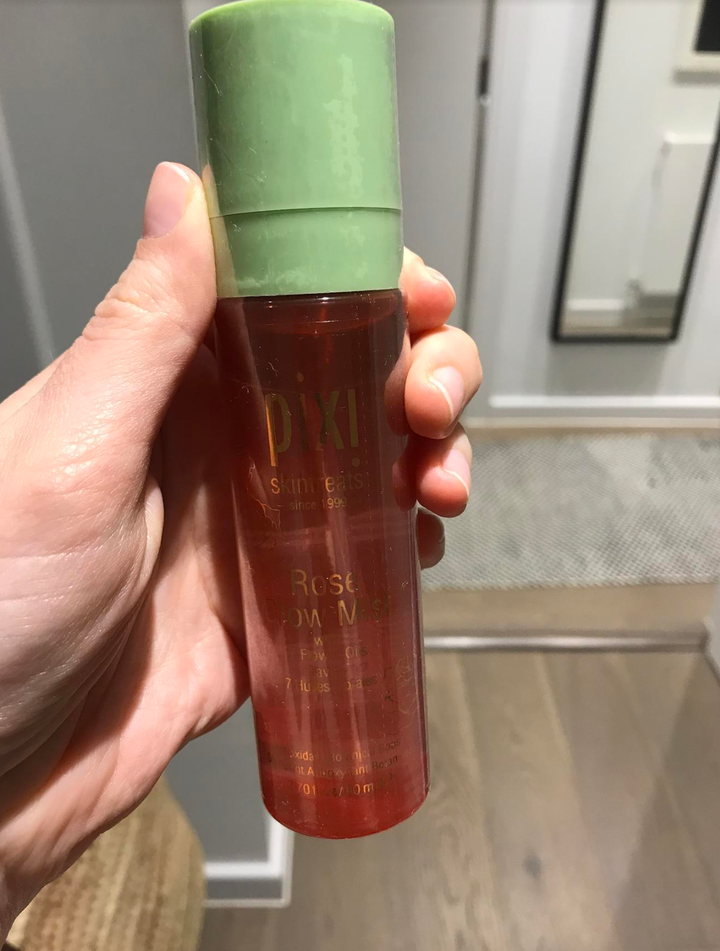 PIXI rose glow mist was my least favourite of them all. Primarily because it was so damn pink. What is that about? I might be judging a book by its cover, but we're talking about skincare so I'm going to be unapologetically shallow. It has the same rose ingredient as the rest (hence the colour) but also has argan and avocado flower oils that work in a "dual-phase treatment". As we have established I am a lover of the oils perhaps I need to give PIXI a chance.
They recommend using it either before makeup to calm irritation and smooth the surface of the skin, or after makeup for setting it in place (no one else has suggested doing this - I'm intrigued about whether it will smear my mascara around my eyes. Reader, it does not). But similarly to the others I find it a tad drying on the surface of my skin.
The Verdict On Face Mists
Overall it seems the face mists do not live up to the moisturising hype, at least not on my dry skin. Their quick spritz nature, means they'll never give the volume of moisture my skin needs. They cool me down in the heat and make me smell nice, but I don't think I'll be investing in face mists if I actually wanted to see some skincare rewards.