In Spenny vs Penny we compare the products we love, with those following in their (sometimes pricey) footsteps. Here we compare sheet masks to see if the cheaper options measure up to their pricy counterparts.
I'm a total geek when it comes to skincare, someone who loves learning about new products, ingredients, tools and tricks in my ongoing hunt for clearer, glowing skin. So this isn't my first experience with sheet masks.
Yes, they look very odd on, but I'm a big fan because they force you to take 10 minutes to yourself. That extra dose of hydration is always helpful when you live in this fluctuating British weather, in and out of centrally-heated offices. And they're also a great pick-me-up before bed on a Sunday night, which is when I tend to use them.
With this Spenny vs Penny, I'll be trying four sheet masks, all of which promise radiant, glowing and healthy-looking skin – and all at different price points. I apologise in advance for the frankly terrifying photos – there's no way not to look like Hannibal Lecter in a sheet mask, with a shade of Buffalo Bill, too.
Sheet masks are designed to be used on cleansed skin before the rest of your skincare routine – which for me is a hydrating hyaluronic acid serum and oil-free moisturiser to tackle my oily t-zone and blackheads.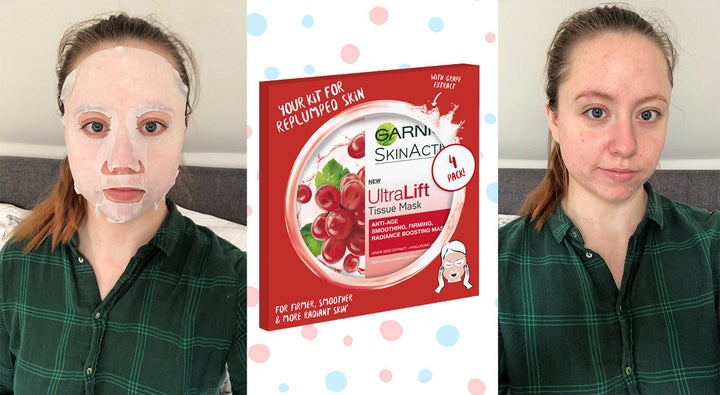 I'm no stranger to a Garnier sheet mask, but I've never used this one before. My first thought is how much packaging it has. The pack of four comes in a cardboard box which can be recycled. However, there's also a plastic cover casing the mask, which is there to keep it flat, but seems excessive.
The mask itself is very wet which makes it tricky to unfold, but I've yet to find a sheet mask that isn't and Garnier's is at least robust enough not to tear. The one-size-fits-all design of sheet masks is often their downfall. There's often excess material around the edges and this one doesn't fit comfortably around my mouth. But after 15 minutes of Instagram scrolling while I wait for it to work its magic, I peel it off and inspect the results. There's a noticeable glow to my skin and once I pat the excess serum into my skin, it does feel smoother.
These masks are cheap and cheerful and can be purchased individually for £3.99 if you want just one. I would definitely re-purchase for a refreshing few minutes if I've been in the sun all day or as a hungover remedy for dehydrated skin when lying down is all you can physically cope with.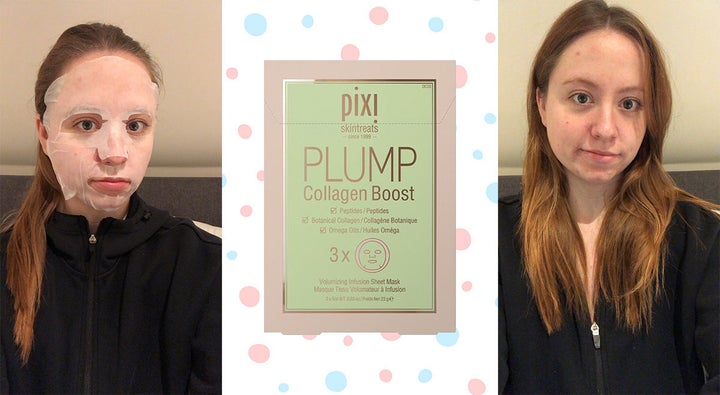 Disclaimer – I'm a big fan of Pixi so I had very high expectations for this product. I already use Pixi's glycolic acid Glow Tonic religiously, and the Lash Lift 188 Mascara is the best money at its price point, in my opinion.
This collagen-infused mask is designed to smooth and plump skin while also improving its elasticity. For starters, it fits snugly on my face and doesn't slide off or leave my hands sticky from the application, which I appreciated. It's also not as wet, leaving no greasy residue when I removed it after 15 minutes.
However it's the results that tip this into number one position. Once removed, the mask leaves my skin with a dewy glow, the type I usually have to recreate with highlighter. It looks healthier too, creating a nice base for my makeup.
You get three in each pack for a tenner, which makes each mask £3.33 – much the same price as Garnier's (though these are unavailable in individual packs). Top marks. I plan on using this weekly before bed on a Sunday from now on.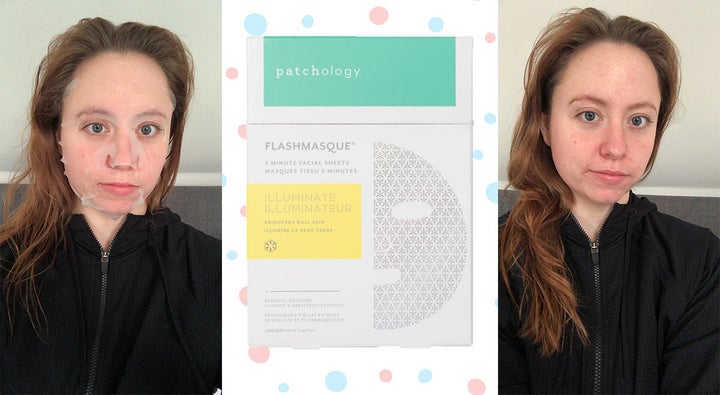 This is the most compact of the four I try, the packet just bigger than my palm, which would be perfect to take on a plane. Flying can be intensely dehydrating for skin and this would easily fit in your 100ml liquids bag.
Unlike the other sheet masks, this one only takes five minutes, which makes it useful for a speedy morning mask and a pre-makeup mini facial. Aesthetically it's very pleasing and looked like a second layer of skin rather than a stark white sheet with holes cut out – so I'd actually be prepared to wear it on a plane. This mask is cooling and does exactly what it says on the packet. Once removed, it leaves my skin with a healthy glow and my usually red cheeks felt much calmer.
While I think £28 is a bit steep for sheet masks – for the same amount you could pick up a hydrating serum that you'd get more than one use from – you can buy these masks individually for £8 each, which I'll definitely be doing when I fly to Hong Kong later in the year.
This mask costs £62 for a pack of four sheet masks – unjustifiable in my book. It's infused with the Genefique Serum, which sets you back £59 for 30ml to £99 for 70ml in a bottle, not much more than this pack. Individually the mask can be bought for £17, almost double the cost of the other three I've tried.
It's a gel texture, much thinner in consistency and designed to "melt into the contours of your face like a second skin". The only word I can find to describe this is sloppy. It slips and slides off my face and if I lean forward at all, the mask falls off my face so I'm constantly reapplying it. It's also overwhelmingly fragranced, which is a prominent irritant for sensitive skin like mine.
Towards the end of the 20 minutes I wear the mask, a headache is creeping on. It doesn't fit well, with large gaping holes around my nose and mouth, which feels like an added waste as the serum can't reach every part of my face.
When I finally remove it, my skin appears exactly the same – no glow, no radiance, just a tad bit wetter. As a beauty writer, I'm lucky enough to try products across drastically different price points and firmly believe good quality skincare doesn't have to come at high prices. A sheet mask makes a fun addition to your skincare routine but there's no reason to spend more than a tenner on one.
We all work hard to earn our money – so it shouldn't feel like hard work to spend it well. At HuffPost Finds we'll help you find the best stuff that deserves your cash, from the ultimate lipstick to a durable iron to replace the one that broke (RIP). All our choices are completely independent but we may earn a small commission if you click a link and make a purchase.