Lockdown is forcing pub owners to pour tens-of-millions of pints of booze down the drain, prompting fears that the deluge could overwhelm the sewage system and harm the environment.
Pubs up and down the country were fully stocked with thousands of pounds worth of perishable food and drink in anticipation of hundreds of Sunday lunches for Mother's Day when – just 48 hours before one of the busiest days of the year – Boris Johnson announced they would have to close immediately, alongside bars and restaurants.
The fate of staff, huge rent bills and the unexpected blow that they weren't covered by their own business interruption insurance were all significant challenges that had to be dealt with almost immediately – but perhaps the most immediately obvious problem was the massive quantities of food and drink rotting away in real time in the cellars below.
The Guardian reported in May that some 70m pints of beer had been poured down the drains following pub closures. The destruction of beer usually has to be overseen by someone from the brewery itself but, in times of social distancing, the responsibility has fallen to publicans to dispose of their stock.
In some cases, breweries have offered to collect unopened barrels of spoilt stock, but many pub owners have been left with no option but to pour out-of-date booze down the drain.
Publicans are expecting to get a partial refund on their spoilt stock in the form of Beer Duty back from HMRC, but the process is a lengthy one and many pubs have not yet received a penny. Many pub owners are holding onto expired stock, still unsure what exactly to do next.
Citing the official guidance, made public on May 1, a spokesperson for HMRC said: "With immediate effect, wine/made-wine and cider producers will be able to arrange for the destruction of wine/made-wine and cider without needing to physically send an Approved Company Representative to oversee the process. This will enable them to reclaim duty on spoilt product while assisting in compliance with social distancing rules during Covid-19 if they comply with the other existing conditions as set out in Notices 162 and 163.
"Publicans will now be able to destroy product remotely without the need for an Approved Company Representative being present if they gain permission from the original duty payer. They will need to comply with all health and safety conditions as well as any set by local authorities."
The government has specifically advised publicans to film themselves disposing of stock, but there are real concerns that the easiest way to do this – pouring gallon after gallon down the drain – could have serious implications for the environment and could overwhelm the sewage system.
Landlord and spokesperson for Campaign For Pubs Ian Locke said: "I know publicans who have got thirty or forty barrels of beer and lager sitting in their cellar – that's £4,000 to £6,000 pounds' worth that they haven't been able to use.
"We've been told to list everything we have and then film ourselves pouring it down the drain. The problem with that is that the water companies can only cope with so much beer going down into the sewer system.
"It affects their ecosystem. There are going to be tens-of-thousands of pints going down the drain all over the country."
A spokesperson for Severn Trent Water told HuffPost UK that they had been working with pubs in their area to ensure that spoilt stock was correctly disposed of, adding that there was no risk to the water supply due to the fact the sewer system is completely separate.
But that doesn't mean that gallon upon gallon of out-of-date beer won't cause problems for the way our waste systems function.
The spokesperson added: "There are some risks associated with tipping large quantities of beer into the sewer system.
"We need to make sure that there is no overwhelming of the network if there are large quantities being disposed of, and that there is no impact on the running of our sewage treatment works.
"We also need to make sure that nothing gets into the wider environment."
Pubs covered by Severn Trent Water have been asked to contact the company first for advice before pouring their pints away.
Water UK, which monitors the nation's water companies and works to protect the environment, said it was "important that wasted beer is dealt with properly, because it contains material that kills marine life and the bacteria used to break down sewage."
"It can stop sewage works from operating and damage the environment, and that's why beer disposal is strictly controlled. We're doing everything we can to help, while still keeping safety our top priority, and we've offered to make disposal applications simpler, cut bureaucracy and waive fees.
"We believe these big changes should allow pubs to open safely soon, and we're looking forward to that as much as anyone."
A spokesperson for the Environment Agency said they were "in discussions" with both pub and brewery representatives and water companies to ensure beer is destroyed "safely and appropriately."
They added: "We would recommend that any pub with out of date beer talk to their brewery and water company."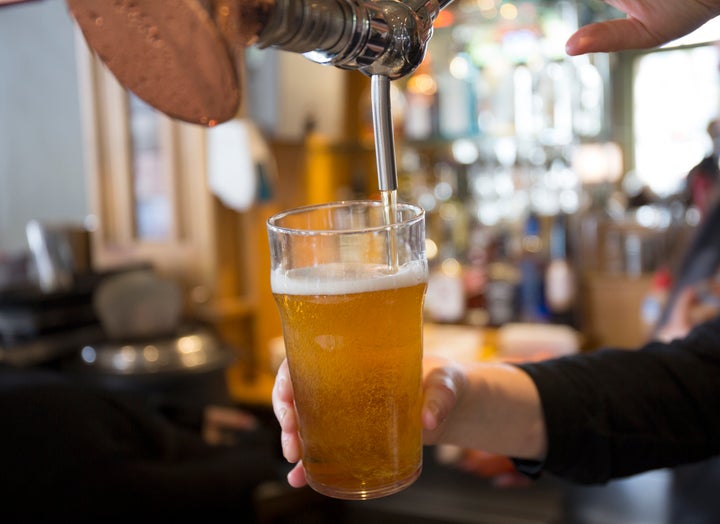 But expired stock isn't the only issue faced by publicans across the UK. From rent to the furlough scheme, social distancing rules to government grants, there are serious questions about how the entire industry will function in the coming months.
To say the pub industry itself is complicated would be an understatement. The way in which the system is structured causes real difficulty, particularly for smaller pubs, even in normal trading times.
The consensus among many people passionate about preserving locals up and down the country is that Covid-19 is only exacerbating the usual problems.
Rent is one of the most significant challenges faces by pubs, whether they are free houses or tied. Some large pub companies have suspended rent and suggested a staggered return to full repayments, but most publicans have been left facing rent bills running into the tens-of-thousands of pounds and have no idea how they'll meet the rising costs.
The #NoPubNoRent campaign started on social media towards the start of lockdown, and the hashtag has been used by dozens of publicans calling for answers on why they are being forced to pay any rent at all when their revenue has fallen to zero.
"Many of the biggest companies are charging rent through this period of closure," explained Greg Mulholland, campaign director for Campaign For Pubs.
"That's already making it impossible for some pubs to survive, and some tenants are already being forced to walk away."
Some pubs have had their rent reduced or cut altogether throughout the lockdown period, but have been told that the special measures will be lifted once the government gives pubs permission to reopen.
Many venues, especially those with smaller buildings or without outside space, fear that social distancing rules mean it'll be impossible turn a profit even once they are technically allowed to reopen – meaning they'll fall inevitably fall behind on rent anyway.
The government is facing intense pressure to relax its two-metre social distancing rule in a bid to help the hospitality industry survive the pandemic. While The Telegraph reported on Wednesday that the rule had been left out of draft guidance, there has so far been little evidence that pub-goers will be able to stand closer than two metres together.
Rob Star runs six pubs, each with a different freeholder, in London, and is facing rent debts running into hundreds-of-thousands of pounds as the coronavirus crisis wears on.
"We're still liable for rent every quarter, which is rent I'm paying for a building I can't open for business and have actually been ordered to close by the government," Star told HuffPost UK.
"The government really needs to step in and do something about this issue – at the moment it's almost like a game of poker between landlords and tenants. Ideally I would like a rent free period, but landlords obviously don't want that as they have their own costs and expenses.
"The reality is that I don't have hundreds-of-thousands of pounds sat in the bank for when the government decides to close my pubs. Rent is by far the biggest cost we're liable for as a business, and that's the case for most pubs.
"The government needs to come in before the end of June, when the next quarter of rent is due, and try to mediate between the tenants, the landlords and the banks to try and come up with a solution that works for everybody."
Some pubs face even starker financial concerns as a result of their ineligibility for government grant schemes – an issue that, paradoxically, is disproportionately impacting some of the country's most successful pubs.
The reason for this lies in the rateable value of a business, which is worked out differently for pubs than it is for other businesses. While most businesses – for example, shops – have their rateable value worked out on the basis of their open market rental value, rates are worked out for pubs and other licensed premises in terms of their expected annual level of trade.
Businesses with a rateable value of over £51,000 – whatever industry they're based in – are not eligible for the government's Retail, Hospitality and Leisure Grant Fund. That means that a very successful pub, still facing the intense pressures of rent and other business outgoings, could get no financial help from the government while another, less successful pub, could get £25,000 in grants and potentially ride out the pandemic while the other is forced to close.
This is exactly the position that Claire Alexander, who runs two highly successful pubs in the Cotswolds, has found herself in.
She explained: "We've got higher costs, higher wage bills, we pay more VAT, we pay more National Insurance Contributions, we pay more in tax than any of the pubs that got access to the grants.
"But our profitability is exactly the same as the pubs that got the grants, and so we're effectively being penalised.
"This is affecting more than 9,000 pubs in the UK currently, around 20% have fallen through the gaps. It's absolutely unjust – I don't think I've had a decent night's sleep since we were forced to close.
"They [the government] really need to rectify this issue because it means that some of the best pubs in the UK aren't actually even going to be able to open when the lockdown is over."
Tens-of-thousands of people up and down the country are employed by the hospitality industry, with many working in pubs. For months, the vast majority of these workers have been placed on furlough, but with the chancellor Rishi Sunak announcing in May that businesses would start to pay into the scheme in August, before it tapers off entirely in October, there are still serious concerns about the fate of their jobs.
While there has been discussion of some pubs being able to open in July, no one really knows when they'll be able to welcome back customers or what it will look like once they do.
There are real fears that even by October pubs could still only be able to admit a fraction of their usual customers, which means they'll have no need for their pre-Covid levels of staffing. With no furlough scheme to support these surplus workers, pubs will be forced to let them go.
Damon Horrill runs Cornerstone Inns in Cheshire, a small group of pubs believed to be the UK's first employee ownership trust pub company. He said he, and other in the industry, had anticipated for more tailored help for the hospitality industry to be announced by Sunak at the end of May, but had been left "stunned" by the way in which all businesses had been "lumped together".
"How can it be the same for us all?" he asked. "It's as though they said: 'I'm sorry, you can't go back to normal and 80 to 90% of your business isn't going to be there, but in a couple of months' time – although we can't tell you whether or not you'll be back to normal by then – we'll be expecting you to find money from somewhere to pay this percentage of your staff wages.'"
"There's no regard for different circumstances in different businesses. We don't make the rules, but you'd think that the people who are would recognise the differences between sectors."
A Treasury spokesperson said: "Our job retention scheme has helped a million employers and protected 8.7 million jobs across the U.K. We have extended it until October - meaning it will have been open for eight months and will continue to support businesses as the economy reopens and people return to work.
"As well as furloughing staff, the hospitality sector can also benefit from our other targeted support measures, including bounce back loans, business rates holidays and cash grants of up to £25,000 for eligible firms."