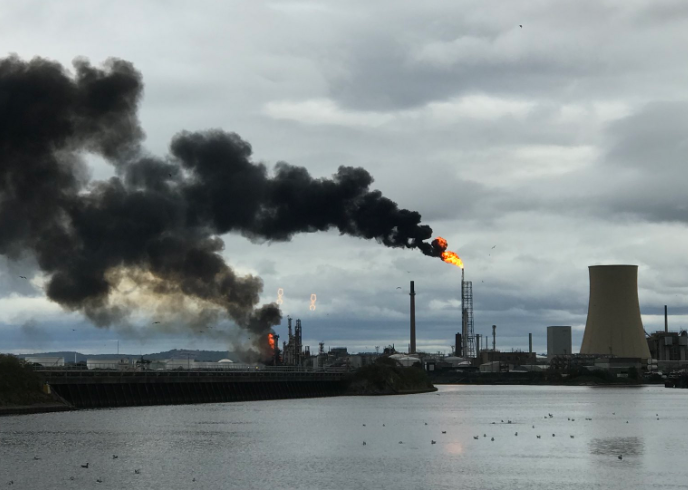 Firefighters battled a fire at a major UK oil refinery on Wednesday afternoon, with hundreds of staff being evacuated from the premises.
Huge plumes of smoke billowed over Stanlow, outside Liverpool, with the fire visible from several miles away.
Crews were called to reports of a fire in Oil Site Road, Ellesmere Port at 2.16pm on Wednesday.
It is believed the blaze started inside a manufacturing building within the plant.
According to owners Essar Oil UK's website, Stanlow refinery employs more than 900 staff and 500 contractors on site and supplies 16% of all road transport fuels.
Cheshire Fire Service said that all staff at the oil refinery have been accounted for and evacuated.
"Crews are working with onsite firefighters to extinguish the fire which is believed to be in a manufacturing building within the plant," the fire service said in a statement.
Six fire engines have been deployed from stations in Ellesmere Port, Powey Lane, Chester, Widnes and Northwich.
Brian Howell, 60, said he was relaxing in the Eastham Ferry area, around eight miles away, before he "heard a loud 'whoosh' type explosion".
He added: "I looked over to Stanlow and there was an aggressive fire and lots of black smoke."
The fire did not disrupted the refinery's operations, a spokeswoman for Essar Oil UK said.
The Environment Agency said it was working with the fire service to try and reduce any harmful environmental effects.
Firefighters worked with on-site staff to deal with the unfolding emergency.
The refinery produces 4.4 billion litres of diesel, three billion litres of petrol and two billion litres of jet fuel annually, according to Essar Oil UK.
Additional reporting from the Press Association.