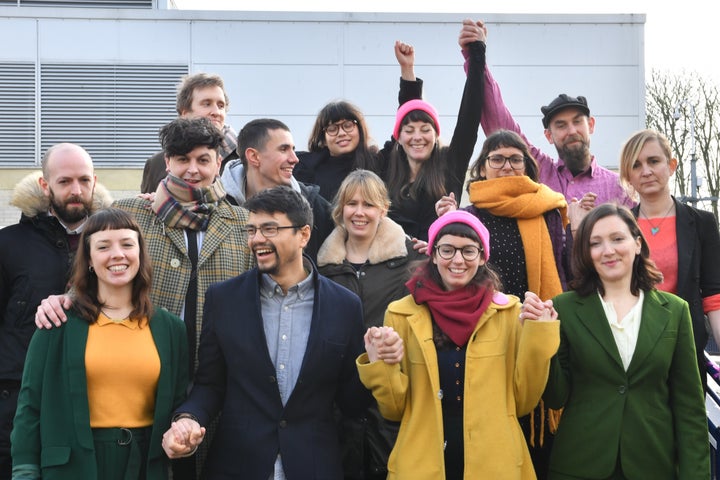 I remember lying in the police cell, agonising… did we manage to stop the flight? Had my friends maintained their blockade? Or had the people due to be deported, whose plight we'd read about days before, been violently restrained and forced on the flight? Had we failed?
Two years on, utterly exhausted after a gruelling court case, I am at home with a nine-month suspended prison sentence for this terrorist-related offence - and 250 hours of community service lies ahead of me. My sentence, along with my friend Ali's, was the most harsh.
In 2015, three of us involved in the attempt at Stansted to block a deportation charter flight were part of the "Heathrow 13", a group which narrowly avoided prison after occupying the northern runway of Heathrow airport to draw attention to the disastrous ecological and social impacts of a third runway. The severity of our sentence is due to this previous conviction – our attempts to draw attention to the political injustice of climate change and ecological breakdown.
But why obstruct a deportation flight? In recent years, thanks to groups like Wretched of the Earth and Black Lives Matter UK, who dared to say what we didn't, we realised that the devastation caused by global capitalism, a system the British government has spearheaded from colonialism to present day, creates forced migration and makes it impossible for people to survive in their homelands. By the year 2050 there will be 150million climate refugees displaced by climate-induced disasters including droughts, desertification, and mass flooding. The ecological crisis is another manifestation of how capitalism is propelling migration.
It is well documented that those most responsible for the breakdown in our climate and ecology are the industrialised countries such as the UK, which has the highest historical carbon dioxide emissions per capita. Despite the overwhelming evidence that countries such as the UK share a greater responsibility of the devastation of "climate colonialism", Theresa May's imperialist "hostile environment" policy denies justice to migrants who are its casualties.
Trillions have been stolen from countries across Africa, starting with slavery right up until the present day (whilst the UK taxpayer was paying compensation to slave owners until 2015). Historically, Britain's wealth was built on the wealth of those nations. As a form of reparation, this government has a responsibility to welcome migrants who make this country their home. We should welcome them, acknowledging the historic wounds of slavery and colonialism; as well as the damaging legacy of civil wars fuelled by Western interests. In the absence of reparations to begin to undo this damage, migrants from across the globe are increasingly having to take more perilous and clandestine routes to reach the shores of Fortress Europe.
What happens when people do arrive here? They are demonised as 'illegal immigrants', made destitute, denied legal aid and the right to work. They are forced to live in fear of detention, whilst their communities are surveilled by immigration officers. Some are eventually detained in raids, with many then deported on the kind of charter flights we were trying to stop. In 2017, 27,000 people in this country were indefinitely detained. Not immigrants, not refugees – just our fellow human beings.
Climate and ecological breakdown are fuelling a new instability to what we call home. The global poor are not allowed to travel from the wars, the famines and the droughts or the injustices they experience. They face enormous obstacles when seeking freedom and justice, which we are told is everybody's right. Resisting ecological breakdown must be met with a cry for the dignity of all human beings.
I don't know what will come of our actions. While 11 of those due to be deported that night remain in the UK, it's deeply upsetting that we do not know the fate of the others. We do not know the fates of everyone whose testimonies we listened to, compelling us to act. Even with this uncertainty, we can no longer dismiss these voices; their hunger strikes and protests are too loud to ignore. Neither can we numb ourselves to the deep historical wounds that have brought us here.
One of the 11 people still in the UK from that night said to me what they value most about being in this country is having found 'community', 'care' and 'home'. We all have this in common: we need to establish home for everyone.
Edward Thacker is an activist and one of the Stansted 15