Stephanie Muttillo, from New Jersey, said Starbucks has a duty to help tackle the growing problem of plastic waste. "I would like to see Starbucks, the company I work for, help lead the way to shrink our footprint on the planet," she explained.
"Plastic straws are too lightweight to be recycled, and oftentimes are made out of the same plastic as styrofoam, which cannot be recycled. There are many alternatives to plastic straws. Many companies have started using compostable straws or paper straws."
At the time of writing her petition had gathered over 60,000 signatures.
Starbucks told HuffPost it had removed plastic straws and cutlery from condiment bars in UK stores while looking for an alternative solution.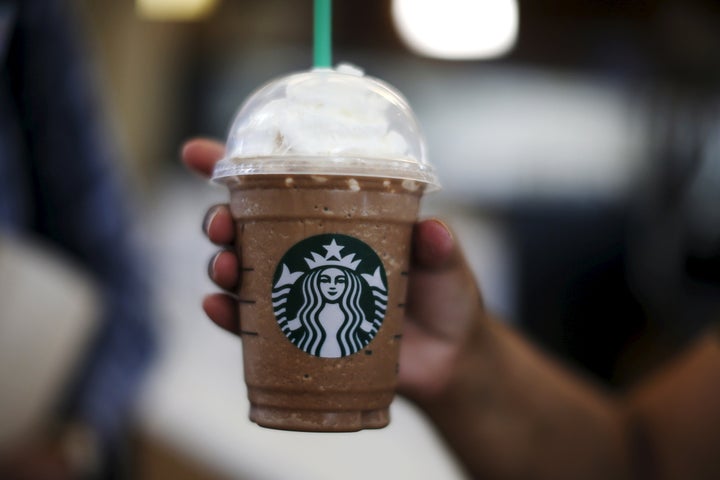 Muttillo's petition comes after scientists estimated that by 2050 there will be more plastic than fish in the world's oceans.
The Starbucks employee said plastic straws are detrimental to wildlife and that the photo on her petition page is from a "painful-to-watch" video of researchers in Costa Rica struggling to remove a cocktail straw from the nasal passage of a sea turtle.
"I believe we can help convince the world's largest coffee shop chain to make the switch," she said. "If Starbucks sees this Care2 petition filled with thousands of signatures from people who care about our environment, I am positive that this environmentally responsible corporation will make a change for a healthier planet."
Responding to the petition, a Starbucks spokesperson told HuffPost UK: "Starbucks is committed to minimising its impact on the environment and reducing waste. Whilst we look at alternative solutions to plastic straws, we have removed straws and plastic cutlery from the condiment bars in UK stores."
The chain confirmed it will still offer the plastic items from behind the counter upon request from customers.