The 24-year-old, from London, has made a stand by sharing a d**k pic she received from a troll to her 129,000 Instagram followers.
Speaking to The Huffington Post UK, Sanders said she receives between three and five unwanted sexual images from trolls each week, with men often messaging her to say "what they'd like to do" to her.
"You wouldn't show me your penis in public, so why send me a photo?" she said.
Sanders first started receiving sexually explicit messages from strangers when she set up a Facebook account.
But she says the messages have gotten worse as her online presence has increased.
"It's so strange that some men seem to think this is the right way to approach women," she said.
Unbelievably, some people on Instagram have suggested that Sanders "deserves" to be sent d**k pics because she appears in underwear or swimsuits in some of her photos.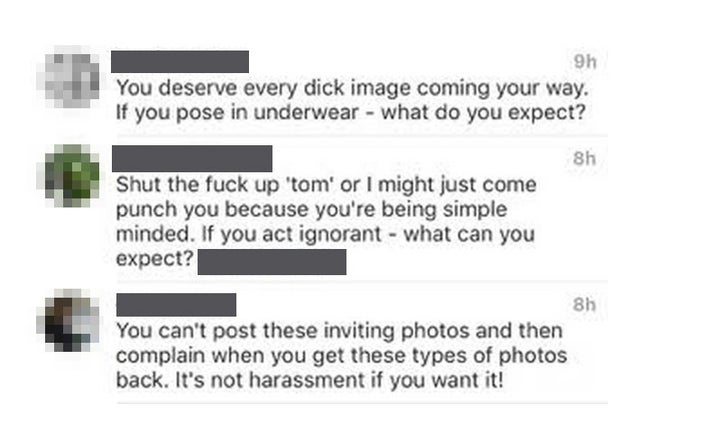 But Sanders has insisted it's not just models who receive these types of unsolicited images.
After talking with her friends and doing some research online, she's realised just how widespread the problem is.
"Sexual harassment for women online and offline is happening in the UK every single day," she said.
"We're not doing enough as a society to raise awareness on how dangerous this can be, as well as what it can do to people's confidence and self-esteem.
"It's terrifying to think people feel it's ok to abuse someone or send something without the other person's consent."
Sanders believes the law needs to change to make sending these images more difficult. She said education needs to be introduced to teach youngsters that sending these kind of messages to strangers is "never acceptable".
"I am definitely on a mission - last month I co-founded the app Huggle which is a social networking app that connects people with others who go to the same places as them," she said.
"We wanted an app which would make our users feel safe and deter people from sending unwanted photos and messages.
"You're less likely to receive an unwanted message from someone who you might bump into. You could see them at your local coffee shop next week and just imagine how awkward that would be!"
Above all, Sanders is adamant that no woman should ever have to receive unwanted messages.
"It's just not acceptable and social networks need to do more to protect our society," she said.
"It's not talked about enough and in my eyes, an inappropriate message online should be just as illegal as harassment on the street."