Ambulance staff in Wales were left pleasantly surprised this week when they returned to their vehicle to find a heartwarming note attached.
"Thank you for blocking my driveway to save a life," it read. "Refreshments [are] on me." The kindhearted stranger had also left them a £5 note.
Dewi Lloyd from the Welsh Ambulance Service shared a photo of the note on Twitter, saying it was left on one of the Flintshire ambulances. His tweet had received almost 1,000 likes at the time of writing.
The stranger's actions were praised by many on Twitter, with Dewi's tweet receiving hundreds of comments. @Tony_Hodson said: "Brilliant, love the idea, well done to the person who did the deed!"
@GlenysTaylour added: "At last! Someone with some sense and decency. Whoever you are, good one mate!"
@CaptJackB said: "That's more like it. Well done owner of said driveway!"
Sadly the ambulance service also has to deal with its fair share of rude notes.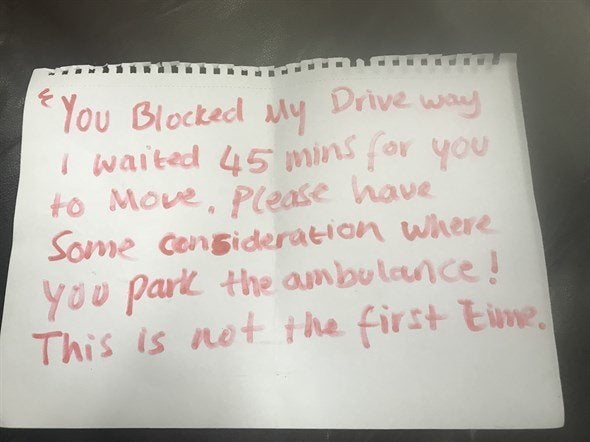 "You blocked my driveway," the note said. "I waited 45 mins for you to move. Please have some consideration where you park the ambulance! This is not the first time."
A photo of the letter was shared by the service's Twitter account, with a message urging people to come and talk to paramedics if they urgently need to leave their homes.
"Don't just leave a note," a social media spokesperson said. "It upsets our crews and we will not see it until we leave. If we can move, we will, but the patient comes first."
In February 2018, 26-year-old Kirsty Sharman pleaded guilty to a public order offence after verbally abusing paramedics and leaving a foul-mouthed note on an ambulance.