In shows like Strictly Come Dancing, no one ever wants to see their favourites going home, but it's safe to say that some exits have had more of an impact on viewers than others.
We're currently in the midst of a series that has already delivered two of the most controversial exits ever, but there have been a number of eliminations and other departures that have thrown Strictly viewers for six over the years.
Here are just nine of the most shocking exits in Strictly history...
Now listen, we know that no one was under any sort of impression that Chizzy was on course to win Strictly Come Dancing after her first two performances in 2017, but that didn't stop viewers from expressing their shock when she wound up in the first dance-off of the series.
Fans were suitably disappointed when the judges unanimously voted to show the Holby City actress the door, particularly as she was up against comedian Brian Conley, who had scored a full 12 points less than her on the leaderboard at that time.
It had all been going so well for Dev Griffin. Partnered with last year's finalist Dianne Buswell, the pair had been going from strength to strength in the 2019 run, most notably with their Aladdin-inspired Movie Week performance, which bagged an impressive 36 from the judges.
After the most divided vote the judging panel had given all series, it fell to Head Judge Shirley Ballas to make the deciding pick, ultimately saving Mike, despite him having largely been considered the year's novelty contestant, provoking yet more controversy among viewers.
When the Strictly line-up was announced in 2015, the star booking was undoubtedly reality TV royalty Peter Andre (which was even picked up on by Simon Cowell, who was at that time still touting X Factor as a rival to the BBC dancing show).
Despite dominating the Strictly headlines near the beginning of the series, Peter failed to go the distance, ultimately finishing in seventh place.
The winner that year ended up being Jay McGuiness of The Wanted who – unlike the Mysterious Girl singer – got off to a quiet start, only starting to drum up attention with his show-stopping Jive in Movie Week.
Like Peter Andre, Aston was touted as a front-runner as soon as he was announced for Strictly in 2017. We'd all seen him back-flipping about the place as a member of JLS, and erm… oh yeah, he'd actually already been a judge on Sky's Got To Dance, so he was pretty much overqualified for the gig.
Still, despite dance experience often being an issue, Aston was still popular among Strictly viewers, until week seven, that is, when he and his Michael Jackson wig found themselves in the bottom two.
What no one saw coming was that the panel would be split on who to send home, with then-newbie Shirley Ballas casting the deciding vote in favour of Mollie King.
Aston and Janette Manrara eventually returned for the Christmas special in 2018, this time winning over the studio audience and scooping the coveted(-ish… it's no Glitterball, is it?) Silver Star trophy.
The trouble with novelty acts in shows like Strictly Come Dancing is that they're a good laugh, until suddenly they're still around instead of your fave, and that's when the joke gets real old, real quick.
Anticipating this, veteran broadcaster John Sergeant decided he'd had his fun and preemptively took himself out of the firing line in 2010, but was allowed to perform a farewell dance alongside his professional partner Kristina Rihanoff.
It had all been going so well for Vick Hope, who was progressing strongly week by week in 2018 until her Cha Cha Cha routine brought things to an abrupt halt.
After earning just 20 points from the judges, the lowest score of the week, she and Graziano Di Prima faced off against comedian Seann Walsh and his partner Katya Jones. And while many thought the judges would send Seann home (to give him and Katya some time out of the spotlight, if nothing else), only Craig opted to save Vick, with the Capital DJ leaving the competition that week.
She later suggested that producers had intervened in the decision (which the BBC categorically denied), while Vick also claimed Shirley Ballas had "relished" in giving her a dressing down during her critiques. "I'd never really been spoken to like that," Vick said.
No one would have anticipated that the Red Dwarf actor would have been one of the competition's front-runners when he was first announced for the line-up in 2018, but he ended up storming the contest, even earning the first 10 of the series for his Jive routine.
So, this one isn't technically an "exit" as Colin Jackson did make it all the way to the final back in 2005. However, he was on course to win the whole thing, and may well have done so, had he not come out for his last performance and given this bizarre puppet show…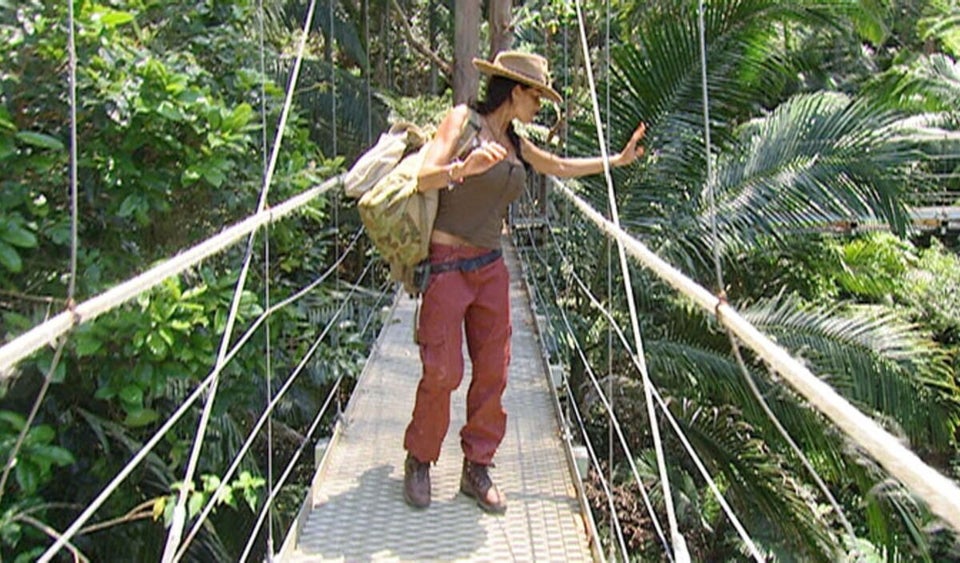 Reality TV Walk-Outs