A University of Oklahoma student has been suspended after black students at the University of Pennsylvania, Donald Trump's alma mater, were sent racist messages and threatened with lynchings.
More than 150 black freshmen were sent racial slurs and images of black people being hanged after being added to group messages against their will, including one named "N***** lynchings", Reuters reported.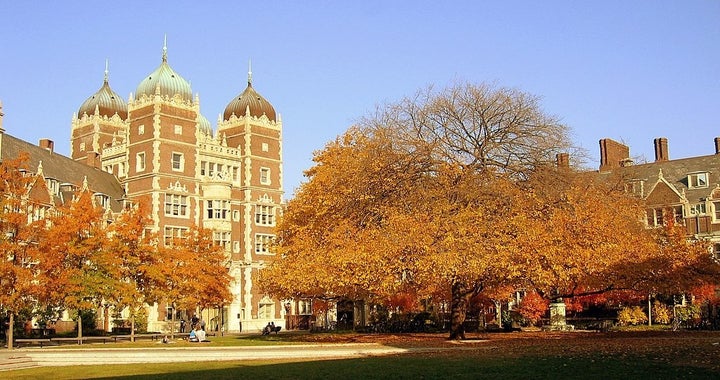 One of the group members reportedly posted an image of black people being hanged, commenting "I love America".
In another chat titled "Trump is love", someone called a student a "dumb slave" while another participant posted a photo of a red hat with the phrase "GRAB THEM BY THE PUSSY".
Amy Guttman, president of the University of Pennsylvania, released a statement saying the college was "absolutely appalled" by the incident.
"This is absolutely vile material and completely offensive to everyone on our campus. We are both angry and saddened that it was directed to our students or to anyone. The people responsible for this are reprehensible," she said.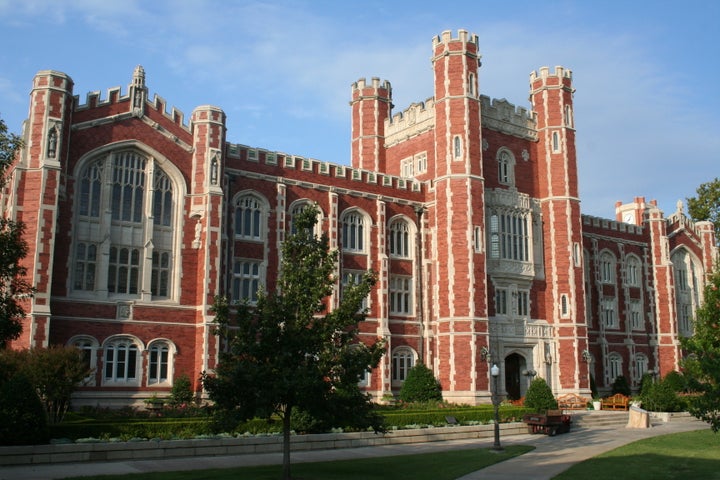 "We have increased campus safety and are reaching out to support the affected students in every way we can, and want them to know that the entire Penn community stands with them."
Black Pennsylvania student Adrienne Hopkins told the Huffington Post that many students felt "uprooted" by the incident.
"It was a reminder for them that no matter how much education you obtain, no matter the riches you amass, there are some people who will view your humanity as not worth the same amount as theirs."
Political Science student Calvary Rogers said he "literally lost it" after finding out black freshmen had been added to these groups.
"And quite honestly I just can't stop crying," he wrote on Facebook. "I feel sick to my stomach. I don't feel safe."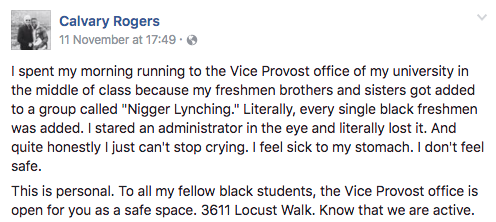 Rogers' shocked and emotional message has been shared more than 11,000 times on Facebook.
The university has reportedly opened the Vice Provost's office as a safe space for black students.
University of Oklahoma president David Boren confirmed that someone at the college had been identified as a suspect, but did not give the name of the suspect.
The student was suspended as part of an investigation by the FBI and campus police at both colleges, philly.com reported.